The boredom of 'driving' a self-driving car
I "drove" a car from San Francisco to Las Vegas — and saw the future of the car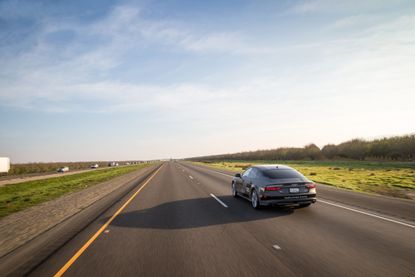 (Image credit: (Facebook.com/Audi USA))
I was a few hours outside of Los Angeles, tooling down I-5 at the wheel of a sleek Audi A7 on a gorgeous day when a little girl in an SUV smiled and waved. I waved back. With both hands. This immediately freaked her out, and she started jumping up and down. All I could do was laugh, knowing my vigorous wave was in no way a safety hazard. In fact, I hadn't touched the steering wheel in more than an hour.
What that little girl didn't know was that I was piloting Audi's latest autonomous vehicle, a prototype designed specifically to handle the monotony of highway driving. I was riding along on a road trip from Palo Alto, California, to Las Vegas, where Audi was showing off autonomous tech that may be in showrooms by the end of the decade.
If this A7, nicknamed Jack, wasn't advertising "Audi piloted driving" on its side, you'd never know it wasn't just another German sedan. All the gadgetry that keeps it centered in its lane at precisely the speed you select is discreetly incorporated into the car. It's top-end stuff, too: six radars, three cameras, and two light detection and ranging units. The computers that allow the car to analyze the road and choose the optimal path and stick to it fit neatly in the trunk. It's remarkably smooth, maintaining a safe following distance, making smooth lane changes, and politely moving to the left to pass slower vehicles controlled by carbon-based life-forms. It's so sophisticated that I never felt anything unusual, and in fact the car is designed to reassure you that you need only grab the wheel or tap the brake to immediately resume control.
Subscribe to The Week
Escape your echo chamber. Get the facts behind the news, plus analysis from multiple perspectives.
SUBSCRIBE & SAVE
Sign up for The Week's Free Newsletters
From our morning news briefing to a weekly Good News Newsletter, get the best of The Week delivered directly to your inbox.
From our morning news briefing to a weekly Good News Newsletter, get the best of The Week delivered directly to your inbox.
And that's the most remarkable thing about Audi's robo-car: All that tech recedes into the background. Driving this car is mundane, almost boring. My interaction with that little girl was the most exciting part of the trip.
They don't let just anyone behind the wheel of an autonomous car. California and Nevada — two of the four states and Washington, D.C., that have adopted regulations governing autonomous vehicles on the road — have reams of rules that must be followed. One of them dictates that anyone who gets behind the wheel must be properly trained.
For Audi, this means learning to be a better-than-average driver. The way Audi sees it, anyone given the responsibility of piloting this device on public roads had damned well be up to the task of taking over, because if you need to grab the wheel, the odds are something's gone terribly amiss. A nicer way of saying this is it takes a lot of skill to be better than Audi's robot.
I was trained at Volkswagen's proving grounds outside Chandler, Arizona. (VW is Audi's corporate parent.) This is where VW puts its cars through hell, tuning them and adjusting them on a high-speed oval, a pair of smaller tracks, and an outrageously bumpy stretch of road. There's even a huge shallow pool and a dirt oval, which would probably be lots of fun in a VW GTI.
After an orientation session in a dreary office, we headed for the track. VW's instructors, who have forgotten more than you've ever known about driving, led me through a slew of exercises in a GTI that's been driven hard. I had to drive a slalom, then drive it in reverse. I mastered emergency braking and evasive turning and skid recovery. They even made me hone my parking skills. It was a daylong lesson in fundamentals that everyone ought to master before being issued a license. It also was, for the most part, a blast.
Once everyone was confident I knew what I was doing, I was taught how to operate the autonomous A7. This took all of five minutes. Basically, you wait until the car's system determines it's safe to turn on autopilot (meaning you're cruising on a highway and not near an exit or entrance ramp), then you press two steering-wheel-mounted buttons simultaneously and let go. It couldn't be easier.
Much like the car's exterior, the interior appears utterly stock at first glance. But little things identify it as something special. A small screen below the main infotainment screen tells you when piloted mode is available, when it's active, and when it will shut off. A line of LEDs stretches along the dash. The lights change color to pass along similar info: They glow bluish-green when the car's doing the work, yellow when it's time to resume control, and red when you're in command.
To communicate the transfer of responsibility to the autonomous system, the steering wheel retracts a few inches. It's just far enough to make it clear you are no longer in charge, but close enough to grab if things go sideways. Because Highway Pilot is for highway driving only, the car makes it abundantly clear when you need to resume driving when, say, the highway ends or your exit approaches. Fifteen seconds before the transfer, the bluish-green LEDs turn yellow, and a voice tells you autopilot will be turned off. Ten seconds before the transfer, the LEDs turn red, and the steering wheel extends to meet you. If you fail to respond, the car activates its hazard lights and slows to a stop, moving to the shoulder if possible.
Turning off piloted mode is easy: Hit the two buttons on the wheel, press the gas or brake pedal, or grab the wheel with a bit of force, and you're in control again. It's just that fast. And it's remarkably sophisticated — drumming your fingers on the wheel (perhaps out of boredom) doesn't do anything, but even the slightest turn will shut off piloted mode.
I was supposed to take the autonomous A7 out for a few laps on VW's high-speed oval, but a technical glitch sidelined the car. We were halfway to the hotel when the engineers solved the problem. They hopped in and met us on the road.
And so it was that I found myself behind the wheel of an autonomous vehicle for the first time. I wasn't confined to the safety of a track, but on a busy street, among real people in real cars — at night. The issue here is the street has traffic signals, which the Highway Pilot system is not programmed to recognize (you don't see a lot of traffic signals on I-5 or I-10). So I used piloted mode for cruising along, then reverted to manual mode when approaching intersections. Project leader Daniel Lipinski suggested I let the car do all the work, since it is programmed to maintain a safe following distance and avoid hitting anything in front of it. Audi's engineers hadn't tried this before, but Lipinski had enough confidence in the tech to let me be the first to test it.
Damned if it didn't work at the next light, bringing the car to a safe stop two car lengths behind the guy in front of us. "We didn't know it would do that!" Lipinski said with some excitement. That hammers home a fundamental point about autonomous technology: It is remarkably advanced, yet still in its infancy. It works very well, yes. But we don't really know exactly how well. And it may, for better or worse, very well surprise us with what it can do.
Every decision the car makes comes down to two questions: Is it possible (i.e., safe and legal), and is it beneficial (i.e., does it make the ride more comfortable)? Tuning the system to assess and balance these two things and speed up, slow down, change lanes, or make turns smoothly has been key to developing the technology. At one point during my drive, the A7 moved effortlessly into a relatively small slot in the right lane to make way for a faster car approaching from behind. It was seamless. That kind of decision making and maneuvering is quite advanced, yet needs fine-tuning before commercial production can begin.
As my excitement turned to boredom — I-5 just goes on and on and on and on — it became easy to see Highway Pilot as a feature drivers will embrace. And it suggests Audi and other automakers are on the right track, rolling out autonomous tech one or two features at a time. Knowing I can immediately resume control of the car, and feeling a conventional steering wheel in my hands and pedals beneath my feet, makes the transition to being chauffeured by a robot easier to embrace. It's a more sophisticated version of the adaptive cruise control we're already using. In that way, the A7 isn't a self-driving car; it's a luxury sedan that can, with my approval, make driving safer, easier, and more relaxing.
A piecemeal approach also is easier for automakers and regulators. Making one swift jump to fully autonomous driving, as Google is pursuing, requires perfecting all of the technology and considering every possible scenario. The car must know exactly what to do, everywhere, under every condition. It's a massive undertaking, and it's easy to see why the automakers want to take things one step at a time.
Shortly after crossing into Nevada, we pull over and swap the license plates, because California and Nevada have different rules regulating autonomous vehicles. It underscores why Audi and other automakers want to see the feds take the lead regulating such cars. The patchwork of rules is, at this point, one impediment to marketing Highway Pilot.
There are other challenges to marketing this tech, not the least of which is packaging all the sensors and computers. Consumers don't want a car that looks like it was used to rob a CompUSA. Each of the eight PCs in the back of our A7 serves a different function. They control data logging; planning a path; steering, braking, and acceleration; operating the near field cameras; and fusing sensor data. When it's time to go to market, Audi will consolidate these functions in a single computer, called the zFAS. Two years ago, the zFAS filled the trunk. When Audi rolled into CES last year, it was a bit smaller than a shoebox. By the time Highway Pilot sees production, it will be the size of an iPad.
After the drive from Silicon Valley to Vegas, the car feels ready for showrooms. But Audi says there's more work to do. The rules that govern how the car adjusts its speed and position need more fine-tuning, for example. The Audi team has put some 50,000 miles on the Highway Pilot feature and will rack up many more before going public. From deer to sinkholes, highways hold a lot of potential hazards, and the system has to be prepared for them.
During my time at the wheel, I never needed to take control from the car, except to take an exit. I turned the system on and off to get a feel for how it works, but I felt the need to grab the wheel only once — and only then to accommodate the Audi camera crew in a passing car. The photographer wanted me to move into the right lane. The lane change would be safe, yes, but not beneficial, because it would put me behind a lumbering truck.
The car didn't see the logic in that, so I grabbed the wheel, put on my turn signal, and changed lanes. It was almost as exciting as spooking the girl in the SUV.
Excerpted from an article that originally appeared at Wired. Reprinted with permission.

Continue reading for free
We hope you're enjoying The Week's refreshingly open-minded journalism.
Subscribed to The Week? Register your account with the same email as your subscription.