How America avoided Europe's Islamism problem
Europe's problem is as deep as history and as broad as culture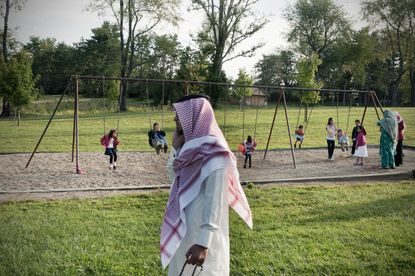 (Image credit: (Adam Reynolds/Corbis))
Sign up to our 10 Things You Need to Know Today newsletter
A free daily digest of the biggest news stories of the day - and the best features from our website
Thank you for signing up to TheWeek. You will receive a verification email shortly.
There was a problem. Please refresh the page and try again.
Allow me to stereotype Americans for a moment. Unlike Europeans, we think we live in what's still a very "new" world. It's unburdened by the past in a way Europe can't be. Our history only goes back a few hundred years. Few domestic military conflicts weigh on our memory. Even those that do, like our Civil War battles, are today more an occasion for partying (through re-enactment) than solemnity. Where even the Old World's recent history is filled with slaughter for the ages, our scattered massacres of Native Americans now strike most of us as ancient history. When you get down to it, we move faster than our history, and we like that about ourselves a great deal. We are glib about the past; we can afford to be.
That is one important reason we don't have the Islamism problem that Europe has.
Consider how powerfully President Obama — maligned by some critics as perhaps the least "American" president ever — fulfills our American stereotype. In a recent press conference with British Prime Minister David Cameron, Obama lectured Europe on its Muslim problem with a classically U.S. combination of sweeping generalizations and bad grammar. "Our biggest advantage is that our Muslim populations, they feel themselves to be Americans," he opined. "There are parts of Europe in which that's not the case."
Subscribe to The Week
Escape your echo chamber. Get the facts behind the news, plus analysis from multiple perspectives.
SUBSCRIBE & SAVE
Sign up for The Week's Free Newsletters
From our morning news briefing to a weekly Good News Newsletter, get the best of The Week delivered directly to your inbox.
From our morning news briefing to a weekly Good News Newsletter, get the best of The Week delivered directly to your inbox.
Indeed, Obama implied, there are so many parts of Europe where Muslims don't feel European that the failure to assimilate Muslims is "probably the greatest danger that Europe faces." Without even the courtesy of asking Europe to allow him to be clear, Obama slammed the continent's newly muscular approach to stopping jihad before it starts. "It's important for Europe not to simply respond with a hammer and law enforcement and military approaches to these problems," the president said.
The message is clear: When it comes to inclusive pluralism, we Americans get it. You Europeans don't. And you'd better get with the program.
If only it were that easy. In typical American fashion, our president seems to believe that if only those Europeans followed our lead, they'd get over the problems of the past that we seemed to shake off so easily. Truth is, we didn't shake off Old World, European-style problems. We just never had them to begin with.
We never endured a centuries-long history of religious and military conflict with Islam. We never followed it up with a murderous round of colonization, followed in turn by another bloody wave of decolonialization. We never struggled to maintain the cultural and political integrity of our national borders. We never had a monarchy or an aristocracy — much less millennia-old religious institutions woven so tightly into the fabric of undemocratic rule that devout organized belief developed a taint of injustice and oppression, from which it has never really recovered.
On what basis is Europe supposed to swiftly, smoothly integrate its Muslims? Of course, many believers have integrated themselves with distinction, not dismay. But for Europe's many ardent fundamentalists, integration is no more on the agenda than it is for Europe's many xenophobes — because the resources for integration are all but completely absent. Mere policy cannot make up the difference. The problem is as deep as history and as broad as culture.
America's relative past-lessness — its obsession, built from the beginning, with "living in the now" — allows us to ameliorate ethno-nationalist and religious identities with relative ease. Rather than wiping them out in jacobin fits, we simply diminish their importance. Right at our point of origin, we had broken the chains of blood, soil, and faith that linked generation to generation in Europe for ages.
Sure, we can tolerate tiny sects that eccentrically strain to re-enchant the world in this way. But our tolerance comes from our intuitive understanding that cults are most often just one of many interpersonal schemes that we democratic souls become so fleetingly curious about toying with. Reflecting on the rash of community experimentation that rippled through the 19th century, David Ryan has suggested that "if you can actually find the sort of people who have the skills, intellect, personal discipline, and inclination to take on a project like that and make it work, a very high percentage of them are going to be the kind of people who get bored with things that just go along swimmingly. It's not the living in an ideal free-love community that turns them on, it's the creating an ideal free-love community that turns their cranks."
America's providential dilettantism — our charmed capability for tinkering in a flash of inspiration, only to stop halfway and move on — goes a long way to explaining why, contrary to our popular and elite opinion, the U.S. is from Venus, and Europe from Mars. We lack the gravity, ponderousness, and epochal grandiosity necessary for true imperialism. And that same lack of heavy, statuesque, bog-like characteristics allows us to draw Muslims, like pretty much anyone, swiftly into the restless American present — from the marketplace to the ballot box to our flourishing multiverse of avocations: sex, food, gadgets, arts, and all the rest.
In Europe, the identities that are least compatible with democratic life are the hardest to assimilate. In spite of massive bureaucratic efforts to the contrary, the omnipresence of Europe's past still tends to heighten, not weaken, those identities. In times of substantial economic pressure, it often weaponizes them. Europe can only hope to "assimilate" Muslims through a common creed expansive enough to include all, but particular enough to resonate as exclusively European. For Christian and post-Christian Europeans, only one such creed has emerged: the French trinity of liberty, equality, and fraternity.
It is hard to be sure how many Muslim Europeans could swiftly submit to that tripartite ideal. But for Americans, it is easy to see that the rest of the world can't snap its fingers and become just like us — a hard but vital lesson for citizens and policymakers alike.
Continue reading for free
We hope you're enjoying The Week's refreshingly open-minded journalism.
Subscribed to The Week? Register your account with the same email as your subscription.
Sign up to our 10 Things You Need to Know Today newsletter
A free daily digest of the biggest news stories of the day - and the best features from our website
James Poulos is a contributing editor at National Affairs and the author of The Art of Being Free, out January 17 from St. Martin's Press. He has written on freedom and the politics of the future for publications ranging from The Federalist to Foreign Policy and from Good to Vice. He fronts the band Night Years in Los Angeles, where he lives with his son.