America is falling right into ISIS's trap
ISIS's execution videos are terrible, brutal propaganda. And they seem to be clouding our better judgment.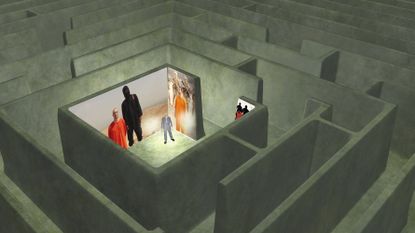 (Image credit: (Illustration by Lauren Hansen | Images courtesy AP Images, Reuters Pictures, Corbis, iStock))
Sign up to our 10 Things You Need to Know Today newsletter
A free daily digest of the biggest news stories of the day - and the best features from our website
Thank you for signing up to TheWeek. You will receive a verification email shortly.
There was a problem. Please refresh the page and try again.
If I asked you whether the United States' campaign against ISIS is succeeding, would you be able to give an answer?
If you're like most people, you probably would. You'd probably say that things aren't going very well. A CNN poll released Tuesday showed that 58 percent of Americans thought the action was going badly, while 41 percent thought it was going well. Only 1 percent said they weren't sure.
So how do they know? It's a question one could ask about any number of issues (since in polls, people will offer up opinions about almost anything), but the kind of news we've been getting about ISIS leaves us particularly ill suited to judge what's going on in Iraq and Syria, or decide what the United States should do about it.
Subscribe to The Week
Escape your echo chamber. Get the facts behind the news, plus analysis from multiple perspectives.
SUBSCRIBE & SAVE
Sign up for The Week's Free Newsletters
From our morning news briefing to a weekly Good News Newsletter, get the best of The Week delivered directly to your inbox.
From our morning news briefing to a weekly Good News Newsletter, get the best of The Week delivered directly to your inbox.
That's in part a failure of the news media and in part a product of ISIS's particular brand of propaganda, meant to produce the horror and fear that overwhelm rationality. Executing people on video, it turns out, is a spectacularly effective way to get attention and spur a reaction from one country after another. When ISIS burned a Jordanian pilot to death in a cage, Jordan went on a heightened bombing campaign against the group; whatever reasons it had for its relative restraint until that time, domestic politics created a demand for vengeance. And when affiliates of the group in Libya executed a group of Egyptian Coptic Christians last weekend, the Egyptian military responded by bombing their positions.
The executions are without question terrible but important events. But they also are so dramatic and upsetting that they tend to overwhelm any other information we might be getting about the conflict.
This is the power of that kind of ghastly propaganda. It may or may not terrify the enemies you're actually fighting, but it makes people thousands of miles away feel horrified and afraid. That includes members of Congress, many of whom are now insisting that they should pass an authorization for the use of military force that goes far beyond the proposed one that President Obama sent them.
A reasonable reading of that proposal makes it hard to see how it limits the president's actions. It says that he isn't granted permission for "enduring offensive ground combat operations," but "enduring" could mean anything — if you wanted, you could say that the next wave of operations won't last more than a few years, and that's not "enduring." The proposed language does include an expiration date of three years hence, which may be what has Republicans concerned. They want to make sure that if the next president is a Republican, he'll be able to wage this war for as long as he wants in any way he wants. (I guess because that worked out so well with the last Republican president).
ISIS's brutality is beyond question, as is the threat they pose to countries in the Middle East. But here in America, so many act as if there's also no question that they pose a threat to us. That's despite the fact that they haven't tried to launch any terrorist attacks against the United States, and the four Americans they've killed were only those who had the terrible fortune to fall into their clutches. That isn't to say that they might not one day try to attack America more directly, but believing that, unless we launch a full-scale war in Syria, ISIS will invade the United States and we'll "all get killed back here at home," as Sen. Lindsey Graham so memorably put it, is not the mark of a person in full possession of his or her faculties.
That reaction, however, is exactly what execution videos are meant to produce. It's a simple and simple-minded calculation: ISIS is unimaginably brutal, therefore ISIS is a threat to us, therefore we must go fight them in the biggest way we can.
An expanded military campaign might be among the best of our bad options, but we can't forget that when it comes to this conflict, America has nothing but bad options. The people who claim otherwise are the same ones who told us that invading Iraq would be easy, quick, and cheap, and after our glorious victory there, a gentle wave of democratic reform would sweep the region.
The ISIS situation has grown increasingly complex, with the involvement of so many different countries in a region with so much instability. But when the next execution video comes, we should remember that however much it may disgust us, it doesn't actually tell us much about what's happening in Iraq and Syria, much less what we should do about it. It isn't as though we'll know we're winning because the videotaped beheadings will stop; there will be more whether ISIS is taking new territory or retreating in defeat. The propaganda tool has been too valuable for them to stop using it. It's up to us not to let the horror cloud our judgment.
Continue reading for free
We hope you're enjoying The Week's refreshingly open-minded journalism.
Subscribed to The Week? Register your account with the same email as your subscription.
Sign up to our 10 Things You Need to Know Today newsletter
A free daily digest of the biggest news stories of the day - and the best features from our website
Paul Waldman is a senior writer with The American Prospect magazine and a blogger for The Washington Post. His writing has appeared in dozens of newspapers, magazines, and web sites, and he is the author or co-author of four books on media and politics.