An introvert's guide to conference networking
Part of our series on how to be a better business traveler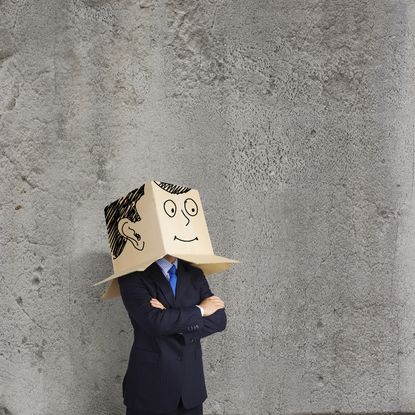 (Image credit: (iStock))
Want to make an introvert cringe? Tell them they're going to a business conference.
Introverts thrive on alone time. So what could be more stressful than being stuck in a hotel with hundreds of strangers with whom you're expected to interact?
"I'm really bad at interacting with a big group of people," says Joey O'Mahoney, a professor of international relations who attends conferences twice a year. "A lot of the actual reason for coming is networking, but I don't like it. I find being in social situations stressful."
Subscribe to The Week
Escape your echo chamber. Get the facts behind the news, plus analysis from multiple perspectives.
SUBSCRIBE & SAVE
Sign up for The Week's Free Newsletters
From our morning news briefing to a weekly Good News Newsletter, get the best of The Week delivered directly to your inbox.
From our morning news briefing to a weekly Good News Newsletter, get the best of The Week delivered directly to your inbox.
Introverts, take heart! It is possible to survive conferences and even leave with some valuable connections and ideas. Here are a few tips:
Don't try to attend everything
Some people can jump from session to panel to workshop without coming up for air. You don't have to be that person. "There really is a compulsion at conferences to feel like there's so much there available to you and you should be maximizing every opportunity," says Susan Cain, author of the book QUIET: The Power of Introverts in a World That Can't Stop Talking. Ignoring that compulsion can be harder than it seems, especially if you have even the slightest case of FOMO. "I think the key thing is overcoming guilt," Cain says.
Take time to recharge
No, not your smartphone. Maintain your sanity and perspective by scheduling some time for yourself during your conference. That could mean an appointment at the hotel spa, a trip to a local museum, or just curling up on your bed and watching a movie. "If you take the time for yourself, you're actually maximizing the opportunities much more than going 24/7," says Cain.
If you're not comfortable leaving the conference for a bit, Dharmesh Shah, founder and CTO of HubSpot, has mastered the art of recharging during sessions. "Come into the session just a minute or so before it's scheduled to start. This minimizes the chances you'll have to engage in conversation," he writes. Then, use that time to take notes, tweet, or quietly observe. You won't feel like you're missing out, and you can sneak out the back before everyone else. You can also look for the quiet spaces — the corner chair down the hall, an empty conference room. "I really appreciate when conferences have a quiet space or quiet spaces," writes Melody Joy Kramer, who spoke at 11 conferences in 2014. "As an introvert, conferences drain me quickly and I frequently need to recharge. If I go and sit by myself, it's usually because I'm happy just observing for a bit."
Set a connections quota
Make alone time your reward for meeting new people. "I advise people to adopt a kind of quota system," Cain says. "You say to yourself, 'For every event I attend, my goal is to maybe find one kindred spirit, or two or three. Once you have achieved that goal, you get to go back to your hotel room and watch a movie. You don't have to be there the entire time."
Consider speaking on a panel
While this may seem counter-intuitive for introverts, it could actually make the rest of the conference much easier for you. "If your name is in the brochure or you're giving any kind of speech, everyone knows who you are," says Cain. "The ice is pre-broken for you. You don't have to be a keynote, you just think about ways to get involved with the conference that make you feel a part of it and help others know who you are."
Make yourself at home away from home
If you have a favorite pillow, bring it. Pack a journal. Stick your house slippers in your suitcase. "Those kinds of things can be anchoring," says Laurie Helgoe, author of the book Introvert Power: Why Your Inner Life is Your Hidden Strength. "They're a reminder of home. They make the place feel less cold." O'Mahoney says he used to bring his own tea and granola to conferences for a familiar morning routine. "Now what I do is beforehand I check up to see if there's somewhere I can get a cup of tea or breakfast I want so I'm starting the day off on a sort of normal foot."
Have a buddy
Most conferences will have an attendees list you can scan for familiar names. Find a few people you know you'll be comfortable with and meet up with them from time to time. At a recent conference, O'Mahoney shared a room with an old friend. "Both of us explicitly said to each other, 'If you don't have anything else, let's have dinner together.' Because having dinner by yourself is really hard." Kramer says her conference buddies are "people with similar personalities and we attend a lot of the same conferences. I trust them, I like them, and I know when I've had enough, they probably have too."
Find the other loners
When you scan the room for someone to talk to, "it's a lot easier to approach people who are standing by themselves than people who are in a group," says Cain. Those people are probably feeling just as lost as you are. Of course, there's always fear that no one will want to talk to us, writes Lisa Petrilli, author of The Introvert's Guide to Success in Business and Leadership. "When I learned to enthusiastically make that first, warm, genuine introduction of myself, what I received back was invariably a warm, 'It's so nice to meet you' in response! It was like magic I had never known about… No one had actually been sending me an 'I'm not into you' signal — it was all in my head!"
Be prepared with conversation-starters
"Introverts usually do better when they've prepared, so I advise preparing in your mind a few opening gambits," says Cain. How did they like the keynote speaker? Who are they most excited about meeting? Have they ever been to the host city before? "Once that first topic is there as a bridge, it's really easy after that to walk the bridge and get to the other side." If you want to get creative, put a few conversation starters on your name badge, which people are going to be glancing at anyway. "Badges can include names, Twitter handles, and a section called 'Ask me About' with suggestions for conversations," writes Kramer. "This allows people to approach people they don't know well."
Build on your existing connections
"One of my biggest problems is that there are all these events which are aimed at trying to get people to interact socially, and I basically fail on all those," says O'Mahoney. "I always say, 'No this time I'm gonna go to the social stuff' and I never do." But he's found a workaround: "If we have to interact anyway, then I try and push that further. Yesterday I had a panel and we were all chatting as part of the workshop. When the workshop was done it was like, 'Oh what do you guys wanna do now? Do you wanna go get something to eat?' I was using the fact we have to interact anyway and pushing that forward, rather than going to a reception and being like 'Hi we don't know each other, do you wanna talk?'"
Don't stress about meeting everyone
Not only is this impossible, it's not necessary, says Cain. "One honest to goodness connection is worth so much more than a fist full of business cards."

Continue reading for free
We hope you're enjoying The Week's refreshingly open-minded journalism.
Subscribed to The Week? Register your account with the same email as your subscription.