6 smart tools that will help you discover new music
From The Idea Factory, our special report on innovation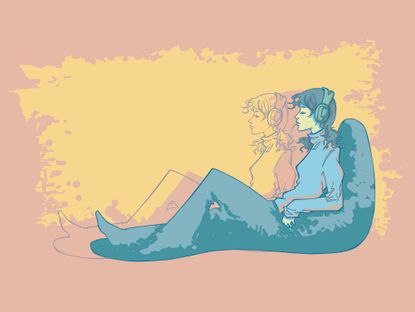 (Image credit: YouTube.com/GoPublicProject)
So you're tired of your music collection and want to find some new tunes? With streaming services like Spotify and Pandora, millions of songs are just a click away. But wading through that dense library of music for something that pleases your eardrums can be a little bit like finding the proverbial needle in the haystack. Where do you start? You could ask that audiophile friend who always seems to be have been listening to tomorrow's most popular band yesterday. But there are also a growing number of tools to help you find good music based on what you already like. Here are a few of them. Sit back, plug in your headphones, and trust the algorithm.
1. Gnoosic
If you're looking for a bare-bones recommendation tool, it doesn't get much simpler than Gnoosic. Just type in three of your favorite artists and Gnoosic will start recommending similar musicians. Gnoosic "contains thousands of bands and quite some knowledge about who likes what," says its creator Marek Gibney. After each recommendation, tell Gnoosic if you liked what it came up with so it can learn your tastes. If you're more of a visual person, Gibney also has a Music-Map that creates an interactive diagram of artists.
Subscribe to The Week
Escape your echo chamber. Get the facts behind the news, plus analysis from multiple perspectives.
SUBSCRIBE & SAVE
Sign up for The Week's Free Newsletters
From our morning news briefing to a weekly Good News Newsletter, get the best of The Week delivered directly to your inbox.
From our morning news briefing to a weekly Good News Newsletter, get the best of The Week delivered directly to your inbox.
Pros: Super simple, no frills, no potentially embarrassing sharing of your taste with anyone.
Cons: It requires that you open a tool like Spotify to listen to the recommended musicians.
2. TasteKid
Like Gnoosic, TasteKid surfaces recommendations based on your existing tastes. But it's more like a social network in that it shows you how popular that artist is with the TasteKid community. It's smart, learning more about you with each play. And you don't have to leave the site to sample the suggested songs, as TasteKid provides a sample of each artist's work, along with an artist bio.
Pros: Tells you what artists are trending, gives you a sample of the music recommended, if available. Tells you about the artist.
Cons: Not nearly as simple or intuitive as Gnoosic. Account required.
3. Last.fm
Last.fm has been on the music streaming scene since 2002, so it's had plenty of time to garner devotees. Like other tools, it works from what you already like, but it sets itself apart by connecting with other music programs like Spotify or iTunes and tracking what you listen to (this is called "Scrobbling"). The data gets imported back into Last.fm's database for a complete picture of your tastes. You can catalog musicians with really specific tags like "female vocalist" or "British." But one common complaint lobbed at Last.fm is that its interface is cluttered and really hard to navigate if you're a new user. And its recommended songs play through YouTube, which means you're subject to annoying ads and questionable video and audio quality.
Pros: Compatible with a lot of devices and music services, doesn't restrict your listening methods.
Cons: Complicated interface, subject to YouTube's quirks.
4. Beats Music
Launched in 2014, Beats Music boasts a library of 20 million songs and is one of the most beautiful music recommendation apps available. Its interface is clean, modern, and intuitive. After you give it some of your favorite genres and artists, Beats generates a list of playlists made by real humans based on your tastes. "Heart" songs or "X" them to hone the recommendations. One of the most popular (if a bit gimmicky) features is "The Sentence," a fill-in-the-blank Mad Libs way of choosing music. You provide the who, what, and where, and Beats gives you a playlist it thinks matches your sentence. For example, when I chose, "I'm at work & feel like dancing with no pants on to pop," it presented me with a mix featuring Rihanna, Ke$ha, and Katy Perry. Okay, sure. Beats takes some time to understands what you really want. Its initial recommendations for me weren't spot on, but after about a week of regular use, I was pleasantly surprised by almost everything it surfaced.
Pros: Beautiful design, playlists created by real humans.
Cons: It costs $10 a month, and it's offline mode leaves a lot to be desired.
5. Songza
Songza was one of the first tools to recommend music based on mood. It knows the day and time, and even the current weather forecast. On a Monday morning it recommended music for "waking up happy," "working out," or, for some reason "looking fresh in the '90s." You can also search by genre and decade. And its "blogged 50" lists showcase whatever the music blogs are currently raving about, so you don't have to read them all.
Pros: It's free, well-designed, and the lists are curated by humans. Probably the best combination of all three you'll find.
Cons: You are subject to a skip limit. It also doesn't give you a lot of additional information about the musicians.
6. Grooveshark
If you're looking for a music streaming app that's all about what other people are listening to, Grooveshark is a good option. It just rolled out a redesign that's focused intensely on the social aspect of listening to music, letting users discover new tunes through the community. Filtered by genre, Grooveshark's "Music Feed" learns what you like and displays songs to accommodate your tastes. Users can tag friends to share music with them and listen to live "Broadcasts" from other Grooveshark users while chatting at the same time.
Pros: Easy interface, the lists are human-curated, great for connecting with a music community.
Cons: It could disappear tomorrow. Grooveshark has been in conflict with the music industry over copyright law since day one, and many have long predicted the tool's inevitable demise. So maybe don't get too attached.

Continue reading for free
We hope you're enjoying The Week's refreshingly open-minded journalism.
Subscribed to The Week? Register your account with the same email as your subscription.