Game of Thrones season premiere recap: 'The Wars to Come'
The HBO fantasy drama is beginning to diverge from its source material — and every change is for the better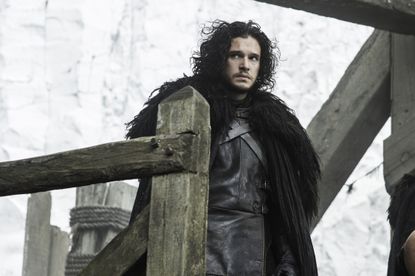 (Image credit: (Helen Sloan/courtesy of HBO))
Season five was always going to be the breaking point for HBO's Game of Thrones.
A Storm of Swords, the third and best book in George R.R. Martin's ongoing series, offered enough story to take up seasons three and four of the TV series. But the two completed novels after A Storm of Swords are unwieldy beasts, bogged down by way too many plotlines and way too little forward momentum. The events of books four and five also take place concurrently, splitting the perspectives of the characters. From a screenwriting perspective, they looked as dangerous and unmanageable as Daenerys' dragons, and it was easy to imagine a version of season five that followed Martin right into his self-created (and seemingly inescapable) pit. So it is with great relief that I can report that the first episode of season five is the moment when Game of Thrones stopped being a great translation of Martin's novels and started becoming a great adaptation of them.
The show's creative team has stripped away the fat of the novels with surgical precision, finding both the urgency and emotional core that the stories lacked on the page. At times, scenes from Martin's novels show up virtually unaltered; at others, stories are combined or accelerated for vastly improved momentum; and sometimes, new scenes — and even new storylines — are entirely divorced from Martin's work, offering as many surprises for those who have read the books as for those who haven't.
Subscribe to The Week
Escape your echo chamber. Get the facts behind the news, plus analysis from multiple perspectives.
SUBSCRIBE & SAVE
Sign up for The Week's Free Newsletters
From our morning news briefing to a weekly Good News Newsletter, get the best of The Week delivered directly to your inbox.
From our morning news briefing to a weekly Good News Newsletter, get the best of The Week delivered directly to your inbox.
As its title indicates, season five's premiere episode, "The Wars to Come," is a forward-looking hour of Game of Thrones, with characters preparing themselves for the inevitable conflict on the horizon. The events of the episode are largely in line with the original novel, but the seeds are being planted for greater departures down the line. King Tommen may be sitting on the Iron Throne, but the Lannisters' claim to Westeros has never been weaker. Patriarch Tywin, the most feared man in Westeros, is dead, and Tommen is too young and meek to merit any real emotion from his subjects; even the unthinking ruthlessness of his older brother Joffrey was, arguably, a more effective means of controlling the Seven Kingdoms.
But while Tommen's impending marriage to Margaery Tyrell will help to shore up support, "The Wars to Come" begins with the other woman in his life: his mother Cersei, who clings to power all the harder as she feels it slipping away. Tellingly, Game of Thrones uses its first-ever flashback to revisit Cersei's childhood, which retroactively explains both her hysteria over Tyrion's decision to send Princess Myrcella to Dorne and her intense distrust of Margaery Tyrell. "You'll be queen for a time. Then comes another, younger, more beautiful, to cast you down and take all you hold dear," says a prophesying witch who Cersei consults as a child. "The king will have 20 children, and you will have three. Gold will be their crowns. Gold their shrouds." With just one child left in Westeros — and the very real possibility that someone will kill him and usurp the throne — Cersei's rage and paranoia have never been more sympathetic.
The War of the Five Kings, which made up the backbone of Game of Thrones' second season, ended with heavily casualties; of the men angling for the throne, only Balon Greyjoy and Stannis Baratheon. Balon is such a non-player that he hasn't been seen since season three, when he declined to ransom his son Theon from Ramsay Bolton. That leaves Stannis, who provided unexpected and vital support to the Night's Watch in last season's massive battle against the wildlings. That pits Stannis against another towering and influential leader: Mance Rayder, the so-called "King Beyond the Wall," who was captured and thrown into a cell at the end of last season. For all his strengths, Stannis lacks an army, and he sees an opportunity in the massive group of wildlings who are desperate to settle south of the Wall. On condition of loyalty — and a willingness to march against Roose Bolton, who has staked his claim as warden of the North — Stannis offers amnesty and land to the wildlings. Stannis is smart enough to know that the support of Mance Rayder is a shortcut to the wildling army he needs, so he enlists Jon Snow in an attempt to get Mance to publicly acknowledge him as the one true king.
It's a plan that's inevitably doomed to failure. It's too bad, because Stannis and Mance actually have a lot in common: tough, grizzled, unflappable veterans with strong moral codes and a genuine dedication to the good of their people. But Mance's commitment to freedom precludes him from kneeling, and Stannis' insistence on the letter of the law precludes him from pardoning Mance from his promised punishment: burning at the stake. As the wildlings look on, Mance starts to burn — and Jon Snow intervenes, offering a mercy killing by bow-and-arrow. Stannis may be implacable — and based on the way he's alienated the wildlings, it may be his downfall — but even he can't prevent a bystander from interrupting his "justice." It's a reminder, contra Joffrey, that sometimes the king cannot do as he likes. It's also an early warning for readers of the books, in which Mance is still alive, that no one is truly safe.
It's a lesson that's also playing out in its own way in Mereen, where Daenerys is finding that leadership isn't as simple as toppling a regime — even one as despotic as the city's former slavers — and stepping into its place. Mereen's old guard has organized a resistance: the Sons of the Harpy, an underground resistance movement dedicated to killing members of Daernerys' army, who are charged with keeping peace in the unstable city streets.
It's easy to criticize Daenerys' storyline for dragging its feet — and I've certainly done it before — but now that she's imposed her will on an entire culture, I admire Game of Thrones' staunch refusal to give her the easy way out. I'm reminded of George R.R. Martin's insightful critique of the ending of The Lord of the Rings. "Tolkien can say that Aragorn became king and reigned for a hundred years, and he was wise and good," Martin said in a 2014 interview with Rolling Stone. "But Tolkien doesn't ask the question: What was Aragorn's tax policy? Did he maintain a standing army? What did he do in times of flood and famine? And what about all these orcs? By the end of the war, Sauron is gone but all of the orcs aren't gone — they're in the mountains. Did Aragorn pursue a policy of systematic genocide and kill them? Even the little baby orcs, in their little orc cradles?"
Of course, Game of Thrones isn't solely concerned with the people holding and grasping for power — it's concerned with the people who can help them get to it, too. Daenerys long-delayed quest for the Iron Throne is about to get a boost from two major players: Varys and Tyrion. Both men have been within a hair's breadth of the Iron Throne: Tyrion as the King's Hand to his nephew Joffrey, and Varys as Master of Whisperers to both Joffrey and Robert Baratheon. In conversation with Tyrion, Varys makes a convincing pitch for the kind of leader Westeros needs — a person who brings about "peace. Prosperity. A land where the powerful do not prey on the powerless." When Tyrion dismisses his goal as an idealistic fairy tale, Varys suggests that Westeros has "grown so used to horror that we assume there's no other way."
After the horrors of the Mad King, the self-centeredness of Robert Baratheon, and the smug, sadistic cruelty of Joffrey, it's easy to be cynical about the future of Westeros. But Game of Thrones really has introduced a number of more palatable leaders: Robb "King in the North" Stark, Daenerys, and even Stannis, whose lack of charisma sometimes overshadows his more salient qualities as a ruler. With the right support, someone better really could use the might of the Iron Throne to turn Westeros around — and for the first time in a while, it feels like Game of Thrones is moving its major players closer together instead of farther apart.

Continue reading for free
We hope you're enjoying The Week's refreshingly open-minded journalism.
Subscribed to The Week? Register your account with the same email as your subscription.