9 innovative board games that your entire family will love
From The Idea Factory, our special report on innovation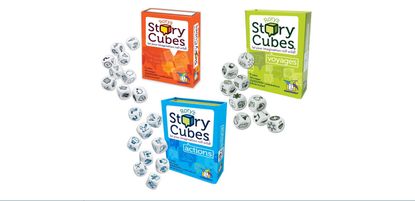 (Image credit: (Amazon.com))
Most children's board games require at least two players: An excitable child, and a drowsy, glassy-eyed parent, who would rather lap two-day-old water from a hoof print than be forced to slide down another chute or spin another plastic wheel. After all, the board games you actually like are unkind to play against a small child, who proudly lays "CAT" out next to your "ZEALOTRY" and doesn't understand why you get the triple word score, nor what a triple word score is.
Never fear. The board game industry has developed many potential solutions to this problem. Here are a few innovative new games that can actually, maybe, really be fun for the whole family.
Subscribe to The Week
Escape your echo chamber. Get the facts behind the news, plus analysis from multiple perspectives.
SUBSCRIBE & SAVE
Sign up for The Week's Free Newsletters
From our morning news briefing to a weekly Good News Newsletter, get the best of The Week delivered directly to your inbox.
From our morning news briefing to a weekly Good News Newsletter, get the best of The Week delivered directly to your inbox.
Officially these sets of dice with simple pictures inscribed on them are for ages 8 and up. But aside from their potential as a choking hazard, that age seems rather arbitrary. My daughter and I have been using them since she could talk. We love to spin up a wild and crazy story, one player and one die at a time. This is extra fun when combining the different themes of cubes offered, like the "Action" theme and "Voyages" theme. What sort of story can your family put together from an alien, a castle, and a bumblebee? An awesome one, that's what kind.
2. Set
Set is a matching game, but not flip over all the Disney's Princesses' cardboard faces and try to remember which two are Jasmine. Instead, the most complicated thing about this fast-paced game is figuring out what qualifies as a "set." The cards laid before the players all bear symbols of different colors, shapes, shading, and number. The players look at the cards together, each searching for three cards that either share one thing in common, like color, or three cards that manage to share nothing in common. Both of these are sets. Once you get the hang of it, Set offers pulse-racing competition in which quick-eyed kids can hold their own just fine against the grown-ups.
I know the beloved adult version of Settlers of Catan isn't supposed to be all that complicated. You have land and you…settle it, with trees and coal and roads and whatnot. But the idea of being able to get the hang of Catan on the Junior version, suitable for players as young as five, is terribly appealing. In this version, which can be played with as few as two people, the Islands of Catan are where you build your pirate fortress. You must gather the necessary supplies to expand your little empire while avoiding the treacherous Ghost Captain. Then after many hours spent refining your skills, both you and your child may prove yourselves worthy of exploring the rest of the Catan universe.
4. Hello Sunshine Hide and Seek
This is a clever little hide and seek game for the pre-school set. It involves enough action to keep things exciting, but not so much that Mommy will get tired halfway through and begin "seeking" the TV remote. The object to hide and seek is a plush little sunshine, and where it is to hidden is determined by an easily interpreted picture card. It entertains kids while teaching them simple directions and spatial relationships.
Roll and Play is another game for very young children. It combines simplicity with active participation in a nice balance to entertain parent and child alike. All you do is roll the big soft block, match the color to a card, and perform the act written on it. What parent doesn't want the opportunity to "roar like a lion" or "wave your arms around" every now and then?
6. Suspend
If my husband's tendency to arrange empty soda cans into endless varieties of towers is any indication, many people never lose their love of building, stacking, and carefully balancing objects. That's what Suspend is all about. The trick is to balance all 24 squiggly wires on a single base without collapse. Like all good games, the premise is simple but the execution provides near endless options.
Unless we're very lucky, when someone teaches us to play chess, it usually just involves learning the particular movements each piece can make. Strategy and foresight, the soul of the game, are something rarely taught. No Stress Chess takes on that challenge. It first teaches the pieces and their moves through reinforcement, then gently introduces critical thinking by offering limited options for each turn. Watch a demonstration video here. Hopefully, if you combine that strategy with the guidance of a parent playing at any level, a child will learn faster and with more depth than on their own.
8. Bounce Off
Bounce Off isn't a learning game, unless you believe it sharpens your reflexes and develops wrist agility. But it's just plain fun. It's a board with holes. It's two colors of balls that fit in those holes. And it's a set of cards with different patterns to be made by the balls. The first player or team to complete the pattern in their own color wins. Don't be afraid of getting competitive toward your children; the promotional video encourages smack-talking.
9. Tenzi
Once again, simplicity and competitive activity is the recipe for a game everyone can enjoy. Although there are many variations of Tenzi, the basic game is simply a race to see which player can roll all ten of their die to come up the same number first. You still might have to let the little guy win every now and then, but you'll have no real natural advantage because of your age. In fact, it just might turn out that our old crotchety fingers are no match for the sleek work of a six-year-old.

Continue reading for free
We hope you're enjoying The Week's refreshingly open-minded journalism.
Subscribed to The Week? Register your account with the same email as your subscription.