The low-tech secret to making your work meetings less awful
From The Idea Factory, our special report on innovation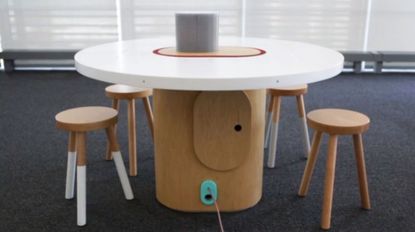 You can admit it: Meetings suck. They drone on and on, often without any kind of breakthrough or conclusion, and they take up valuable time that could have been better spent getting actual work done.
We've been looking for ways to improve on the traditional meeting format for a long time. We've tried everything: standing meetings, laughing meetings, walking meetings, and strictly timed meetings.
The latest attempt comes from the folks at The New York Times R&D Lab, of all places. They've created a smart table that "hears and understands the conversations happening around it." The "Listening Table," as they're calling it, looks like your standard office tabletop... except it has a large microphone protruding from its center. It listens to and transcribes your meetings, creating a sort of summary that shows who talked about what and when. A special strip on the table, when tapped, makes a note in the transcript, flagging a key moment in the meeting. If you don't want your conversation to be recorded, the table comes with a standard on/off switch.
Subscribe to The Week
Escape your echo chamber. Get the facts behind the news, plus analysis from multiple perspectives.
SUBSCRIBE & SAVE
Sign up for The Week's Free Newsletters
From our morning news briefing to a weekly Good News Newsletter, get the best of The Week delivered directly to your inbox.
From our morning news briefing to a weekly Good News Newsletter, get the best of The Week delivered directly to your inbox.
The purpose of the table, according to its creators, is to "facilitate interactions that support and empower" meeting-goers. "The hope is that you would find yourself actually looking at the people you're talking to, and maybe getting something done," writes Mario Aguilar at Gizmodo.
But when it comes to making our roundtable discussions more productive, is note-taking furniture really what we need?
"It just seems like an expensive version of a tape recorder," says Laura Vanderkam, a time management expert and author of I Know How She Does It and What The Most Successful People Do Before Breakfast. She says that note-taking isn't the problem with meetings. Meetings are the problem.
"People have meetings when they don't need them," she says. "It's usually something that could have been handled in a two-minute conversation between a smaller number of people, but by setting it at a formal time and getting a lot of people there, you've weighed down peoples' schedules."
Indeed, studies show that it takes about 25 minutes to get back on task after your work is interrupted (by meetings, chatty co-workers, or unexpected phone calls, for example), and then another 15 minutes to get back into a state of focus and flow where the ideas are pouring out of you. "Any time you create an interruption you've extracted a pretty high cost," Vanderkam says.
Sure, The Listening Table could have some benefits. "If you miss a meeting, the Listening Table makes it easy to catch up with what was discussed," writes John Brownlee at Co.Design. On the flip side, the fact that it records everything could actually inhibit the brainstorming process by intimidating people. Each recording is set to be deleted in one month, but the thought of having one's words documented for any period of time is enough to make some people clam up. Plus, the Listening Table perpetuates an assumption that note-taking is a bad thing, ignoring recent research showing that writing by hand actually helps many people be better listeners and learners.
Of course, this isn't the first time we've looked to technology to fix our meetings. From conference calls to virtual Google Hangouts, our office brainstorming sessions are already infiltrated by digital tools. And while these technologies can sometimes serve a useful purpose, they're just as likely to be problematic. The conference call is the bane of nearly every office worker's existence (as illustrated in this excellent parody video), and everyone has fallen victim to the glitchy, frozen video chat.
So perhaps technology isn't the solution. The best way to get the most out of a meeting, Vanderkam says, is to have an objective. "A meeting without a clear agenda is a meeting that is going to waste a lot of time," she says. "Something needs to change in the world as a result of this meeting, even if it's just that people are happier about a project. It's good to have great meeting technology, but having fewer meetings might be even better."

Continue reading for free
We hope you're enjoying The Week's refreshingly open-minded journalism.
Subscribed to The Week? Register your account with the same email as your subscription.