Hey, summer blockbusters: Stop trying to save the world!
How about focusing on humans instead?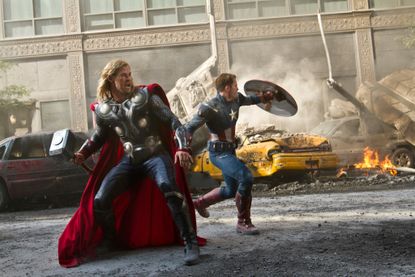 (Image credit: Facebook.com/Avengers)
In Jurassic World, a character explains to Chris Pratt the theme park's rationale for creating a gargantuan new dinosaur: "Corporate felt genetic modification would up the 'wow' factor." To which Pratt, incredulous, spits back: "They're dinosaurs. 'Wow' enough."
In two lines, Jurassic World­ perfectly encapsulates everything that's gone awry with the summer blockbuster, even if the movie fails to heed its own advice. With every blockbuster that arrives in theaters, the wow factor grows ever higher — even as our emotional investment in its heroes gets lower and lower.
This dynamic is clearly at play in our current crop of action blockbusters. Earlier this year, the Avengers literally saved the world from global extinction. Last week, an almost sentient earthquake attempted to wipe most of California off the map in San Andreas. In 1994's Jurassic Park, dinosaurs went after a small group of scientists and their grandkids; in Jurassic World, they're hunting thousands of theme park visitors instead.
Subscribe to The Week
Escape your echo chamber. Get the facts behind the news, plus analysis from multiple perspectives.
SUBSCRIBE & SAVE
Sign up for The Week's Free Newsletters
From our morning news briefing to a weekly Good News Newsletter, get the best of The Week delivered directly to your inbox.
From our morning news briefing to a weekly Good News Newsletter, get the best of The Week delivered directly to your inbox.
These stories are heftier, but they lack that essential human element. And every cinematic world in peril raises another question: Are these worlds even worth saving?
In an age when blockbusters routinely cost hundreds of millions to produce, spectacle is the quickest shortcut to standing out from the pack. But in the race to be the biggest, the uniqueness of each movie has been lost.
It's here that film could take a lesson from television, whose focus on story is a function of limited budgets and longer runtimes. Take FX's The Americans, which explores and humanizes the entirety of the Cold War through the eyes of a family of four. HBO's Game of Thrones, like most blockbusters, has spent hundreds of millions of dollars — but its intricate, nuanced world, which has sprawled across nearly 50 hours, tends to focus on the development of its characters.
Blockbusters don't need to be so impersonal. Just look at Mad Max: Fury Road, which accomplishes a rare feat by being both breathtakingly enormous and exceedingly specific. In a world full of blockbusters about the end of the world, Mad Max gives viewers a world that's already destroyed, which allows it to narrow its lens to the subjects of its primary conflict: five women who have been kept as sex slaves, charged with birthing the children of a fearsome warlord. When the scope of the movie does grow bigger, it's because we've already come to care, specifically, about the survival of those five women.
Now think of your average modern superhero movie: Do you even know who they're saving? Consider the last Marvel movie you saw, and try to recall the specifics of an action sequence. It's difficult — those computer-rendered scenes are heart-pounding but forgettable blurs, cut-and-pasted between quippy dialogue. City infrastructure crumbles as the camera manically swings and shakes, but what actually occurs is essentially generic — a variation of the same city-leveling that pops up in at least a half-dozen movies every summer.
In the first Avengers movie, the group saves New York City. But the movie doesn't take the time to populate its own world, so the superheroes end up saving an idea of New York City — not the one inhabited by your friends and family. As unnamed buildings crumble, it's difficult to muster up any real emotion. After all, it's just concrete.
Consider, by contrast, the biggest action movie of 1988: Die Hard, which confined its action to a single building and its primary conflict to a man trying to rescue his estranged wife. Of course, even action heroes like John McClane have succumbed to the latest blockbuster trends. In the fourth Die Hard movie, he was tasked with saving the entire United States. Which is more memorable?
When we're bludgeoned with the same kind of story over and over again — one in which human-sized stakes are swapped for world-sized ones — it simply grows tiring. Pick your franchise: The Avengers, Transformers, or this latest evolution of Jurassic Park. Barring a token tragic casualty or two, everyone will walk away shaken but fine — and prepared for the sequel, when the world will be threatened all over again.

Continue reading for free
We hope you're enjoying The Week's refreshingly open-minded journalism.
Subscribed to The Week? Register your account with the same email as your subscription.