Humanity's long, strange fixation with talking Teddy Bears
Ted 2 is just the latest entry in a decades-long trend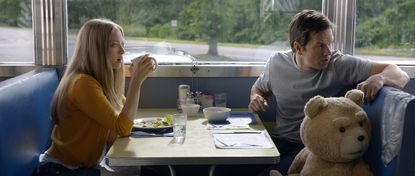 (Image credit: Courtesy photo/LegalizeTed.com)
The foundational gag in Ted — which follows a raunchy, sentient Teddy Bear (Seth MacFarlane) and his best pal (Mark Wahlberg) through a series of scatological misadventures — only works if you're familiar with the basic tropes of the surprisingly robust "sentient Teddy Bear" subgenre. It goes something like this: A Teddy Bear comes to life, teaches a boy a lesson — it's always a boy, for some reason — and then departs in a bittersweet coda that doubles as a metaphor for the loss of childhood innocence that comes with growing up. And if the kid and the Teddy Bear haven't parted at the end of the story, it's only because the kid hasn't grown up yet.
Ted and its sequel, which hits theaters Friday, subvert this trope by giving us a sentient Teddy Bear who has continued to grow up — literally, if not metaphorically — alongside John (Wahlberg), the impressionable young boy he met decades earlier. As John's childhood gave way to an "adulthood" of booze, pot, and crappy '80s action movies, his Teddy Bear pal was right there, boozing and toking alongside him.
In the movies, Ted owes his existence to a wish John made on a shooting star. In reality, Ted owes his existence to Theodore Roosevelt. The origin of the Teddy Bear is generally traced to 1902, when President Roosevelt refused to kill a black bear that had been clubbed and tied up. The story inspired a series of bear-themed political cartoons by Clifford Berryman. Those cartoons, in turn, inspired Brooklyn candy shop owner Morris Michtom to sell a couple of stuffed bears made by his wife as "Teddy's bears" — kicking off a craze so massive and long-lasting that the Teddy Bear gradually became divorced from its namesake as it transcended decades and international boundaries. (Though the "Teddy Bear" name undoubtedly originates with the Roosevelt story, there are some who counter that the credit for the concept of stuffed toy bears belongs elsewhere — like Steiff, a German company that anachronistically claims to have been "delighting children and adults of all ages and stages with their exquisite collection of Teddy Bears" since 1880.)
Subscribe to The Week
Escape your echo chamber. Get the facts behind the news, plus analysis from multiple perspectives.
SUBSCRIBE & SAVE
Sign up for The Week's Free Newsletters
From our morning news briefing to a weekly Good News Newsletter, get the best of The Week delivered directly to your inbox.
From our morning news briefing to a weekly Good News Newsletter, get the best of The Week delivered directly to your inbox.
Regardless of its exact origins, the next step in the Teddy Bear's cultural dominance was practically a foregone conclusion. As soon as the fuzzy, smiling, semi-anthropomorphized Teddy Bears became a hit with children, authors saw the chance to capitalize by bringing them directly into stories. Bears had long been a part of fairy tales — see Goldilocks and the Three Bears, alongside many lesser-known examples — but now that kids had tiny, cuddly bears of their own, why not cut out the middleman and bring those tinier, cuddlier bears to life in fiction?
So alongside stories like The Roosevelt Bears and The Berenstain Bears, which follow anthropomorphized bears, we saw stories like Corduroy and Old Bear and Friends and Peef: The Christmas Bear, which depict Teddy Bears that come to life. (Some of the most successful split the difference; though Michael Bond's Paddington Bear was based on a Teddy Bear he saw in the station of the same name — and is every bit as adorable — the stories depict him as a living bear, hailing from "Darkest Peru.")
The most popular sentient Teddy Bear story — and arguably the most popular bear in pop culture, period — is A.A. Milne's Winnie the Pooh, who was introduced in a poem titled "Teddy Bear" in 1924. Milne's poem, like Bond's Paddington, was inspired by a specific Teddy Bear — the one owned by his son Christopher Robin.
Milne's "Teddy Bear" doesn't bother to explain how Winnie-the-Pooh (then called Mr. Edward Bear) came to life; he's introduced sitting around, worrying about how fat he is, as if that's a totally normal thing for a stuffed bear to do. In the years that followed, Milne wrote many more Winnie-the-Pooh stories and poems. But measured in years, Winnie-the-Pooh's original lifespan was fairly short; A.A. Milne's second and final Pooh book, The House at Pooh Corner, published just four years after "Teddy Bear," ends with Christopher Robin on the cusp of leaving the Hundreds Acre Woods — to put away these childish things, it's implied, and join the adult world.
Though The House at Pooh Corner established this kind of bittersweet ending as one of the genre's defining tropes — a trend that extends all the way to 2009's Gooby, an unintentionally creepy Winnie-the-Pooh rip-off that became a minor hit among irony-loving YouTube hounds — it's also an ending that later authors have attempted to veer away from over and over again. Kenny Loggins' 1991 hit "Return to Pooh Corner" ends with the song's grown protagonist saying he's "finally come back to the House at Pooh Corner." A 2009 sequel, officially authorized by the Milne estate, begins with a chapter titled "In Which Christopher Robin Returns." Through Disney, Listen Up Philip director Alex Ross Perry is developing a live-action Winnie the Pooh sequel in which an adult Christopher Robin returns to the Hundred Acre Wood.
It's a variation on that same anarchic spirit that has driven the "edgy" —and frankly, kind of lazy — modern, revisionist takes on the sentient Teddy Bear story. Grizzly Teddy, a bear who mutates into a monster whenever he drinks blood, is the most memorable character in the B-movie series Demonic Toys. In the 2010 video game of the same name, Naughty Bear spends his time murdering his Teddy Bear friends in various gruesome ways. Even Ted was accused of stealing its basic concept from a web series called Charlie the Abusive Teddy Bear, which features episodes like "Charlie Kills a Hooker." (The lawsuit was eventually settled out of court.)
Though it's definitely not for children, Ted 2 may actually be the defining sentient Teddy Bear story of its era. At heart, the arc of the original Ted wasn't all that different than the long-running subgenre that inspired it; John, with the help of his Teddy Bear friend, learned to give up his childishness and embrace the adult world. But Ted 2 finds John right back on the couch, now divorced, getting stoned and riffing on old Law & Order reruns with his Teddy Bear buddy. Why stop at childhood, when manchildhood is both raunchier and more lucrative?

Continue reading for free
We hope you're enjoying The Week's refreshingly open-minded journalism.
Subscribed to The Week? Register your account with the same email as your subscription.