The moral divide at the heart of the Greek debt crisis
It's not about how to fix Greece. It's about who pays for it.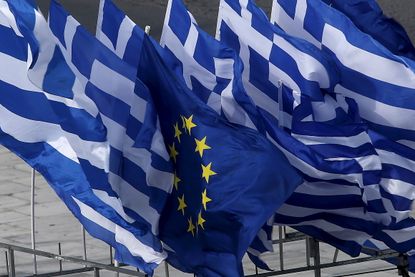 (Image credit: REUTERS/Yannis Behrakis)
Sign up to our 10 Things You Need to Know Today newsletter
A free daily digest of the biggest news stories of the day - and the best features from our website
Thank you for signing up to TheWeek. You will receive a verification email shortly.
There was a problem. Please refresh the page and try again.
Liberal America had a good run last week. So spare a thought for the Greeks, for whom things did not go nearly so well.
No less than five meetings last week — between the Greek government on one side, and the triumvirate of the International Monetary Fund (IMF), the European Central Bank (ECB) and the European Commission on the other — ended in stalemate on Saturday. Bailout funds expire at the end of tomorrow, and a thin and uncertain lifeline from the ECB is all that remains. With debt payments due Tuesday as well, a Greek default appears all but inevitable.
Greek citizens are lining up at cash machines, and the government has already imposed capital controls, withdrawal limits, and a banking holiday today to prevent runs and a national financial collapse. It isn't yet an official "Grexit" — a departure from the shared euro currency — but whether it will come to that will likely be decided by national referendum, which Prime Minister Alexis Tsipras, from the ruling Syriza party, has called for this coming Sunday.
Subscribe to The Week
Escape your echo chamber. Get the facts behind the news, plus analysis from multiple perspectives.
SUBSCRIBE & SAVE
Sign up for The Week's Free Newsletters
From our morning news briefing to a weekly Good News Newsletter, get the best of The Week delivered directly to your inbox.
From our morning news briefing to a weekly Good News Newsletter, get the best of The Week delivered directly to your inbox.
It's only one of a handful of such referendums that have occurred in modern Greece's history. And it will present the Greek populace with a genuine Sophie's choice.
They can reject the final offer of the European negotiators, and leap into all the unknowns and potentialities for chaos (or recovery) therein. Or they can acquiesce to what is effectively national economic punishment; not so much for fiscal mismanagement (though there certainly was that) but simply for not prioritizing above all else the needs and conveniences of businesses, the wealthy, and Western capitalism writ large.
If the point of contention was really just getting Greece's fiscal house in order, this would be an easy matter to solve. Both sides have effectively landed on a shared goal for the primary surplus — i.e. how much revenue the government brings in over what it spends, before interest payments on its debt are factored in. It's a simple matter of juggling a few fractions of a percent of GDP here or there.
But if you look at the guts of the disagreement, it isn't about this at all. It's about which class of people shoulders the burden of getting Greece back on track, and which does not.
The proposed budget by Tsipras and his colleagues relies primarily on tax increases. In particular, there's a modest hike in the value added tax (or VAT, which is a sophisticated form of national sales tax), along with increases in the corporate tax rate and a one-off tax on business profits. They're also looking for higher employer contributions to the Greek pension system, which performs the role Social Security and Medicare does here in the States.
On the spending side, the Greeks are looking to halt or slow down cuts to that same pension system. It's already endured a round of reductions; and within the European context the Greek pension system is generous but not absurdly so. Furthermore, in a country ground down by massive collapses in GDP and Great Depression unemployment levels, and in which much of the rest of the social safety net has already been scuttled to appease European demands, the pension system is one of the few lifelines everyday Greeks still have.
The European chieftains are demanding the opposite mix of trade-offs: No one-off tax on businesses, a smaller rise in the corporate tax rate, and a bigger rise in the VAT. They want individual Greeks paying a bigger portion of their health care costs instead of employers contributing more to the pension system. They want that pension system cut deeper and faster, and they want to speed up the phase-out of a pension top-off payment that goes to the poorest Greeks.
One could argue that the Europeans are suspicious of any plan that prioritizes tax increases over spending cuts, as the Greek government does have a history of lax tax enforcement. Except the Europeans seem fine with taking that risk when it comes to the VAT. The difference, of course, is that a VAT falls harder on everyday citizens while the corporate taxes fall harder on the country's business elites.
"This is very growth unfriendly," an anonymous IMF official said of the Greeks' plan, in a New York Times article gratuitously wringing its hands over the pinch Greek businesses might feel. Even better was another Times discussion, in which an international finance expert worried that nationalist and leftist fervor might blind the Greek people to the value of "prosperity." Nevermind that the organizing theme of the European demands is a dramatic cutback to the very policies and institutions that ensure economic growth (should any reappear) will be shared equitably among the Greek people.
A Bloomberg article from last week went further, attributing Ireland's economic recovery to its embrace of austerity and low corporate taxes, and lamenting Greece's insistence on looking to "more socialist countries" as examples. And yet, along with Spain and Italy, the European monetary system has pumped considerably more money into Ireland since 2008 than it did into Greece. Ireland's economy did not recover because it embraced austerity. It recovered because European elites rewarded that embrace with a flood of money sufficient to overwhelm any drag austerity placed on aggregate demand in Ireland's economy.
Between that denial and the ongoing austerity, neither the Greeks nor any other country could have maintained the feedback loop between aggregate demand and business growth required to keep any economy healthy. Indeed, if Greece's economy were operating at full capacity, it would already have a larger primary budget surplus than any other country in Europe. Earlier IMF projections that recovery would follow the tax hikes and spending cuts have failed to an utterly laughable extent. Yet even as Greece has bowed to the demand for austerity, European elites have demanded a uniquely wealth-and-business-friendly form of austerity.
So it is a social — and really, a moral — question, not an economic one, that divides the two sides. What is cut, what is not; what is saved, what is sacrificed; who is spared, and who is made to shoulder the burden. The eurozone members have a very definite opinion on how that trade-off should work. Greece has disagreed, so the money spigots have remained closed.
There's certainly an argument to be made that handing negotiations this complex and arcane over to a national referendum is brazen political theater on Tsipras' part. But Europe's broader message to Greece seems relatively simple and clear: not that the country must put its fiscal house in order, but that any socioeconomic order as left-wing as theirs is not welcome in the eurozone.
On Sunday, we'll find out what the Greeks make of that.
Continue reading for free
We hope you're enjoying The Week's refreshingly open-minded journalism.
Subscribed to The Week? Register your account with the same email as your subscription.
Sign up to our 10 Things You Need to Know Today newsletter
A free daily digest of the biggest news stories of the day - and the best features from our website
Jeff Spross was the economics and business correspondent at TheWeek.com. He was previously a reporter at ThinkProgress.