Leave Kit Harington (and his glorious hair) alone: The case for knowing nothing about Jon Snow
Over-eager Game of Thrones fans are stalking Harington to find out whether his character is really dead. Why not just let the show run its course?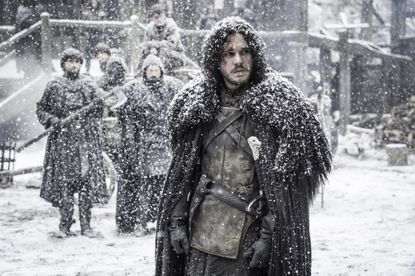 (Image credit: Helen Sloan/courtesy of HBO)
Game of Thrones' fifth season finale on HBO ended, customarily, with a shocking cliffhanger: the apparent death of Jon Snow. It was yet another buzzy moment in a show that's been full of buzzy moments. But for fans who had read the books upon which the show is based, the cliffhanger was a major benchmark for an entirely different reason: It was the last truly massive twist in A Dance With Dragons, the last published book in George R.R. Martin's series of novels.
Jon Snow's death should basically have marked the end of Game of Thrones spoilers. Now that the TV show had caught up with the books, what was left to be spoiled?
In retrospect, it probably should have been obvious where all that speculative energy was going to go. With no more primary sources to obsessively analyze, diehard Game of Thrones fans have turned to the next best thing: obsessively analyzing the day-to-day workings of the TV show's production. And given last season's big cliffhanger, this has essentially boiled down to one thing: stalking Kit Harington.
Subscribe to The Week
Escape your echo chamber. Get the facts behind the news, plus analysis from multiple perspectives.
SUBSCRIBE & SAVE
Sign up for The Week's Free Newsletters
From our morning news briefing to a weekly Good News Newsletter, get the best of The Week delivered directly to your inbox.
From our morning news briefing to a weekly Good News Newsletter, get the best of The Week delivered directly to your inbox.
Nicknamed #HairWatch, the "Is Jon Snow really dead?" movement has been adopted by Game of Thrones fan sites like Watchers on the Wall and WinterIsComing.net, as well as a surprising number of entertainment-centric publications, including MTV.com, UPROXX, and Vanity Fair. Since the season finale aired in June, we have seen a stream of breathless reports about the events of Harington's day-to-day life: where he is, what he does, and yes, whether he still has that glorious mop of long black hair. Lately, these amateur detectives have taken to scouring Twitter for any random person who mentions seeing Harington anywhere near the show's filming locations.
Over the past year, Game of Thrones set leaks have grown more prominent, driven by overzealous bloggers, an insatiable fan base, and the practical impossibility of keeping such an enormous production under wraps. This isn't the first time that blurry photographs have threatened to spoil the fun of what should be a suspenseful story. Last season's biggest, most crowd-pleasing moment was the long-awaited meeting between Daenerys Targaryen and Tyrion Lannister, which still hasn't happened in the books — making it the rare scene that could surprise book readers and non-book readers alike. Unfortunately, a few errant pictures of Emilia Clarke and Peter Dinklage together on-set — which were widely disseminated online in October 2014 — spoiled it for anyone who was unlucky enough to stumble upon them.
At the risk of alienating Game of Thrones fans even more, I'm going to shift some blame to where I think it belongs: at the feet of George R.R. Martin. Martin gets a lot of guff for being a slow writer, but as far as I'm concerned, he can take as long as he needs — as long as he stops talking about what's going to happen in the books he's still writing. When asked about Jon Snow's supposed death shortly after the publication of A Dance With Dragons, Martin replied, "Oh, you think he's dead, do you?" In the years since, Martin has published or delivered public readings of no fewer than 10 individual chapters from The Winds of Winter —a book that still doesn't have a formal release date.
I'm as eager as anybody to see where this story is going — but I'd rather wait until it's actually ready to be told. Is this really a story best experienced in leaks, tiny chunks, and nuggets of trivia? These kinds of spoilers fundamentally diminish what makes a plot-and-twist-driven series like Game of Thrones so much fun to watch. Remember how shocked you were when Ned Stark was suddenly beheaded at the Sept of Baelor, or when the orchestra struck up "The Rains of Castamere" at the Red Wedding? In both the books and the TV series, Game of Thrones is at its best when we don't know where it's going — and for the first time in nearly 20 years, everyone is starting on the same page.
At the very least, if you must draw on extra-textual sources, why not go with the people who are actually making the show? "I'm quite dead. It's over for Jon Snow," said Harington, in one of many interviews published after the finale. David Nutter, the director of the episode, told journalist after journalist — and later, President Obama — that Jon Snow is "deader than dead."
Are they lying? I don't know. Probably. But they're also the people who are actually driving this story, and I'm inclined to let them tell it how they want to tell it. For now, the team behind Game of Thrones wants us to believe that Jon Snow is dead, and that's good enough for me. I don't know how Game of Thrones plans to resolve all the lingering questions about Jon Snow's fate, but I know how I want to learn the answer: by watching season six.

Continue reading for free
We hope you're enjoying The Week's refreshingly open-minded journalism.
Subscribed to The Week? Register your account with the same email as your subscription.