A morning at a Russian bathhouse with Blunt Talk creator Jonathan Ames
The writer, performer, and creator of Starz's new comedy series reflects on storytelling and the purpose of life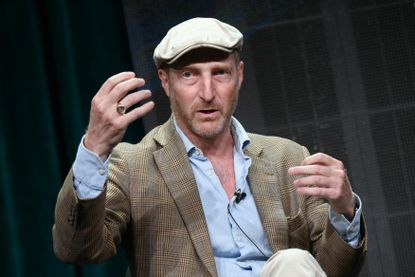 (Image credit: Richard Shotwell/Invision/AP)
Sign up to our 10 Things You Need to Know Today newsletter
A free daily digest of the biggest news stories of the day - and the best features from our website
Thank you for signing up to TheWeek. You will receive a verification email shortly.
There was a problem. Please refresh the page and try again.
I'm sitting with Jonathan Ames — writer, performer, and creator of HBO's Bored to Death and Starz's Blunt Talk — at the entrance of a Russian bathhouse on East 10th Street in lower Manhattan. It's a less than conventional place for an interview — but when I asked Ames to meet me at his favorite place in New York City, he didn't hesitate when he chose it. "When I'm in New York, the baths are my life. I come here almost every night," he explains. "After trying to write during the day, I come to the baths, sit in the heat. Further ideas might come to me."
On any other day, we might be chatting inside, wearing nothing but towels in a room so thick with steam we can hardly see each other. Unfortunately, this happens to be a day when the bathhouse is open exclusively to women, so we settle down to have coffee on the front stoop instead.
The bathhouse, which was established in 1892, is still plenty popular — but it feels, like Jonathan Ames himself, like a holdover from an older, more eccentric New York. "It's always changing. That's the beauty of New York. It's like a snake shedding off its skin," says Ames. "Of course, one part of human nature is to be resistant to change. There is an element that's sad to Manhattan — by becoming so expensive, it's squeezed out all the artists and perverts. A city, like a colon, needs some dirt to keep it strong. Needs some bacteria."
Subscribe to The Week
Escape your echo chamber. Get the facts behind the news, plus analysis from multiple perspectives.
SUBSCRIBE & SAVE
Sign up for The Week's Free Newsletters
From our morning news briefing to a weekly Good News Newsletter, get the best of The Week delivered directly to your inbox.
From our morning news briefing to a weekly Good News Newsletter, get the best of The Week delivered directly to your inbox.
Ames is about as close as you can find to a quintessential New York lifer, with a history that stretches back to his childhood in Oakland, New Jersey, where he could always see New York City, "like the Emerald City," on the horizon. Much of Ames' career is inseparable from the city: an MFA from Columbia University; a long-running and anthologized column for the New York Press, the beloved (and, sadly, now-defunct) alt-weekly; his frequent performances at The Moth, the storytelling collective that was founded in New York City in 1997; and the creation of HBO's Bored to Death, which was notably and unmistakably set in Brooklyn. Over the course of an hour, we bumped into two separate people who greet him enthusiastically, asking if he's returned to the city.
But despite his almost lifelong history with the city, he spends most of his time these days thousands of miles away from it. His work on Blunt Talk took Ames across the country to Los Angeles, where he's lived for more than a year. "I'm just enjoying life there very much," he says. "It's an unusual place. It's a city built on a desert. [New York] is a city built on an island. Both, environmentally — I don't know, if in this coming age, if they're sustainable places."
Ames is now 51, sober, and responsible for running an entire TV series that stars no less a cultural icon than Patrick Stewart. During production, Ames' schedule is often grueling. On an average day, he wakes up at 5:45 a.m., arriving at the set no later than 7. By 7:45, they're shooting — generally for around 12 hours. He spends as much time as possible on set, but every day brings a collection of eclectic responsibilities: a session in the editing room, or completing a script for an upcoming episode, or approving costumes or locations, or a dozen other things that require his sign-off. When he gets home, around 9 p.m., he goes straight to bed. In his spare time, he's been reading Pema Chodron's texts on Buddhism, saying they've been "very helpful" during a hard time. He refuses to entertain the possibility of buying an e-reader. "I probably will last, in my lifetime, still being able to get my books in print," he says. "But I don't know. Maybe they'll completely die."
Right now, Ames' life is largely characterized by a driven, almost monk-like approach to his work. "To be an artist, it's not so much loneliness, but you have to embrace solitude," says Ames. "Paul Auster, in The Invention of Solitude, talked about how every piece of art you see represents someone's solitude. I guess some music is collaborative, but oftentimes, it will be John Lennon coming up with a tune, and then he'll bring it to Paul McCartney. Most every painting you see. Even filmmaking: the screenwriter will be alone, and the director will study the script alone, and so will the actor. As a writer, you need to embrace solitude to get the work done, to have the intention. When you write this piece, you'll be alone in your apartment, trying to come up with the best sentence possible."
As you might expect, a demanding professional life leaves Ames with less time for the personal. "I have some very beautiful friendships," says Ames. "I still have a lot of issues, so I might struggle romantically. I wish I knew better, but I'm always trying to be a good friend and try to be present for people."
In the popular imagination, the image of Ames as a young, boozy, sexually adventurous raconteur still largely persists. "I sort of did this to myself," he concedes. "I labeled my third book What's Not to Love: The Adventures of a Mildly Perverted Young Writer. So I've been stuck with the label 'pervert' — and now here I am, reinforcing it — for years. I shot myself in the foot."
"When people read those books, they don't look at the copyright, so they think that it's still of the moment," Ames adds. "I wrote a lot of columns in that style to entertain. I was making myself as a caricature." The impression was solidified by several of Ames' literary alter egos, including The Alcoholic's "Jonathan A." and Bored to Death's "Jonathan Ames," played on screen by Jason Schwartzmann.
Unlike those characters, Blunt Talk's Walter Blunt doesn't bear the name of his creator. Blunt, like Bored to Death's George Christopher (Ted Danson), is an older man whose debauchery is balanced out by an endearing, almost childlike sense of whimsy. Patrick Stewart himself suggested the character's name — a callback to the real-life historical figure immortalized by Shakespeare in Henry IV, which happens to be the first Shakespearean role that Stewart ever played on stage.
But while Walter Blunt derives plenty of inspiration from Stewart's life — a subplot about circumcision was pulled from Stewart's actual confusion about what being circumcised actually meant — the character is unquestionably a Jonathan Ames creation. Ames describes his characters as "troubled dreamers. People who have problems, but who are are also romantics about life, and want to have adventures, and want to do good things." Sipping coffee, speaking thoughtfully and candidly about his life on the steps of the Russian bathhouse, Ames comes across exactly the same way.
"In the first episode of Blunt Talk, Walter Blunt says, 'I feel my life slipping away from me like a cat that doesn't want to be held,'" says Ames. "It's so difficult to be alive. The first noble truth of Buddhism is that we all suffer. But we can also find joy by not running away from our suffering."
Does life get easier? "It hasn't for me," says Ames. "In many ways, it gets harder. But, you know, all the clichés apply. Some things get easier, other things get harder. You encounter feelings you didn't know you had. If you're alive, you're always… I don't know if the goal is for it to get easier. I think the goal is to become kinder and more loving."
Continue reading for free
We hope you're enjoying The Week's refreshingly open-minded journalism.
Subscribed to The Week? Register your account with the same email as your subscription.
Sign up to our 10 Things You Need to Know Today newsletter
A free daily digest of the biggest news stories of the day - and the best features from our website
Scott Meslow is the entertainment editor for TheWeek.com. He has written about film and television at publications including The Atlantic, POLITICO Magazine, and Vulture.