I'm a 61-year-old man who's terrified of the ocean
And no, it's not because of sharks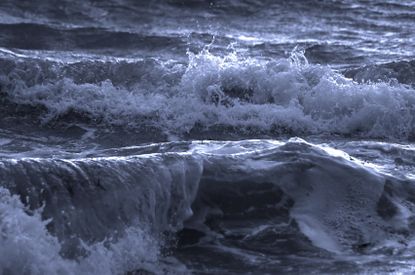 (Image credit: iStock)
Sign up to our 10 Things You Need to Know Today newsletter
A free daily digest of the biggest news stories of the day - and the best features from our website
Thank you for signing up to TheWeek. You will receive a verification email shortly.
There was a problem. Please refresh the page and try again.
I was standing on the beach in East Hampton, trying to summon the courage to plunge into the waves breaking a few feet away. I was on the verge of the action, watching everyone dive and bob and shudder with delight as the surf curled over them. How I wanted to join them, especially as the air temperature was past 90.
A man emerging from the water with an ample stomach and deep red face saw me huddled at the water's edge as he stomped onto the beach like a conqueror, shaking the ocean out of his platinum hair. I had seen him torpedo into the waves a few minutes earlier. "It's just that split second jolt at first, and then you're in — go for it," he encouraged me.
And so I gave myself a T-minus countdown, only to reach "ignition" and "lift-off" without having advanced more than a few inches, the water still lapping my knees.
Subscribe to The Week
Escape your echo chamber. Get the facts behind the news, plus analysis from multiple perspectives.
SUBSCRIBE & SAVE
Sign up for The Week's Free Newsletters
From our morning news briefing to a weekly Good News Newsletter, get the best of The Week delivered directly to your inbox.
From our morning news briefing to a weekly Good News Newsletter, get the best of The Week delivered directly to your inbox.
This was my fourth day of hesitation. I was beginning to wonder if I'd be able to fully submerge before we headed back to the city.
Cold water isn't the reason I hung back. Nor rip tides, surfboards, or even sharks. Seven years ago, on this very spot, I was tumbled by the wash-and-spin of a wave no bigger than the ones you see on a normal day. I dropped hard, the heel of my foot hitting a sand wedge as if banging into a door-stopper. I retreated to my family in agony, certain I would never walk again.
Although I suffered an ankle fracture and third-degree sprain that took months to heal, I did recover. Today, I walk just fine. And yet, returning to the scene of the injury, I can't get past the first wave. The fact that I am now seven years older, carrying a host of other orthopedic complaints, keeps me stuck alongside the screeching toddlers in their water wings. And even they are leaping into the shallow wake.
I've never been a thrill-seeker — no skiing, snowboarding, climbing, bungee jumping. I've always hated roller coasters and don't even like flying. But the ocean was a respite. The waves always seemed to produce such sheer joy with little risk, most of the time anyway. And now...
My teenage son pointed out that I'd be safer past the front line, out a few yards where I could join the others rising to meet the waves as they roll past, before the break. But getting to that nearby spot seemed an ocean away.
"I guess I'd rather be a coward who goes home in one piece than a wave jumper with a busted ankle or wrenched back," I told him. Asher was smarting himself from being thrown to the sandy floor the day before, his forehead badly scraped and his neck stiff. But then he was off again, marching into a wall of water that had me backpedaling lest I lose what's left of my balance.
The beach isn't the only place where caution now governs my movements. I used to cavalierly step from bed to radiator to ledge to pull down the window. Now I'll get a stool — or better yet, ask Asher to do it. I no longer scramble down subway stairs to catch a train pulling into the station — there will always be another one, even when there isn't. And lately I've been doing something unthinkable just a few years ago — waiting at red lights before crossing the street, further proof that my brain is aging along with my body.
I realize my smashed ankle occurred just one month before the official start of the financial crisis in 2008, when my wife and I were beaten up by panicked waves of selling. Rather than take advantage of a generational opportunity to buy bargains, we withdrew our stakes in every stock fund — and never regained our nerve to re-enter the market. Once you pull back from the churn it's hard to jump in again.
As I repositioned myself in the shifting sand, I saw a familiar figure swimming in to shore. It was Turtle Man, the name my children gave to the barrel-chested old Yalie who perennially patrols Main Beach in his Speedos, his pointy bald head and tanned, mottled skin giving him the appearance of a leatherback turtle. "I'm not so agile anymore," he told me after crawling ever-so-carefully back onto the beach, though out in the water he still moves with long elegant strokes. At 85, he is not trying to overcome or challenge the waves — they simply sustain him, as solid ground does for me.
I started pep-talking myself into one bold leap when I noticed a pair of older ladies in silver swim caps and floral bathing suits heading my way. One of them easily made it past the breakers while the other appeared in distress. In a one-two thrashing she was thrown belly down and tossed, disappearing in the froth. She came up gulping, only to get smacked by another wave.
The lifeguards were way back at their posts, but I was able to quickly high-step over and pull her up by her plump arms — she was dead weight and coughing, but her face was beaming. "Danke, Danke," she said, squeezing my wrist. "That was exciting, no?"
True, but the thing is, I was just about to dive in. Really. Now I'll have to wait till next year to try again.
Continue reading for free
We hope you're enjoying The Week's refreshingly open-minded journalism.
Subscribed to The Week? Register your account with the same email as your subscription.
Sign up to our 10 Things You Need to Know Today newsletter
A free daily digest of the biggest news stories of the day - and the best features from our website
Allan Ripp is a former journalist who now runs a press relations firm in New York. He has contributed essays and personal commentary to The Wall Street Journal, The New York Times, The Atlantic, Forbes, Time, AdWeek, the New York Observer, and the Tribune News Service.