Fear the Walking Dead episode 2 recap: Stumbling forward
AMC's new zombies series turns in a frustrating second episode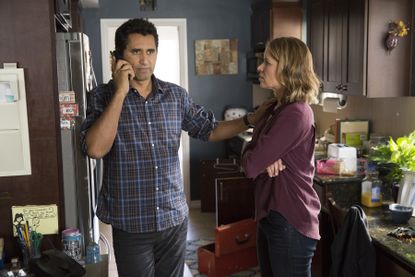 (Image credit: Justin Lubin/AMC)
Sign up to our 10 Things You Need to Know Today newsletter
A free daily digest of the biggest news stories of the day - and the best features from our website
Thank you for signing up to TheWeek. You will receive a verification email shortly.
There was a problem. Please refresh the page and try again.
It's frustrating to watch a show with as much potential as Fear the Walking Dead make the same mistakes as the original series. This week's "So Close, Yet So Far" is a mess: draggy plotting, boring dialogue, and idiotic characters. If Fear the Walking Dead's zombies were the kind that eat brains, they'd go hungry.
Last week, Madison was the character who played dumb. This week, Travis gets saddled with the worst of it. When Travis calls his ex Liza to say he's coming over — and insists that he'll explain his sudden urgency when he arrives — Liza makes it clear that she requires further explanation right away. Does Travis say, "I checked out an abandoned church and it was full of gooey viscera"? No. Does he say, "Basically everyone at my school called in sick because of an inexplicable super-virus"? No. Does he say, "My stepson just shot and ran over a corpse with a car — and it wouldn't stay dead"? No. He just sits in bumper-to-bumper traffic, repeating that he'll explain when he gets there, until Liza finally hangs up.
This is a textbook example of what Roger Ebert called an Idiot Plot: "Any plot containing problems that would be solved instantly if all of the characters were not idiots." No one in this scene acts like a human being. Travis should just tell Liza a succinct version of what's going on instead of delaying the conversation until he arrives. Liza should stop sniping for five seconds and listen to Travis, who is clearly very upset. And their dumb, whiny kid, Chris — who they finally track down at an anti-L.A.P.D. protest over a zombie the police shot to death — should actually listen to his parents instead of talking over them, so they're not just standing around when the police open fire on another zombie that wanders onto the scene.
Subscribe to The Week
Escape your echo chamber. Get the facts behind the news, plus analysis from multiple perspectives.
SUBSCRIBE & SAVE
Sign up for The Week's Free Newsletters
From our morning news briefing to a weekly Good News Newsletter, get the best of The Week delivered directly to your inbox.
From our morning news briefing to a weekly Good News Newsletter, get the best of The Week delivered directly to your inbox.
"So Close, Yet So Far" aims to show a city on the brink of collapse — but the episode is so ham-fisted that it hardly feels like the various stories are even happening in the same place. There's a good reason for that; though the pilot was shot in Los Angeles, the rest of the season was shot in Vancouver, Canada, and this episode does a very poor job hiding it. The result is an hour's worth of frantic running around that feels totally untethered from the actual geography of the city.
That probably sounds like nitpicking, and on an different show, it might be. But the gritty specificity of how a society collapses is the main thing Fear has to offer. When it feels like Travis can just magically teleport around Los Angeles, the show doesn't just lose its primary hook — it loses its basic claim to plausibility.
"So Close, Yet So Far" does manage a few clever touches. It makes sense that Tobias, Madison's knife-toting student, would be more prepared for the zombie apocalypse than the allegedly responsible adults around him. This zombie apocalypse is exactly the kind of thing that would already have spawned a conspiratorial Reddit subforum, with users across the country swapping pictures, videos, and stories of the disease creeping into their communities. The shot of the police officer stocking up on bottled water is appropriately chilling, hinting at a shadow story in which authorities saw the danger on the horizon and protected themselves instead of warning the public. And Madison — while slower to react to the apocalypse breaking out all around her — catches on fast enough to ignore her neighbors' plea for help in favor of keeping the door locked.
But the episode's strengths are definitely outweighed by its weaknesses. Take Madison's first up-close-and-personal encounter with a zombie: her former boss, Art Costa, whose zombified body is wandering the halls of the abandoned school. This should be a huge moment on several levels: a bloody hint of the many gruesome horrors Madison will undoubtedly face in the near future, and a horrifyingly violent encounter with a man who was a colleague and friend just a day earlier.
But Fear, in its haste to move the story along, barely lets the moment register. When Madison returns home, she gets a brief scene in which she goes into the bathroom and cries — but seconds later, the plot intrudes on the scene again, and both the character and the TV series move on.
Contrast this with Rick Grimes' first real encounter with a zombie in The Walking Dead pilot — the zombie of a person he didn't even know. "I'm sorry this happened to you," Rick says, gently, before putting it out of its misery with a bullet. That was surprising, and moving — and most importantly, it revealed something about Rick Grimes' character.
Look at Fear. What do we really know about these people that wasn't apparent within the first 10 minutes of the pilot? We're two episodes into a six-episode season, and Fear is already so overstuffed with characters and subplots that it hasn't taken a moment to let anyone react to the horrors around them. If Fear had any real sense of urgency, you could justify the emotional flatness of the narrative.
Instead, "So Close, Yet So Far" ends with everyone just sitting around. Travis, Liza, and Chris are waiting out the increasingly violent riots in the shuttered barber shop of the Salazar family; Madison, Nick, and Alicia are preparing to leave Los Angeles so Nick can dry out in the desert (though Madison says she won't leave until Travis gets back). Wherever these characters cross paths again, I hope it's more interesting than where they've already been.
Continue reading for free
We hope you're enjoying The Week's refreshingly open-minded journalism.
Subscribed to The Week? Register your account with the same email as your subscription.
Sign up to our 10 Things You Need to Know Today newsletter
A free daily digest of the biggest news stories of the day - and the best features from our website
Scott Meslow is the entertainment editor for TheWeek.com. He has written about film and television at publications including The Atlantic, POLITICO Magazine, and Vulture.