Why the American military is so hot on laser weapons
The future is coming at the speed of light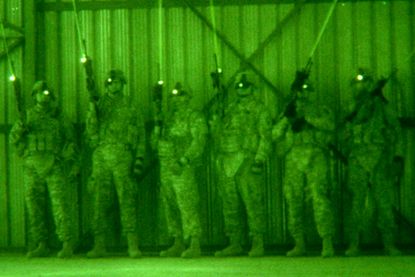 (Image credit: (U.S. Army photo by Spc. Michael J. MacLeod))
From hand-held blasters to planet-destroying death rays, laser weapons are a fanciful staple of science fiction. But at their core, lasers are just concentrated beams of light that generate heat. As simple as that sounds, they've proven remarkably difficult to weaponize. Until now.
Quietly and without great fanfare the laser weapon has arrived, and warfare will never be the same.
This week Lockheed Martin, the defense contractor behind the F-35 Joint Strike Fighter, announced it was exploring ways to put a laser on the controversial fighter. The U.S. Navy has already fielded a laser weapon on the USS Ponce. And the U.S. Army is looking for ways to use lasers to protect troops in the field from artillery shells, missiles, and drones.
Subscribe to The Week
Escape your echo chamber. Get the facts behind the news, plus analysis from multiple perspectives.
SUBSCRIBE & SAVE
Sign up for The Week's Free Newsletters
From our morning news briefing to a weekly Good News Newsletter, get the best of The Week delivered directly to your inbox.
From our morning news briefing to a weekly Good News Newsletter, get the best of The Week delivered directly to your inbox.
All of this is just a start. As lasers grow smaller and more compact, eventually they will be mounted on everything from bombers to tanks. A quiet killer at the speed of light, lasers may some day dominate the battlefield as we know it.
A laser inflicts damage with heat produced by focused light. This heat can burn a hole in the skin of airplanes, set a pickup truck's gas tank on fire, and even burn holes in people. Pointed at an artillery shell in flight, a laser can heat the shell until the explosive inside detonates.
Engineers have known how lasers work for decades but have been held back by various problems, chief of which are power generation and storage. A laser needs a lot of energy — in the tens of kilowatts range or higher — to be usable as a weapon. And it needs it instantly.
Despite the technological hurdles, there are reasons why research has persisted. Lasers have many advantages over conventional projectile weapons. A laser moves at roughly the speed of light, or 186,000 miles per second. Unlike a missile, an accurate laser beam can't be avoided. Lasers aren't affected by strong winds and can't be blown off target.
Laser weapons are invisible, operating at an optical wavelength the human eye cannot discern. They are also silent and unlike bullets and shells, do not produce miniature sonic booms. Unlike conventional weapons, which utilize a controlled explosion to generate energy, lasers have no recoil.
Lasers are also affordable. A single Griffin short-range missile costs at least $115,000. A shot from a laser costs usually costs less than a dollar, the price of the energy used. The actual laser system is more expensive — the laser on the USS Ponce cost $40 million, including six years of research and development — but expect the price tag to fall as they become more common.
These futuristic weapons do have their drawbacks. They are complicated, delicate systems that generate a tremendous amount of heat and need to cool between shots. The farther a laser travels through the air the weaker it becomes. Particles in the air such as dust, water droplets, sand, or snow can scatter the laser beam, quickly reducing its power.
There are few ethical problems with laser weapons. Lasers appear to be just as humane — or inhumane, depending on how you look at it — as any other weapon. Where users like the U.S. military might run into trouble is if a laser is mounted on a drone, but in that case, like other drone-mounted weapons, it's the ethics of drone warfare up for debate and not the weapon mounted on it.
Laser weapons are rapidly entering service. The U.S. Navy believes it could have a plan to equip the fleet with lasers by 2018. The U.S. Air Force has issued a challenge to the defense industry to put a laser weapon on AC-130 gunships by 2020, and there is consideration toward putting them in B-1 and B-2 bombers.
It's difficult to say what the broader implications are of the laser battlefield, from operations against terrorists to full-scale conventional war. We may be entering an era where everything and anything can be shot down, with implications for the future of manned aircraft. This may push future forces to be even quicker and more agile. Today it's one thing to be targeted and another to be hit; in the future being targeted and being hit will be the same thing.
Whatever the implications are, the U.S. military wants to find out first.

Continue reading for free
We hope you're enjoying The Week's refreshingly open-minded journalism.
Subscribed to The Week? Register your account with the same email as your subscription.