Is 'culture' killing America's poor?
The richest one percent now live 14.6 years longer than the poorest one percent. Why?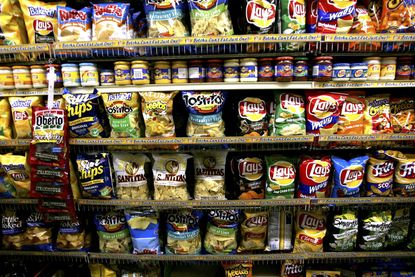 (Image credit: Spencer Platt/Getty Images)
In American politics, few words are more loaded than "culture."
For instance, in arguments over poverty and how to fix it, conservatives will often point to "culture" issues like the decline of family values and community. Many liberals argue that such "culture" arguments serve as semi-polite shorthand for "the poor did it to themselves."
Regardless, this is a woefully simplistic way to conceive of the problem. Thankfully, a new study on life expectancy for the rich and poor might help tease out a better way.
Subscribe to The Week
Escape your echo chamber. Get the facts behind the news, plus analysis from multiple perspectives.
SUBSCRIBE & SAVE
Sign up for The Week's Free Newsletters
From our morning news briefing to a weekly Good News Newsletter, get the best of The Week delivered directly to your inbox.
From our morning news briefing to a weekly Good News Newsletter, get the best of The Week delivered directly to your inbox.
The new study looked at the relationship between income and life expectancy, and reconfirmed that the gap in incomes among Americans comes along with a gap in life expectancy. The richest one percent now live 14.6 years longer than the poorest one percent; and the gap in life expectancy between the poorest and the richest 5 percent actually increased between 2001 and 2014.
More interestingly, though, geography doesn't really seem to matter for richer Americans. Their longevity is about the same everywhere. But for the poor, geography and place matter a lot. The highest life expectancies for poorer Americans can be found in blue states like California, New York, and Vermont, and in big cities like New York, San Francisco, Los Angeles, and even Birmingham, Alabama. In other places — particularly a swath that cuts through the Midwest and the Rust Belt and bleeds into the South — the poor not only live shorter lives, but their life expectancy is in many cases declining.
This is just one study. But its findings potentially blow up a number of theories for why life expectancy for low-income Americans varies so much. Access to health care didn't seem to make a huge difference — though preventative care specifically did. Labor market conditions like levels of long-term unemployment, levels of inequality, religiosity, and racial and income segregation didn't make much of a difference either. Nor did rates of car fatalities, suicide, and homicide.
The stuff that seemed to matter the most is what the public debate might term "behavioral" factors: rates of smoking, rates of obesity, and exercise. Moreover, life spans correlated with things you might associate with a particular brand of liberal urban living: "Individuals in the lowest income quartile have more healthful behaviors and live longer in areas with more immigrants, higher home prices, and more college graduates," the study said.
This is where the thorny question of culture comes in. We tend to associate things like obesity and smoking with individual lifestyle choices — things people have control over, as opposed to stuff like how much health care they can afford. The norms and social pressures in various communities that can drive people to make more lifestyle choices of a certain form and less of another is generally what we mean when we say "culture." And being plugged into that healthier culture encourages virtuous individual choices on the part of the poor and thus makes a big difference for their well-being.
But as journalist Rachel Cohen put it, more exercise, less stress, less smoking, and all the rest of it are basically things we "buy," too.
Being poor and cash-strapped forces people to get their calories where they can, and load up on more sugars, starches, and fats. Subcontracting, temp work, the "1099 economy," and jobs that schedule at the last minute all leave the poor with far less time to cook prepared food, and with way more stress: You're juggling finances, rent, bills, child care, transportation, and the rest of it on a shoestring budget. That has debilitating consequences for people's long-term physical and mental health.
Think of low-income Americans with longer life spans as people who have won a kind of regional lottery. They live in a blue state or big metropolitan area with a healthy ethos; dense population (meaning they probably walk more and spend less time in cars); tougher regulations against surgery drinks; tougher bans against smoking in bars, offices, and restaurants; and higher taxes on cigarettes. Is it really any surprise they benefit accordingly?
If living in poverty creates a predictable set of forces that drive people into less healthier behavior, these particular places have erected barriers that make those behaviors harder to engage in. And as a result, the poorest Americans in these places are living a lot longer.

Continue reading for free
We hope you're enjoying The Week's refreshingly open-minded journalism.
Subscribed to The Week? Register your account with the same email as your subscription.