This Dear Abby advice is insanely sexist
Underneath Dear Abby's mid-century quips there's a very disturbing message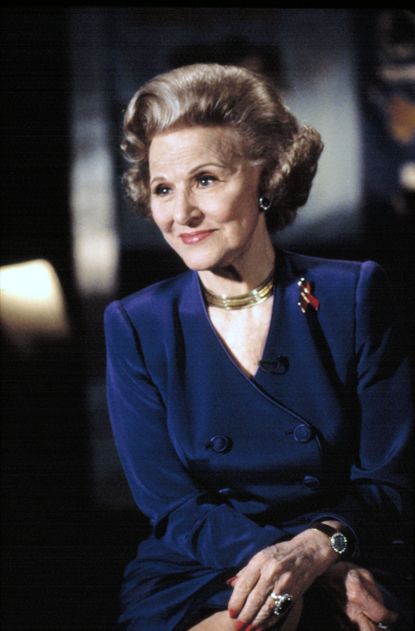 (Image credit: Everett Collection Inc / Alamy Stock Photo)
Dear Abby (the longtime pen name of the late Pauline Phillips) is known the world over for delivering readers an abundance of advice on life and love. Most people don't know much about her beyond that.
But if you actually read her advice from decades past... Oh my. It's a mix of black comedy and pure tragedy. And it's almost always a variation of "Buck up, Sunshine. Bellyaching gets you nowhere."
Here is what Dear Abby, surrogate psychiatrist to millions, advised her suffering readers in the middle of the 20th century. All of these excerpts are taken from Dear Abby (1958) and Dear Abby on Marriage (1962).
Subscribe to The Week
Escape your echo chamber. Get the facts behind the news, plus analysis from multiple perspectives.
SUBSCRIBE & SAVE
Sign up for The Week's Free Newsletters
From our morning news briefing to a weekly Good News Newsletter, get the best of The Week delivered directly to your inbox.
From our morning news briefing to a weekly Good News Newsletter, get the best of The Week delivered directly to your inbox.
If he cheats: You've really dropped the ball on this one, sister
There are no other options given. You have nagged, emasculated, cold-fished, and dirty housed yourself right out of a husband. But calm down. Remember, men are children, in need of delicate care. So forgive. Pretend it never happened.
Worse than a one-night stand, however, is the man who believes he is truly in love with The Other Woman. No histrionics, barks Abby. This is war. He may be a sloppy, no good cheating piece of soggy toast, but it's all that's on your menu, Sweets. So when he cheats, it's best to start off with an apology. From you.
It's not that this approach is wrong. Couples heal from adultery all the time. It's how miserably unbalanced it is. Abby expects nothing from men, neither self-control nor contrition. They are big dumb children. Which makes her advice on submitting to their will all the more unsavory.
To the liberated woman: Hope all that sass-mouth was worth dying alone for!
We have established that a mid-century man is barely two evolutionary steps up from a baboon, and a childish one at that. You'll need to add "sulky" to that description, too.
Translation: If he doesn't get to be Team Captain, he's taking his ball and going (away from) home.
In fairness, many of us are still trying to find a comfortable position where both partners in a marriage are equal. It's never been done before on a societal scale, and as with any innovation, it's going to have some failures. Abby has limited print space, so she makes it simple. If you want your man-child to stay around, he needs to feel like a king. The old fashioned kind that chopped heads and oppressed serfs.
Also, honey, could you just shut up a moment? I know you've had a day of unending demands by unreasonable toddlers and flesh-eating 1950s appliances. But you need to understand, your husband had to wear a necktie today.
For the record, much of Abby's "why doesn't my husband love me anymore" advice indicates that an unmade bed can in fact cost a wife her job.
Money is not yours
Abby admitted there were situations where both partners would rather the wife be the family accountant. But ideally, it's better if "hubby" gives her a household allowance, and she tells him how she's spending it. A similar but slightly more patronizing approach involves mid-century checkbooks.
She does all the work, but can't quite be trusted to do it unsupervised. With Abby's system, if a gentlemen consults his domestic ledgers to find an untoward amount of money has been spent on expendables like dish soap (too high and mighty to make your own out of lard and soot, Martha??), he can lay down a proper punishment.
Fat, drunk, and ugly: Women, get it together
When a woman begged advice on how to deal with her drunken husband, Abby encouraged patience, forgiveness, psychiatry, and Alcoholics Anonymous. When a man wanted advice for how his dear wife behaves at the office Christmas party when she's had one too many, Abby joked that muzzling her will do no good. So instead, give her a ginger ale and keep it filled. "She'll thank you!" Women can't even qualify as proper alcoholics, it seems.
But what if it isn't alcohol that is causing you problems with the little woman?
Abby's response:
Child-worship may be a problem today, but choosing your husband over your children… that's a slippery slope. At birth, Nature plies a woman with hormones and bonding reflexes on purpose, so that a very weak creature has a champion against any who would harm or neglect it. This new father illustrates exactly why Nature must provide that champion.
But listen, she may be a drunk, and she may be neglectful of her duties. But thank goodness she isn't a fatty.
This is the core of Abby's marital advice: You see, ladies, your husband has been the victim of a bait and switch. He married you when you were 20 years old and infatuated with only him. And now look at you. 35. Loving your children. Seeking personal development. Eating. Utter chicanery. Can you blame him for cheating? As Abby said,
What's a girl to do, Abby?
It gets worse.
Sometimes a woman's asking for it, seriously
Abby held that just because a man might beat his wife, there is no reason to claim that particular marriage is unsuccessful. Especially if the wife secretly likes it.
Worse is the pithy throwaway advice she gave to women who appeared to be in serious trouble.
One woman described her husband as being "very continental and flies into a rage quickly." She then goes on to describe how, even though "he has warned me repeatedly so I should have known better," she had allowed a lamp that was her own Mother's Day gift to be bulb-less. When her husband discovered this, he beat her over the head with it. "He didn't really hurt me. Just my feelings. Should I apologize or should he?"
Abby responded: "If you enjoy living with this 'continental' man, either buy yourself a lifetime supply of light bulbs — or a crash helmet." Only in the case of constant, serious battering does Abby venture that "drastic change" may be called for.
And what is the drastic change? She still does not recommend police involvement, restraining orders, or divorce. Rather, she advises the lady to stay away for a few days. She assures the battered woman that a temporarily empty house and meals eaten at the corner drug store will surely cool his temper, and everything will be lovely again.
Millions of survivors today can tell you how seldom that cheery outcome could be expected. It's rare that all an abusive alcoholic needs is an empty fridge and un-ironed shirts to change his ways.
Why, Dear Abby, why?
Pauline Phillips died in 2013, and her Dear Abby column is now written by her daughter, Jeanne. Pauline and Jeanne wrote together starting in the 1990s. And though "Dear Abby" was always vehemently against divorce, "she" did allow her advice to mature with the century.
Still... how could Pauline Phillips, an educated, professional woman, write this cold-hearted, glib garbage?
Well, as much as a modern reader might want to spit venom at her, one must consider the social climate in which she wrote. Compared to now, life was rigid and rough in mid-century America. Abby knew her readers lacked something more than ideal husbands. They lacked options.
What if 1958 Dear Abby had advised an abused woman to take her children and leave? What then? What sort of safeguards were in place to protect her? How would she keep herself and her children off the streets? What if she'd told fat women to love themselves and concentrate on health not thinness? Those women didn't want self-actualization, they wanted to feel normal walking down the street at a time when as much as 20 extra pounds could steal that from them.
So Dear Abby was harsh, blunt, and never coddled. To Abby's credit, she acknowledged much of her advice was flippant and chosen to entertain readers. She tells us in Dear Abby (1958) that there were other letters, a large pile every week that she marked "not for publication." Those letters contained what she called "genuine human suffering," and she answered them personally and at length. It's terrifying to think of what was in that pile, if rampant abuse was in the jollies and jokes pile.
Perhaps those letters made the ones complaining about drunk wives seem particularly deserving of snappy one-liner replies. That, combined with the rigid social structure of mid-century America, could have been what fueled a lot of Abby's "bad advice."

Continue reading for free
We hope you're enjoying The Week's refreshingly open-minded journalism.
Subscribed to The Week? Register your account with the same email as your subscription.