We all need to calm down about the clowns
Relax. Take a deep breath. You are not going to be injured, terrorized, or murdered by a clown, creepy or otherwise.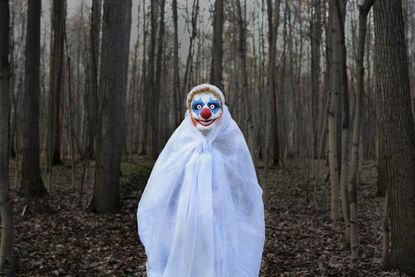 (Image credit: iStock)
Sign up to our 10 Things You Need to Know Today newsletter
A free daily digest of the biggest news stories of the day - and the best features from our website
Thank you for signing up to TheWeek. You will receive a verification email shortly.
There was a problem. Please refresh the page and try again.
Relax. Take a deep breath. You are not going to be injured, terrorized, or murdered by a clown, creepy or otherwise.
And yet, as unlikely as death-by-clown might be, the country has been seized by utter clown hysteria; it seems nary a day goes by without creepy clowns making headlines. Indeed, a recent study found that Americans are more afraid of clowns than death itself.
The country's latest bout of coulrophobia began in late August, in the town of Greenville, South Carolina, nestled in the foothills of the Blue Ridge Mountains. Children living in the Fleetwood Manor Apartments, near a wooded patch of land, began to complain that clowns were trying to lure them into the forest. "At first, I thought [my son] was telling a fib, and I said, 'Go in the house, and we'll talk about this when I get in,' because I didn't want it all over the place," one mother told the local news. But the stories, and the clowns, would not be contained. Another woman reported she saw a clown standing by a dumpster at Fleetwood Manor, just staring at her.
Subscribe to The Week
Escape your echo chamber. Get the facts behind the news, plus analysis from multiple perspectives.
SUBSCRIBE & SAVE
Sign up for The Week's Free Newsletters
From our morning news briefing to a weekly Good News Newsletter, get the best of The Week delivered directly to your inbox.
From our morning news briefing to a weekly Good News Newsletter, get the best of The Week delivered directly to your inbox.
Then three miles away, there was another sighting. And another, 10 miles away.
Soon the creepy clowns were everywhere, from Largo, Florida, to Syracuse, New York, to Tacoma, Washington, and Bakersfield, California. Schools across Alabama sporadically went on lockdown due to statewide sightings. "Creepy clown sightings spread across nation," blared ABC News in a headline straight out of a bad horror film. They've even begun popping up overseas.
But I have some good news: An insane posse of clowns is not coming for you.
What about all these clown sightings? Well, the vast majority are probably "phantom clowns." The term was first used by cryptozoologist Loren Coleman, who used it to describe a similar rash of clown "sightings" around Boston in the early 1980s. "It's almost as if somebody dropped a rock in a pond," Coleman told Frank of how the reports spread, attributing the phenomenon to mass hysteria — not real clowns. "I see it as part of human psychology."
Such sightings typically follow a pattern, Vocativ reports: They happen in the months leading up to Halloween, the reports are sparked by stories told by children, and the sightings are usually similar to each other. "It's important to understand that there are no reports of any children actually being harmed or abducted by these clowns — despite police searches, no evidence was ever found of their existence," coulrophobia expert Benjamin Radford said. "It's mostly fueled by children sightings, schoolyard rumors, and fearful parent warnings. These are essentially folkloric entities, similar to boogeymen or Slenderman."
Translation: Often, it's all in your head.
Still, we seem to seize on these stories because killer clowns hold a special place in the American psyche, a frightening concoction fed by clown-turned-serial killer John Wayne Gacy, Jr. and Stephen King's It, about a supernatural being who took the form of a clawed, creepy clown to terrorize kids.
Clowns, of course, were never meant to be bloodthirsty. The original clowns were beloved comics that relied on miming and slapstick humor to entertain their audiences, typically children — think Ronald McDonald and Bozo the Clown. "The thing that makes creepy clowns creepy is the nose is a mask, and when you wear a mask, if you don't play the mask, then you're just hiding behind something," clowning instructor Christopher Bayes told The New Yorker.
But no amount of rationalizing has stopped a very real fear from striking the hearts of millions across the country. "More than one-third of Americans want the FBI to invest its time and resources into investigating clowns," Vox reports. The White House press secretary even had to field a question about the clowns, admitting that he didn't know if President Obama had been briefed on them. He deferred to local law enforcement.
And for the most part, local law enforcement's stance has been a rather dry "everyone chill." In New York City, which has not remained unburdened by clowns, NYPD official John Miller said clown threats had been investigated and that the office "found none of these to be credible, and we've tried to avoid falling into the trap of putting extra police protection" in areas where the clowns were reported. "We're tracking it, but we don't see any real threat here," Miller said. "Our main message is: Don't believe the hype, and don't be afraid of the clowns."
The police in Detroit were similarly unamused by all the fuss. "We're just not going to arrest people in clown suits; we're just not going to do that," said police chief James Craig. And in Los Angeles, there are no giggles either: "We take this extremely serious[ly], and quite frankly we are fed up. … We want this to stop immediately," a cranky Police Chief Jerry Dyer told reporters. The Los Angeles Times summed up the whole clown hoopla as "the foolishness."
If any good comes of this hysteria in the end, it is simply to remind us that we have much, much better things to have phobias about. Spiders seem healthy. Ghosts at least make sense. Murder, if that's your thing (just not murder by clown). Heights and flying are my own personal choices. But before you start hunting down clowns in terrified, torch-lit mobs, remember that there is probably a foolish kid behind that mask thinking he's playing a pretty hilarious prank by just putting on a mask and waving at you.
Which brings us to the other kind of "phantom clown": the people who think it would be a laugh to dress up like a clown and stand somewhere all creepy like — for instance, outside a Walmart at 11 p.m. And that raises this final, important point, and words you really ought to live your life by:
Don't be creepy. We all thank you for it.
Continue reading for free
We hope you're enjoying The Week's refreshingly open-minded journalism.
Subscribed to The Week? Register your account with the same email as your subscription.