Yes, I'm a stay-at-home mom. No, it isn't 'the hardest job in the world.'
Why do people feel the need to justify my new career with such exaggeration?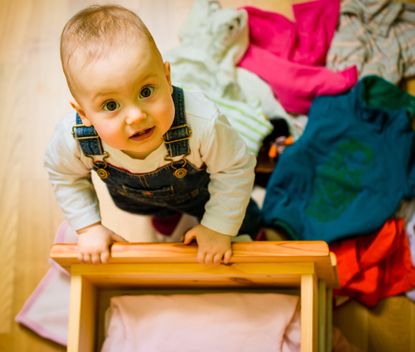 (Image credit: iStock/Martinan)
Sometimes, when people find out I'm now a stay-at-home mom, they say something like the following: "Oh, good for you — it's the hardest job in the world!"
While I find this comment both patronizing and hilarious, it also makes me wonder: Why do people feel the need to justify my new career with such exaggeration? It is obvious to me that there are more difficult day jobs. Being in the military, or being a doctor, a nurse, a teacher, a police officer, or a waitress all sound harder than slinging bottles and playing with my kids all day long. I'm not a doctor, but I'm pretty sure telling someone they have an inoperable tumor is harder than changing diapers. I can barely wrap my mind around the miracles teachers work every day. I've also never been a waitress but my babies have never docked my tip for forgetting the lemon in their ice water.
In my current career as a stay-at-home mom, I have it pretty good. I can write in the middle of the morning. I often do my favorite workout when my babies nap, and I can do laundry in the afternoon (if I feel like it). I decide when to take my lunch break, and no one reprimands me for being away from my desk. I don't even have to abide by a dress code, which means that most days, I don't have to wear real pants.
Subscribe to The Week
Escape your echo chamber. Get the facts behind the news, plus analysis from multiple perspectives.
SUBSCRIBE & SAVE
Sign up for The Week's Free Newsletters
From our morning news briefing to a weekly Good News Newsletter, get the best of The Week delivered directly to your inbox.
From our morning news briefing to a weekly Good News Newsletter, get the best of The Week delivered directly to your inbox.
I know there are many complicated variables in the equation of deciding whether to have one parent stay home with kids. I don't want to belittle that. Regardless of one's reasons behind being a stay-at-home parent, I still don't think it makes the job description automatically the "hardest job in the world." I actually find it condescending when people (usually casual acquaintances, if not total strangers) give me such exaggerated praise. I can barely help myself from a snarky reply like, "Right, treating cancer is cake, but let me tell you how many diapers I've changed today!"
I am in no way trying to discredit parenting or child-rearing. I'm just asking people to have a little perspective.
I definitely think bringing up well-adjusted, good citizens is the challenge of my life. But I also want to quash the rumor that stay-at-home parents are struggling through the world's most grueling work every single day. Actually, I never want to hear that again. The way I see it, the things that are difficult about being a stay-at-home parent are not exclusive to those who stay home with kids. Lack of sleep, constant worry, teething, terrible twos, homework, terrible teens, dating, bullying, and more worrying are things that all parents have to navigate. Plenty of people with jobs (in the traditional sense of the word) have children and, therefore, deal with all of these things. Staying home is the easy (and fun) part!
Yesterday, one of the major activities in our house was playing hide-and-seek. My 18-month-old twins do not fully understand the concept of the game, but I guess it's just hard-coded in their DNA to findmomfindmomfindmom. I crouched behind the bed and listened to my kids toddle around before they finally stumbled upon me. The three of us then dissolved into giggles. Moments like these happen every day. I would never, ever describe this as the hardest job in the world. Some days, my biggest challenge is to keep them from eating crayons.
Many times, people follow up the "hardest job" comment with, "but it's the best job." This second part, I agree with completely. I know that I am lucky — privileged, even — that staying home is a choice for me. Every single day, I am grateful to have a husband who supports this arrangement. When I was pregnant, I wasn't sure if I would enjoy staying home with kids. I worried I would be lonely or would miss my job. I have friends who did not enjoy being stay-at-home moms, so they made changes. They went back to work or otherwise rearranged their lifestyles to achieve a good balance. If I didn't like being a stay-at-home-mom as my profession, I would absolutely look for employment outside of my house. Perhaps it's because I'm an introvert, but I have yet to wake up wishing I were going into an office. I love hanging out with my twins all day, every day, and I don't need anyone else to justify my new "job" by telling me it's the hardest thing ever.
Right now, I'm right where I want to be.

Continue reading for free
We hope you're enjoying The Week's refreshingly open-minded journalism.
Subscribed to The Week? Register your account with the same email as your subscription.