John Oliver's net neutrality rants aren't helping
It's not that simple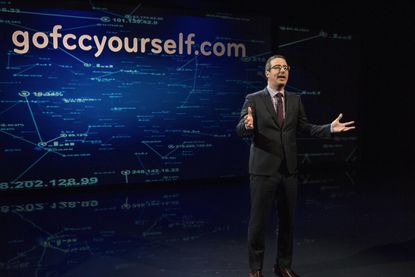 (Image credit: Eric Liebowitz/HBO)
Sign up to our 10 Things You Need to Know Today newsletter
A free daily digest of the biggest news stories of the day - and the best features from our website
Thank you for signing up to TheWeek. You will receive a verification email shortly.
There was a problem. Please refresh the page and try again.
John Oliver isn't helping. American politics is already plenty polarized. Policy disputes, no matter how wonky, are oversimplified and distorted into binary propositions: one side good, the other evil. And the fate of the Republic always hangs in the balance. People will die!
Or, in this case, people will somehow not be able to access their favorite websites.
Like I said, John Oliver isn't helping. Last weekend, he again used his HBO show to support his version of net neutrality, the general principle that internet service providers should treat all internet traffic the same and not favor some content over others by unfairly hindering particular websites or services. Some activists credit Oliver's 2014 harangue against then-FCC Chairman Tom Wheeler for motivating the agency's 2015 decision to regulate internet access like it was a public utility under a 1930s law. By giving the FCC greater oversight authority, the agency could impose strong net neutrality rules.
Subscribe to The Week
Escape your echo chamber. Get the facts behind the news, plus analysis from multiple perspectives.
SUBSCRIBE & SAVE
Sign up for The Week's Free Newsletters
From our morning news briefing to a weekly Good News Newsletter, get the best of The Week delivered directly to your inbox.
From our morning news briefing to a weekly Good News Newsletter, get the best of The Week delivered directly to your inbox.
One FCC member who voted against "common carrier" reclassification was Republican Ajit Pai, now FCC Chairman thanks to President Trump. Pai, who says he favors a "free and open internet" where consumers can "access the lawful content of their choice," is working to repeal the stricter regulatory regime. And Oliver isn't happy about that. Or as Gizmodo put it, "John Oliver pisses off ISP vultures with new net neutrality segment."
Those "vultures," by the way, would be broadband providers such as telecoms AT&T, Comcast, and Verizon. In his 2014 rant, Oliver said, "cable companies have figured out a great truth about America: If you want to do something evil, put it inside something boring." Oliver urged his viewers to submit online comments supporting the current rules to the FCC. Since then, the FCC's website has suffered from spotty service, which the agency blames on a cyber attack.
Now one thing that really, really bugged Oliver was Pai's claim that the FCC's net neutrality rules are reducing corporate investment into broadband infrastructure, potentially harming innovation and progress. Activists totally dispute this, and in truth it's probably too soon to tell whether the rules will materially reduce investment over the longer term. Establishing causality over a short period of time — lots of factors affect business decisions — is certainly tricky. And as Pai has noted, maybe without the reclassification, capital investment would have been even greater.
Perhaps. Perhaps not. Then again, we also don't know what would have happened to internet access without the tougher rules. Opponents have a point when they call them a solution in search of a problem. Maybe activists are right: Big telecoms that own content companies would totally favor their own services in some way, such as Verizon giving an edge to its 2015 AOL acquisition or Comcast putting a digital thumb on the scale for NBCUniversal. (I am, by the way, an official CNBC contributor.)
But that's speculative, too. The internet's commercialization is a testament to the innovative power of profit-seeking market players, not government regulators. There is risk in changing an economic formula that's worked pretty well. Even Oliver concedes that before 2015, "we weren't living in some digital dystopia with the exception of Pizza Rat."
And admittedly that's where my bias is. I am guessing that more competition, such as from wireless companies offering super fast 5G service, would continue to keep the internet operating in a net neutral fashion, whatever Washington does. As venture capitalist Marc Andreessen has put it: "Imagine there are five competitors to every home for broadband: telcos, cable, Google Fiber, mobile carriers, and unlicensed spectrum. In that world, net neutrality is a much less central issue, because if you've got competition, if one of your providers started to screw with you, you'd just switch to another one of your providers."
I could be wrong, of course. In any event, the issue seems a perfect one for a legislative compromise to give businesses and consumers certainty. You don't want the rules constantly changing depending on which party holds the White House and is appointing FCC commissioners. Congress needs to act in a bipartisan way. Republican Sen. John Thune has been pushing for just such a deal. And if the Rs and Ds can come together on this issue, maybe it will create some momentum for other issues such as health care and taxes, too. But John Oliver might have to stop ranting first.
Continue reading for free
We hope you're enjoying The Week's refreshingly open-minded journalism.
Subscribed to The Week? Register your account with the same email as your subscription.