Why I make my toddlers do chores
You're never too young to help do the dishes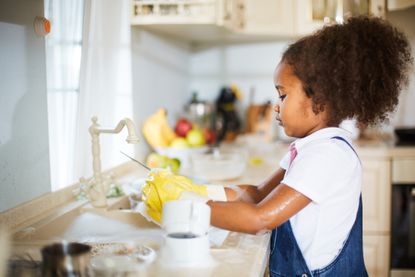 (Image credit: iStock)
Sign up to our 10 Things You Need to Know Today newsletter
A free daily digest of the biggest news stories of the day - and the best features from our website
Thank you for signing up to TheWeek. You will receive a verification email shortly.
There was a problem. Please refresh the page and try again.
When I was growing up in the '80s, it was rare to meet a child who didn't have a list of household chores he was expected to complete on a daily basis. My own chore list included picking my dirty laundry up off the floor, setting and bussing the table at mealtimes, and helping with the dishes. These are pretty simple tasks, and while I'm sure I complained about having to do them, I understand the value of what my mother was trying to teach me: namely, self-reliance and responsibility.
Nowadays, it seems that one is more likely to find a unicorn than a kid who helps around the house. We can laugh all we want about the fact that #adulting is perpetually trending, but by not expecting, nay, demanding, that today's kids do their part around the family homestead, we're raising a generation of entitled people who quite literally don't know how to do the most basic things for themselves. I refuse to let my children turn into spoiled, helpless adults living in a filth of their own making. They may only be 3 and 4, but they are perfectly capable of doing their part around the house.
Lest you have images of my children as modern-day Cinderellas scrubbing the floors until their knuckles bleed, I can assure you that my kids are hardly being worked to the bone. Their assigned chores are simple, age-appropriate tasks that are easily completed in a matter of minutes when they're not wasting time whining about having to do them. It's not realistic to expect a 3-year-old to scrub the bathroom, but my daughter is certainly capable of bussing her breakfast dishes, putting her dirty clothes in the hamper, and helping me unload the dishwasher.
Subscribe to The Week
Escape your echo chamber. Get the facts behind the news, plus analysis from multiple perspectives.
SUBSCRIBE & SAVE
Sign up for The Week's Free Newsletters
From our morning news briefing to a weekly Good News Newsletter, get the best of The Week delivered directly to your inbox.
From our morning news briefing to a weekly Good News Newsletter, get the best of The Week delivered directly to your inbox.
I didn't start the daily chore list as a conscious effort to shape the kinds of adults I want my kids to grow into. As with most things throughout my parenting career, it came about out of sheer exhaustion. I was absolutely and totally fed up with doing everything around the house. After a long day of work and kids, I was almost always faced with a sink full of dishes and a trashed house. One night, as I stood at my sink quietly raging about the mess I was cleaning up, it occurred to me that I could enlist the help of my kids with the household tasks throughout the day and thereby avoid my nightly crying jag while vacuuming.
I've heard all the arguments about why kids can't do chores these days. Most of them involve all the homework, and the over-scheduling, and the sports/gymnastics/dance teams that are sure to guarantee Junior a spot in the pros. Last time I checked (that would be this morning), it took three minutes to make a bed, 30 seconds to pick a pair of socks up off the floor, and less than a minute to buss the breakfast dishes. I'll even be generous and throw in an extra 30 seconds for lazy teenagers, but I'm pretty sure that every able child can squeeze five minutes out of his busy schedule to help out around the house. Chances are pretty slim that your son is really going to get drafted by the Broncos, but he's definitely going to need the life skills of making a bed and doing some dishes.
Once I started Project: Chores, I began to hear more about the benefits of having kids help out around the house. Want to know what happens to kids who don't do anything? Nothing good. The problem is that not having to do chores as a kid has more far-reaching consequences than just ending up as an adult sleeping on a pile of dirty laundry. Bruce Cameron, a licensed counselor who works with children and adolescents, says "kids who do not help with household chores have little resilience when thwarted, have little patience, become easily frustrated, have difficulty setting long term goals, and have difficulty with delaying gratification." Honestly, that sounds like a description of my 4-year-old.
If the idea of your child growing up to be an overgrown toddler doesn't sell you on getting your kids to help out, maybe this will: According to etiquette expert April Masini, "kids who do chores gain a sense of self-esteem that comes with success." Ask any parent what he or she wants for her kid and chances are she'll say confidence and self-esteem. Save your money on all the child psychiatry, folks: All you need is to get your kids more familiar with the cleaning supplies.
Honestly, parents, I think some of the fault lies with us. I know it's easier to just do it yourself — heck, I hate how long it takes my kids to "make" their beds — but I have enough on my plate without adding their chores to the list. I know our kids are overscheduled and stressed, but parents are, too. It's not right for moms to do it all in addition to everything else — work, parenting, cooking, cleaning, shopping, bill-paying — when we are already exhausted ourselves. Let the kids do it their way, and thank them for it. They'll eventually take pride in their work, feel good about themselves, and maybe even offer to help without having to be asked five million times.
There's been an unexpected bonus to having my kids help with the chores: We're spending quality time together while we do mundane things. Instead of constantly wishing that my kids would occupy themselves long enough for me to do a load of laundry, I enlist their help with sorting the socks and actually get a chance to talk with them. Yes, they often act silly, and sometimes I do have to check their sorting techniques, but I get a lot more time being a "present" parent and they're finding the joy in daily tasks. Plus it makes me feel good to know that I'm building their self-confidence, helping them grow up to be more successful adults, and (hopefully) ensuring they're not going to be living in my basement when they're 35.
Continue reading for free
We hope you're enjoying The Week's refreshingly open-minded journalism.
Subscribed to The Week? Register your account with the same email as your subscription.
Sign up to our 10 Things You Need to Know Today newsletter
A free daily digest of the biggest news stories of the day - and the best features from our website
Anna Lane is a writer, editor, and public speaker with a focus on humor and parenting. Her work has appeared on The Stir, Scary Mommy, Domino, The Huffington Post, and other media outlets. She lives in Los Angeles with her two children, her husband, and a never-ending pile of laundry. Anna chronicles the ups and downs of parenting on her blog, Misadventures in Motherhood.