Your child won't remember that perfect birthday party you threw her. She'll only remember you.
What my mother's death taught me about parenting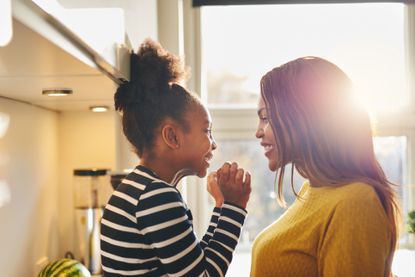 (Image credit: iStock)
Sign up to our 10 Things You Need to Know Today newsletter
A free daily digest of the biggest news stories of the day - and the best features from our website
Thank you for signing up to TheWeek. You will receive a verification email shortly.
There was a problem. Please refresh the page and try again.
"Don't you dare cancel that trip," Mom insisted, as I tried to find the flight itinerary through my tears. Doctors had just confirmed she had a massive, terminal tumor. My husband and I were set to leave for Cuba the next morning, and I couldn't figure out if the news we just received or the thought of leaving at a time like this had me more distraught.
Always a firm believer in 'the show must go on,' my mother stuck to her guns. As we boarded the airport shuttle, she said, "Don't cry Jack, try to have a good time, bring me back a good CD. I'll be here when you get back."
That was Dec. 31, 2016. She passed away Feb. 11, 2017. Looking through photos from our trip and listening to Cuban music gave her some of her final smiles. For the rest of my days, I'll be reminded of the way she so selflessly found joy in other people's experiences and happiness.
Subscribe to The Week
Escape your echo chamber. Get the facts behind the news, plus analysis from multiple perspectives.
SUBSCRIBE & SAVE
Sign up for The Week's Free Newsletters
From our morning news briefing to a weekly Good News Newsletter, get the best of The Week delivered directly to your inbox.
From our morning news briefing to a weekly Good News Newsletter, get the best of The Week delivered directly to your inbox.
That was my mother for you: always imparting life lessons, even in her darkest hour.
As I push 30, many of my friends and relatives are raising young families. My Facebook feed is full of snapshots of themed birthday parties, crafty projects that must have taken hours to put together, and Christmas mornings on par with Macy's New York City holiday window displays. And, call me crazy, but even some households' Easters look like second Christmases, dressed in pastels.
But since my mom passed away, I can't think of a single childhood birthday party or DIY project I've reminisced about.
The only Christmas memory I've thought of? The year I decided to question Mr. Claus. I told my parents if Santa was real, they needed to get me a bell from his sleigh when he visited our house. I couldn't tell you about any of the Christmas gifts I received that year, or the way they were wrapped. But I could describe that brushed gold bell, with a candy apple-red ribbon, to a sketch artist.
I later learned my mom searched high and low for it, only to be met with my conclusion: There's no way a bell from Santa's sleigh would be that "light." I'll never forget Mom's belly laughter in response. She didn't patronize me or try to convince me otherwise. She knew I had figured it out and was prepared to let it be. She always gave me the space to discover the world for myself.
Milestones and special events often seem to be more of a burden than a joy for many of the young parents in my life. A world of instant gratification and social media overload has created demanding expectations and pressure to keep up with the Joneses. When your friend hires a real live Anna and Elsa to sing at her daughter's second birthday party, consider the bar raised.
No doubt my mom had some sleepless nights over whether or not she was keeping up with all the other moms. I wish I could give her those hours of sleep back because what has struck me most in the months since her passing are all the things she gave me that no other mom possibly could.
When I was about 5, out shopping with my mom, I grabbed her by the arm, led her to the next aisle, and cheerfully exclaimed, "Mom, look at this cute little lady!" As a child I had spotted someone quite exciting and mystifying: an adult woman not much bigger than me.
My mom could have hastily shushed me or scolded me and made me apologize to the woman straight away. Instead, she had a plan in place for these situations, and I knew it well. She calmly said, "Jackie." When I looked up to catch her gaze, she tugged on her right ear — which was code for "I will explain this to you when we get home."
She smiled at the woman, then said "I'm sorry." The woman smiled back at us with a little chuckle. Kids say the darnedest things.
When we went home that day, I learned about little people and how I shouldn't treat them any differently than anyone else. I also learned it's not appropriate to point at people.
Memories of my mom's kind teaching have flooded me since she passed away. She had a knack for delivering life's lessons; every time I left our house, I felt like I was going out into the world a little bit smarter.
I remember when I was 8 and my friend and I were going to play co-ed basketball through our local YMCA. We were the only two girls on the team, but after the first game, my friend's parents informed our coach they were moving to England. I threw an epic hissy fit. I didn't want to become the lone girl on the team and I proclaimed my intent to quit, only to have my mom bring me back down to Earth. Kind, but stern, she explained: You wanted to do this and made a commitment to the team; you need to stick it out for the season. If you still don't like basketball then, you don't have to play again next year. Mom led by example in sticking to her word and giving everything (and everyone) a fair shot.
When I see the parents in my life filled with angst and stress over keeping up with appearances and modern trends, I want to tell them to slow down and remember it's them their children will remember when they're gone. Who they are, what they taught, and how they taught it. That's what will outlive them in the hearts and minds of their children.
Trendy crafts, epic parties, and professional photoshoots can be fun once in a while, but they're not the stuff legacy's are made of. Never underestimate the memories you're creating, just by being you.
Continue reading for free
We hope you're enjoying The Week's refreshingly open-minded journalism.
Subscribed to The Week? Register your account with the same email as your subscription.
Sign up to our 10 Things You Need to Know Today newsletter
A free daily digest of the biggest news stories of the day - and the best features from our website
Jackie Minchillo is a freelance writer originally from just outside Detroit, Michigan, currently living in Costa Rica. She is a ghostwriter and pens original pieces on topics spanning travel, culture, womanhood, healthy/mindful living, and believes a little touch of controversy never hurt anyone. Jackie covers Costa Rica for International Living Magazine and other work can be read in publications including Role Reboot, Thought Catalog and Fete Lifestyle Magazine among others. She's a former 9-to-5er and spent five years in corporate marketing and publicity.