7 financial questions you should ask your partner before getting married
Before you say I do, you need to have the money talk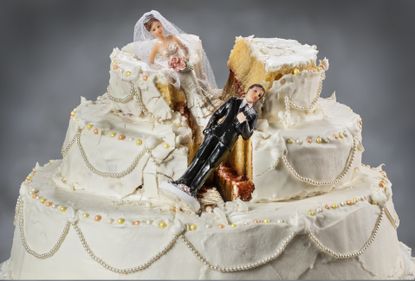 (Image credit: iStock)
You've locked down a venue, ordered the cake, and badgered your friends and family into choosing beef or fish. Congratulations: You're about to get married! But while planning for the wedding itself is important, even more crucial are the conversations you and your partner should have had by now about the biggest of bugaboos: Money.
Too many couples brush the topic to the side — and understandably so! Listening to (and laughing at) cover bands is fun. Peeling back your partner's financial habits, healthy or otherwise, can mean arguments or even second-guessing your compatibility.
The good news? It's not too late to start a dialogue about your personal spending and saving habits, and how you'd like to handle finances as a couple. Here are seven key questions to ask each other that will address where you'd like to be financially from now until retirement — helping firm up that "for richer or poorer" promise:
Subscribe to The Week
Escape your echo chamber. Get the facts behind the news, plus analysis from multiple perspectives.
SUBSCRIBE & SAVE
Sign up for The Week's Free Newsletters
From our morning news briefing to a weekly Good News Newsletter, get the best of The Week delivered directly to your inbox.
From our morning news briefing to a weekly Good News Newsletter, get the best of The Week delivered directly to your inbox.
1. What's your credit score?
You hopefully already know about any massive debt or student loans your partner is paying off. But especially if you aren't living together yet, finding out each other's credit score is important. This seemingly basic question has big ramifications — for instance, whether or not you get approved for a mortgage. If you or your soon-to-be spouse's number isn't in the green, it's time to talk about ways to boost that score, or consider meeting with an adviser who can help put you on a path toward better credit together.
2. How did your parents handle their finances?
You have your mom's nose, your dad's eyes — but whose financial savvy (or lack thereof) did you inherit? While we tend to mimic many of our parents' behaviors as we grow up, they're less set in stone than, say, height. Still, those experiences may influence your partner's beliefs about what is "normal" when it comes to finances. His mom may have been a spendthrift to the extreme, or her dad may have saved to the point of obsession. Neither is particularly healthy, so being aware of those conscious or unconscious influences is a key step as you talk about how you'd like to build your own financial practices as a couple.
3. Should we combine our finances?
Some couples maintain totally separate checking and savings accounts, with each depositing their respective income in their own account. Some one-income, traditional couples have the sole breadwinner give an "allowance" to his or her spouse. Other couples combine all their money into one or more joint accounts. And still others use a hybrid system — most of the dough into shared accounts, with a relatively small amount put in a pair of "personal" accounts, one for each partner. There's no right or wrong way — everyone is different! But it's important to be on the same page as your partner before you get hitched.
4. Should one of us join the other's health insurance plan?
It's no secret that not all health insurance plans are created equal. And getting married falls under the Affordable Care Act's "Special Enrollment Period" option, meaning one of you can enroll in the other's plan outside of the yearly Open Enrollment Period. (Obviously this could change depending on if and how the GOP overhauls ObamaCare.) There are several considerations, including whether one plan offers lower deductibles and co-payments, or more choices for doctors and hospitals, when determining whether it's a better deal to drop a single policy for one two-person coverage plan or not. Still, if one of you is settled in a job with great benefits, this is a conversation worth having.
5. How many kids do you want?
Talking about whether you want kids in the first place may seem like the more obvious discussion, but when it comes to your financial future as a couple, none, one, two, or three each prompts very different math. At its most basic, know this: The cost of raising one child from birth to age 17 (so, not including college tuition) has hit $233,610. There is a "cheaper by the dozen" effect, meaning the cost per child goes down as siblings can share clothes, toys, and even potentially bedrooms. Still, each child you plan to have will significantly change your future available funds, how you invest, whether you can send those kids to public or private school — the list goes on and on. Get on the same page before baby makes three.
6. How much can each of us spend before we need to consult the other?
Weekly groceries probably get the go-ahead for "buy now, mention later." But a new car? What about a destination-trip weekend with friends? Or the price point for birthday or anniversary gifts? The cap will be different for every couple, depending on your incomes, savings, and personal levels of comfort with saving and spending. Figuring out the mutually agreed-upon line before you tie the knot will alleviate a lot of arguments down the road.
7. How will we save for retirement?
So you each already have a 401(k) at work, some rainy-day funds, and have identified a savings goal such as a down payment on a house. Great! But leaving retirement as a single piece of the puzzle, carried along by maxing out a workplace 401(k), could shortchange you both when you're ready to kick back and relax. If you're lucky enough to reach a point where you can max out your 401(k)s and still consider investing further, do it. A Health Savings Account can be one smart place to stash additional funds; you can plan to use them for Medicare premiums and out-of-pocket health-care costs. And it's time to stop being leery of the stock market. Talk about how comfortable you both are with the risks and rewards, but the key is to start investing together sooner rather than later — you'll be glad you did when you're toasting to a secure retirement at age 65.

Continue reading for free
We hope you're enjoying The Week's refreshingly open-minded journalism.
Subscribed to The Week? Register your account with the same email as your subscription.