It's still summer. Put away your damn pumpkins.
How our ignorance of nature's rhythms ruins everything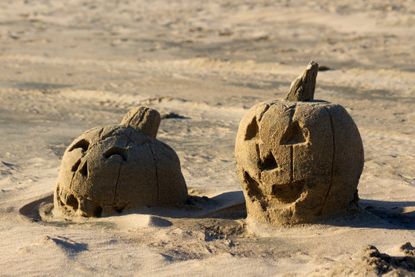 (Image credit: iStock.)
I remember going to the pumpkin patch as a child. It involved putting on fluffy jackets and boots, buttoned up against the autumn cold. Frost often sparkled on the ground on especially cold pumpkin-gathering mornings.
Growing up in a farming community meant our lives were tightly tethered to the seasons. Even though I didn't live on a farm myself, I knew its rhythms. We pickled green beans in July, canned peaches in August, made applesauce and apple butter in September. The summer's juicy garden tomatoes spoiled us for the winter grocery store versions. Foods were better in their season.
But these days, it often seems like seasons don't matter anymore.
Subscribe to The Week
Escape your echo chamber. Get the facts behind the news, plus analysis from multiple perspectives.
SUBSCRIBE & SAVE
Sign up for The Week's Free Newsletters
From our morning news briefing to a weekly Good News Newsletter, get the best of The Week delivered directly to your inbox.
From our morning news briefing to a weekly Good News Newsletter, get the best of The Week delivered directly to your inbox.
Autumn creep is growing as insidious and prevalent as the Christmas tree ornaments that show up in October. Even amid sweltering August weather, pumpkin spice products (including deodorant this year) begin lining grocery store shelves. People don scarves before the temperature has dropped below 70 degrees.
Some people shrug their shoulders, and let the kitschy season creep continue. But there's a reason it matters: It suggests our susceptibility to environmental revisionism, to embracing ignorance of and isolation from nature's rhythms. That susceptibility is only growing stronger as our industrialized system of agriculture distances us from the realities of seasonal food production.
If you were to talk to a locavore chef, he or she would explain that there's a season and a time to buy and eat tomatoes (it's summer). Same with berries, asparagus, apples, and bell peppers. Grocery stores give us the perception of year-round bounty, of a never-ending profusion of produce. But in reality, the foods we eat have a growing season. Most of the produce you procure from Walmart or Trader Joe's or Whole Foods has been shipped here from someplace else. Not only does that multiply the fossil fuels that go into our food production, it depreciates the nutritive value of our food: "The longer freshly harvested fruits and veggies sit in transit, at the grocery store, or even in your refrigerator, the fewer vitamins and nutrients they retain."
Our grocery store cornucopias hide the consequences — agricultural and ecological — of a non-local, non-seasonal food system.
It's easy to embrace seasonal creep when you are divorced from farming's rhythms. If you buy blueberries in January, why not pumpkins in July? But as farmer and essayist Wendell Berry has pointed out numerous times, "eating is an agricultural act." One could even suggest that sipping a pumpkin spice latte is an agricultural act. Divorced from its appropriate time and place (which some would say is never, but we'll indulge PSL lovers for a moment), the act becomes one of seasonal and agricultural revisionism. When we make demands of the seasons and soil, rather than aligning ourselves with their rhythms and ways, we are in danger of more than mere kitsch. We threaten the health of our ecology and culture.
"Allegedly cheap fossil fuel, allegedly cheap transportation, allegedly cheap corn and other feed grains have pushed agriculture toward uniformity, obscuring regional differences," notes Berry in his essay "Let the Farm Judge." Our cheapness has come at an immense ecological cost.
In contrast, when we embrace the seasons and our limitations, we bring economy and nature back into harmony: "When we adopt nature as measure, we require practice that is locally knowledgeable," writes Berry. Americans further south will celebrate their harvest season at a different time; they'll harvest different fruits, eat different vegetables. And that's okay. Not only is it okay, it's beautiful — because it encourages a diversity of production and consumption that truly reflects nature and her various patterns of place. Modern grocery store shelves are uniform to a fault — because their homogeneity is, in fact, reductive and unreflective of reality.
There are some positive signs of change, perhaps most prominently in the development of the locavore movement and growing interest in agritourism. Some would argue that many varieties of agritourism are forms of kitsch in themselves: people who visit the farm for a day are only hoping for an abridged country life experience, hopefully without having to get their sneakers dirty. But their participation signals a beneficial desire to return to the land and experience its goods — a desire that needs to grow if we are to return to an agricultural with limits. It's also, often, a cost-effective way to help farmers bring in their produce — in an industry that increasingly struggles to procure the seasonal labor it needs. I've talked to several farmers who say U-Pick clients have been a boon to their orchards and farms.
So there is hope for autumn creep. Of course, as we're already into September, many pumpkins are indeed nearly ready for harvesting here in Virginia. But we only just finished enjoying the last of summer's peaches. So I'm not rushing to the pumpkin patch just yet. It's still apple-picking season.
And we shouldn't just look to pumpkins for autumn's gastronomic inspiration. Fall is about so much more: root vegetables like parsnips, turnips, and beets, a plethora of squash (like butternut and acorn squash), greens like swiss chard and kale, and the spiciest, crispest apples you could imagine. It's the season for stews and chili, pies and gingerbread, and copious amounts of spiced (and spiked) apple cider. We don't need sickeningly sweet Starbucks syrups.
We don't have to fall for industrial America's version of the seasons, their cartoonish stereotypes of autumn beauty. We can enjoy the real thing. But that requires celebrating the incredible sweetness of summer for as long as it lasts, and not rushing to its end prematurely. Then, when it's truly time, we can fully embrace and enjoy the glories of fall.

Continue reading for free
We hope you're enjoying The Week's refreshingly open-minded journalism.
Subscribed to The Week? Register your account with the same email as your subscription.