A definitive, absolutely correct, unquestionable ranking of the months of the year
October is the best month of the year. If you disagree, you are wrong.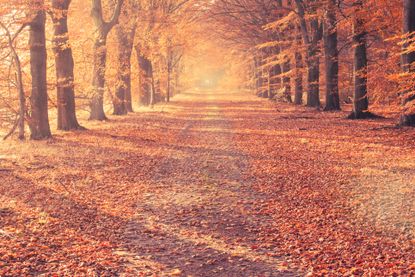 (Image credit: iStock)
It is finally the best month of the year. And no, you're not going to convince me otherwise.
I will be the first person to admit that I don't know everything — with one very big exception. I have an absolutely perfect ranking of the months of the year.
Not everyone initially agrees. When I tweeted my list in September to celebrate the beginning of the third best month, a lot of people were left scratching their heads or outright protesting. "What about May?" complained the kinds of people who get May confused with June (more on that below). April's ranking is also particularly divisive.
Subscribe to The Week
Escape your echo chamber. Get the facts behind the news, plus analysis from multiple perspectives.
SUBSCRIBE & SAVE
Sign up for The Week's Free Newsletters
From our morning news briefing to a weekly Good News Newsletter, get the best of The Week delivered directly to your inbox.
From our morning news briefing to a weekly Good News Newsletter, get the best of The Week delivered directly to your inbox.
Ranking the months is no easy feat. It takes a lot of careful thought and time and deliberation. It also takes a lot of asterisks: This is a list specifically for the northern hemisphere, and discussions of weather come at the exclusion of outliers like Yellowknife, Canada, where it is presumably always cold, and Carrizo Springs, Texas, a town I literally just found on a map but can presume is always hot (I'm not a meteorologist, I just rank months).
Without further ado, here is my definitive, absolutely correct, unquestionable ranking of the months of the year. And yes, I am sure.
1. October
October hits the biannual sweet spot of being not too hot and not too cold. There are only two months of the year that satisfyingly achieve this — October and June — and this 10th month of the year is by far the superior one.
While the early days of September can still be cracklingly hot and dry, October is at last cooling down, enough so that by the end of the month you can break out coats and sweaters and you don't completely hate them yet. There is the additional arboreal splendor of the trees changing color, but without the hazards of allergies that come when they bloom in the spring.
October also has a holiday — albeit not the best holiday, although that is for another list. Halloween, though, marks the first celebration in at least four months that you can put up decorations for. Even if you're not a big fan of candy corn and scary movies, by the time the 31st rolls around, festivity feels overdue. How can it not? It's decorative gourd season.
There is also playoff baseball, the start of the hockey and basketball seasons, and football is rolling along. The exciting winter holidays are right there on the horizon, close enough that the months stretching ahead don't feel like a total trudge.
You might see your breath for the first time since last March and in that initial surprised puff of tiny water and ice crystals, the bliss of fall.
October is definitively the best month of the year. If you disagree, you are wrong.
2. November
Having November in the #2 position is a controversial decision, but hear me out. By the 11th month of the year, the crispness of fall has finally settled in and you no longer have to feel guilty for staying inside on bright, chilly days — the days are just chilly. Indulge in buckets of coffee and tea. Eat cold weather foods: Pies, pumpkin bread, apple cider donuts. Wrap a blanket around yourself and wear it for the next five months. If it snows, it is probably the first snow of the year — startling, blindingly white, perhaps just a dusting of power, not yet the hateful wet thing it becomes in March.
The days are getting darker and darker, which just makes the lights at night brighter: The first strings of Christmas lights might be up on your overachieving neighbor's house, sharp sparkles in the evening gloom (and it feels like it is always evening in November). Thanksgiving brings a four-day weekend and eating and seeing family who you're not yet sick of but will be by December. If you're productive, you might finally start buying gifts on Black Friday. You might even buy one for yourself. Do you need an excuse? It's cold outside.
3. September
September is a hopeful month: School is back, and you're still okay with the thought of studying. Your new notebooks are waiting to be filled. Summer is over, but you swallowed that bitter feeling at the end of August. Your favorite TV show is back on. Football begins.
There are some places where September could almost be the best month — New England is a region that seems like it exists for the sole purpose of being occupied by people at just this time of year. The first days of September still whir with summer, even as the leaves on the trees begin their slow transformation to a slightly more orange hue. By the end of the month, the first hum of autumn has become a symphony of reds, fuchsias, coppers, even pleasant browns. By the time the equinox rolls around it feels almost overdue.
4. December
There are two kinds of people in the world: those who think December is the best month, and those who think April is the best month. Both are wrong.
December is better than eight other months of the year, though, because of its impressive volume of tier one holidays and the fact that, as a result, you spend the whole month pretending to work but kind of not doing anything at all and no one gets mad about it (unless you're in retail, in which case this is probably the worst month of the year).
Like November, the cold in December is still new and fun — if you didn't get the first snow of the year the month before, then it will probably fall now — and more than that, it will feel festive.
There are holiday parties to attend, sparkly clothes that would look silly any other month, egg nog to drink, ugly sweaters to wear, best-of lists to argue about. It's the one month of the year where it's not weird to eat peppermint and gingerbread or say the word "poinsettia" repeatedly. You can kiss strangers under dangling hemiparasitic plants and in theory not have it be creepy (it's still creepy).
This is also the one month it is acceptable to listen to bad Christmas music and watch bad Hallmark movies and not be judged. And if you have a holiday tradition, you get to do that tradition and complain about it the entire time while secretly, quietly enjoying it, although you would never, ever admit it.
5. June
June ranks higher than the other summer months because in most places, July and August are too hot. Like October, June has near-perfect weather. It's actually, finally summer, and there is no denying it (looking at you, April and May).
As a result, June is a month for doing all the summer things for the first time: Eating ice cream, going to the beach, stargazing, or burning your homework in a bonfire if you are of a certain age. The worst of the allergy hurdles have been cleared — you at last can rediscover that nature can be a thing you enjoy spending your time in.
6. July
July is … fine. No one should feel strongly about July. The longer the month goes on, the worse it gets. Overall, the sixth month is pretty good, because it's officially summer and you get a day off for the Fourth of July, but by the end it is sweltering and you feel in constant need of a shower. All the fun places to hang out are crowded because everyone else thinks they're fun too and there are only so many beaches. Out west, there might be fires.
7. January
The emotional high of the first few days of January boosts it over July's sibling month of August. This could be my year, you still believe, looking at the 360-something days stretching into the future with promise. By the end of the month, this has probably worn off (by February, it certainly has), and what's more, no good movies come out in January. The novelty of the gifts you received for Hanukkah or Christmas is gone, and you have a pile of ill-fitting clothes gifted to you by aunts you see once a year that you need to return.
The best months of the year (see: September-December) are in the rearview mirror and won't return for nine more months. If you're going to die, it's more likely to be now than any other time of year.
8. August
August is the Sunday of the year.
It's still summer but the season is almost over, and as a result, you spend the whole month unconsciously counting down. By the end of the month, you are left dealing with the regret of all the big plans you had that you didn't actually do. You're probably sunburned and it's probably wickedly hot.
There are no holidays and your therapist is on vacation.
9. April
The most controversial placement of any month on this list is April at #9. April has a lot of defenders, although T.S. Eliot is not one.
Fittingly, April begins with your worst friend trying to prank you. Any given day this month, it is probably raining and people will say "April showers bring May flowers" and it will be annoying. You are likely allergic to something that is blooming, and you are miserable even as you try to pretend summer is right around the corner (you've still got to get through May and the first half of June, so it's not). You'll probably have spent winter not getting sick and be like, "I didn't get sick this year!" and then get a spring flu. That's the kind of cruel month April is.
April might have a holiday if you celebrate Easter, but it's a holiday where you have to eat noxious neon pink marshmallow blobs and pretend it is "cute" when they get arranged into dioramas. Income taxes are due, so you have to spend 14 days of the month thinking about that.
10. May
Americans' favorite month is May, but the 14 percent of the population that thinks May is the tops is unfortunately getting the fifth month of the year confused with June. May, people who "like May" try to assert, is "almost summer" and "warm." These same people will probably foolishly try wearing shorts for the first time in the year, but it will be a mistake and they will be cold.
Someone will inevitably do something racist on Cinco de Mayo and we'll all have to talk about it. Someone will do something racist on Confederate Memorial Day, and we'll all have to talk about why this is somehow still a holiday in North Carolina. People will make the exact same May the 4th joke they always do. Mother's Day is fine, but your mother will probably guilt you on the phone about never calling her.
One good thing about May is Memorial Day weekend. But who are you kidding, you're not going to do anything memorable on Memorial Day.
11. March
March is an even worse version of April; it is "spring" in name only. You are rudely robbed of an hour of sleep when daylight savings time begins. You won't win $1 million every year for life with your March Madness bracket. You have to beware the ides. If you live in New York City, St. Patrick's Day is the second worst day of the year after SantaCon. Massachusetts has "Evacuation Day," which doesn't sound like a good thing. It's still cold. It feels like it will always be cold.
12. February
February is the worst month. February is so, so, so bad. (One person out there with a February birthday is like "it's not that bad!" and that person is wrong.)
First off, there is the spelling of this month, which makes no sense and is infuriating. (TELL ME HOW YOU SAY THE SECOND SYLLABLE OF THIS WORD). February also claims the stupidest tradition of the entire year: holding up a groundhog as a meteorological instrument. Presidents Day means you can't go to your bank even though no one really knows why this is a federal holiday in the first place. Valentine's Day is depressing no matter what your relationship status.
Whatever shiny, new, promising feeling January might have held is gone completely. You've probably already failed at your New Year's resolutions. Reprieve from unending winter is still months away. It's peak flu season. If there is snow on the ground, it's brown and black from having been there forever. Then, when the month finally ends, you still have deal with March, April, and May.
Thankfully, whoever invented February also had our best interests at heart: The worst month isn't the shortest month for nothing.

Continue reading for free
We hope you're enjoying The Week's refreshingly open-minded journalism.
Subscribed to The Week? Register your account with the same email as your subscription.