Elon Musk is right. Tesla should be private.
Sure his plan to take Tesla private is crazy ... like a fox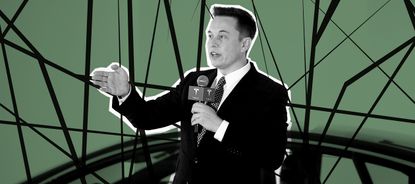 (Image credit: Illustrated | VCG via Getty Images, RomanSotola/iStock)
"Am considering taking Tesla private at $420. Funding secured."
Thus tweeted Tesla founder and CEO Elon Musk on Tuesday, promptly sending the stock market, the internet, and business journalism into a collective tizzy. The markets even temporarily halted trading in Tesla stock until the initial dust settled.
Taking Tesla private is a pretty wild idea. Observers are still scratching their heads as to how exactly Musk could pull this off. No one has ever taken a public company private at this scale or under these circumstances before.
Subscribe to The Week
Escape your echo chamber. Get the facts behind the news, plus analysis from multiple perspectives.
SUBSCRIBE & SAVE
Sign up for The Week's Free Newsletters
From our morning news briefing to a weekly Good News Newsletter, get the best of The Week delivered directly to your inbox.
From our morning news briefing to a weekly Good News Newsletter, get the best of The Week delivered directly to your inbox.
But taking Tesla private is probably the right move.
Public companies face profoundly different (and often worse) pressures than privately held companies do. With a public company, ownership stakes are constantly and speculatively traded on the public stock market. A big company usually has many, many investors — or big institutions representing many, many investors. The churn in ownership is tremendous, and the reason for buying or dumping a stock is often quite capricious. That creates enormous and often counterproductive volatility.
"As a public company, we are subject to wild swings in our stock price that can be a major distraction for everyone working at Tesla," Musk wrote in a memo to Tesla employees. "Being public also subjects us to the quarterly earnings cycle that puts enormous pressure on Tesla to make decisions that may be right for a given quarter, but not necessarily right for the long-term."
This situation is a particularly poor fit for a company like Tesla.
Whatever you may make of Musk, he clearly has a vision beyond simply making a quick buck. He wants to revolutionize our energy and transportation systems and make them renewable and carbon free, so they no longer threaten the climate or the planetary ecosystem. That's a massive, transformative project — one that will demand big risks and investments that could only pay off a long way down the line.
The electric carmaker has been mired in a Herculean effort to begin mass manufacturing of the Model 3, Tesla's offering for the middle-class market. The company is burning through mountains of cash, and its stock is laden by more and more predictions of doom.
Musk owns about 20 percent of Tesla. Insiders and individual investors own another 17 percent. The rest is owned by major investment institutions. In other words, most of Tesla's owners likely don't really care about Musk's mission and are just there for some payouts. A lot of Musk's cantankerous and erratic behavior can probably be explained by the frustrations resulting from that collision.
Obviously, no shareholders are going to put up with no return on their investment forever. But insiders and direct private investors — rather than drive-by stock buyers — are much more likely to have bought in, to some degree, to Musk's vision, and thus to give him a lot more patience and leeway.
The details of Musk's plan haven't really been fleshed out yet. It sounds like he'd prefer that all of Tesla's public shareholders voluntarily switch over and continue as private shareholders. That seems highly unlikely. And offering $420 per share would be a serious bonus over Tesla's current stock price of roughly $380. Obviously, the hope here is that anyone who's just in it for the payout will take the money and run. That would leave Tesla's ownership comprised entirely of those who, like Musk, are true believers in Tesla's mission.
Whether Musk can pull this off is another matter entirely.
The buyout he's proposing would cost tens of billions of dollars, and no one's quite sure where he's getting the money (though Saudi Arabia has been reported as a possibility). Musk will also need to get the current owners to vote in favor of the move. That won't be an easy sell, though the generous $420-per-share offer should help with that.
Furthermore, these sorts of buyouts usually rely on loans from banks — and they usually demand evidence of regular positive cash flow before they'll sign on. But Tesla's in the red right now. (It lost more than $700 million last quarter.) Its sales are rising, but it's also plowing massive amounts of money into its Model 3 efforts. Various individual investors may well be willing to take the risk regardless. But the banks are another story.
Musk had better be right that the funding is lined up somehow. Because if he's wrong, the fact that he tweeted out "funding secured" could very well open him up to charges of securities fraud. There will almost certainly be lawsuits regardless.
This is a risky gambit, to put it mildly. And frankly one in keeping with Musk's, shall we say, less-than-grounded demeanor. But if Tesla is to be run in the name of a transformative mission, not just raw profits, it probably has a better chance by going back into private hands.

Continue reading for free
We hope you're enjoying The Week's refreshingly open-minded journalism.
Subscribed to The Week? Register your account with the same email as your subscription.