My battle with obesity
I was morbidly obese. I'm getting better. Here's how.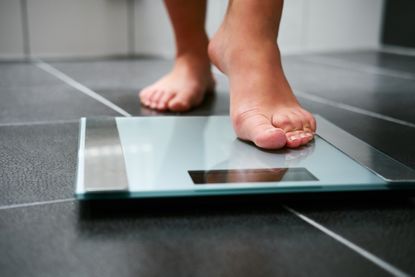 (Image credit: iStock/Rostislav_Sedlacek)
For much of my life, I have been obese. And not just obese — morbidly obese. I am 5 feet 6 inches tall, and at one point weighed 265 pounds.
A healthy body-mass index (BMI) is 18.5 to 24.9. Anything from 25 to 29.9 is overweight. Go over 30, and you're obese.
I was at 42.8.
Subscribe to The Week
Escape your echo chamber. Get the facts behind the news, plus analysis from multiple perspectives.
SUBSCRIBE & SAVE
Sign up for The Week's Free Newsletters
From our morning news briefing to a weekly Good News Newsletter, get the best of The Week delivered directly to your inbox.
From our morning news briefing to a weekly Good News Newsletter, get the best of The Week delivered directly to your inbox.
People who have never struggled with obesity cannot really understand what it's like to live this way — the intense, silent, and instantaneous judging that happens every day. But I know it all too well — the second where people look at me in disgust, followed by quiet rejection.
For much of my life, it really didn't matter if I bought a new suit, or had my hair cut just right. It didn't matter if I was kind, thoughtful, and sophisticated. It didn't matter what I said at all. There was one thing I could not style away, one thing I could never cover up with slick clothes or impressive credentials.
For almost all my life, I have battled my obesity each and every day. And only this year have I learned how to start winning this fight.
It would start when I would wake up, usually exhausted, as my stomach was so large that I could never truly get comfortable enough to get a good night's rest. (That's what happens when you have what amounts to a mid-sized pumpkin between you and the mattress.) Being tired would lead me to gorge on food and coffee all day long, sometimes eight or more cups, loaded with high-calorie creams and sugar, just to stay awake. And so I would pack on more weight, creating a cycle that is nearly impossible to break.
There was so much physical pain. Being obese stresses your body, and my joints would hurt all day long. Walking to the Metro to go to work was awful, causing me to take large amounts of Tylenol, aspirin, or whatever pain killer I could find to make it through the most basic of physical tasks. That made me sit more, and being so sedentary, you guessed it, made me gain more weight.
There are other things no one ever tells you about being obese, like going to the bathroom. Being able to simply wipe yourself is a struggle when you reach a certain size. I have broken toilet seat covers — once even breaking the cement seal that connects the toilet to the floor — because of my size. And don't get me started on the humiliation of clogging toilets — that was a regular occurrence — because of overeating.
But worst of all, at least for me, was the shame of having to go and buy clothes. I could never go to the Gap, Banana Republic, or any retail store. I would have to shop at the few stores that stocked size 44 or 46 waisted pants — with a 29 or 30 length. And many times, dress shirts that were made in my size would have sleeves so big they looked like I was wearing someone else's clothes. Almost every morning I would have a meltdown, brought to tears by the fact that I could not even wear the clothes I wanted, only what I could settle for. Every day, for almost my entire life, I started the morning enraged, powerless to the number on the scale.
Until recently, I did not realize why I couldn't do the one thing that would end this cycle of self-inflicted chaos: Close my mouth and stop overeating. And I know this is something that thin and healthy people quietly think when they see an overweight or obese person. I can feel it in their silent judgment. Why don't you just eat less? Why don't you just exercise? Why don't you just some self-discipline?
What such people fail to understand — and what I didn't understand myself until recently — is that eating can be an addiction. I was addicted to what overeating and indulging in endless quantities of pizza, ice cream, and potato chips did for me. What my doctor explained is that for me and millions of others, junk food is the equivalent of narcotics, filling me with dopamine, just like someone addicted to hard drugs. But my habit of choice was everywhere and easily available.
Anytime I was feeling sad, depressed, or angry, my salvation was food. Upset the day went bad? Eat an entire pizza. Work had me stressed? There was always that Twix bar to mask the pain. I would feel great while I ate, and horrible afterwards. And all those calories only made the problem worse.
Beginning this year, I worked up the courage to change my ways. Treating food addiction is not easy, but thankfully there are ways to combat it. There are 12-step programs, just like there are to tackle drug addiction. Talk therapy can be useful to help someone discover the source of their food addiction, and what pain they are trying to cover. There are even new prescription medications that can ease the cravings when the fridge comes calling.
But for me, while I have found a routine and treatment options that work, the daily grind of living with obesity is what finally made the difference. I was sick of it. I just had to change.
Since January I have lost over 50 pounds. While I can't say I'm cured, I at least know why I was obese, why I did what I did. I know now that if I can make it through the cravings, if I can resist that little voice in my head that tells me to gorge myself when life takes a wrong turn, that I can achieve a better quality of life. And that is something worth fighting for, moment by moment, day by day.

Continue reading for free
We hope you're enjoying The Week's refreshingly open-minded journalism.
Subscribed to The Week? Register your account with the same email as your subscription.