The generation that barely remembers 9/11
How the tragic day defined us, even though it's just a blur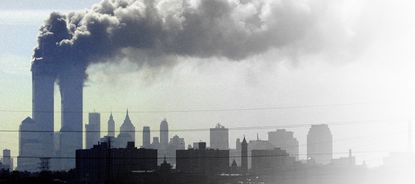 (Image credit: Illustrated | AP Photo/Gene Boyars)
Sign up to our 10 Things You Need to Know Today newsletter
A free daily digest of the biggest news stories of the day - and the best features from our website
Thank you for signing up to TheWeek. You will receive a verification email shortly.
There was a problem. Please refresh the page and try again.
I am among the youngest people who can still remember 9/11. Seventeen years ago today, I was 8 years old; more than two-thirds of my life has been lived in a world without the Twin Towers.
I can only barely recall what happened that day. My father, still processing the news himself, sat me and my brother down on the couch before school — it was early in the morning on the West Coast, and we were bleary with sleep — and told us something terrible had happened in a far away place we had never been to, in a city we only knew by name. I didn't see the second plane fly into the South Tower. I didn't see the people jumping. I didn't see the Towers fall.
Like many of my peers, 9/11 was an abstract concept that receded further and further from memory as I grew older. It is as if all the terrible realizations that adults experienced that day were filtered to me in phases over the years: A 9/11 survivor spoke to my class in junior high, and I considered for the first time what it would have been like to be at Ground Zero. In high school, reading Don Delillo's Falling Man, I was driven to look up Richard Drew's photograph — the first time I'd seen it, maybe, or the first time I'd realized what it was and what it meant. When I visited New York for the first time, in September 2011, I remember looking south down Manhattan and thinking with a complicated awe, here, it was here.
Subscribe to The Week
Escape your echo chamber. Get the facts behind the news, plus analysis from multiple perspectives.
SUBSCRIBE & SAVE
Sign up for The Week's Free Newsletters
From our morning news briefing to a weekly Good News Newsletter, get the best of The Week delivered directly to your inbox.
From our morning news briefing to a weekly Good News Newsletter, get the best of The Week delivered directly to your inbox.
For those of us for whom 9/11 is but a foggy memory, we can recall the aftermath far more sharply. With greater degrees of clarity we can remember the beginning of the Iraq War, the revelations about black sites, the surveillance of U.S. citizens — but all removed from the paranoia and misplaced patriotism that prompted those events. Sept. 11 and the intervening years have shaped our politics and worldviews more than anything else. It has also shaped our fears: I still feel my heart pound when I see low-flying planes.
Yet it still surprises me when I talk to friends who are too young to have an answer for the question Where were you on 9/11? Some of today's college juniors and seniors may be able to recall even fainter memories than my own, but the incoming freshmen class likely have none at all. A year from now, people who were born after Sept. 11, 2001, will be able to serve in the military, buy cigarettes, and gamble. They will be able to vote in the 2020 presidential election.
In acknowledging the chasm between those who remember and those who cannot, there rises an irrational panic among the former group — there are living, sentient people who do not remember 9/11! Time barrels on impossibly fast; it is already the 17th anniversary, and soon it will be the 27th, the 37th, the 47th. One day there will be a whole world of people who do not remember 9/11, despite the National September 11 Memorial and Museum's best efforts to recreate the horrors for its visitors.
Indeed, there are already many among us, posing for photos in front of the memorial's cascading fountains and solemn rows of engraved names. When the memorial first opened, Vice ran a photo essay shaming people who took selfies there. "The problem, as always, starts with young people," wrote Gothamist of the phenomenon, adding: "My guess is that many of the cheerful visitors smiling for photos at Ground Zero are simply too young to have really felt the horror of 9/11."
But how does one police "really feeling the horror?" Like my peers, I can remember the attack, though I couldn't comprehend its magnitude at the time. What of the hundreds of thousands now, who have no memories from which to draw emotion at all?
It's ultimately for people even younger than me, people not even yet born, that Michael Arad designed the 9/11 memorial — he envisioned the plaza as a space akin to New York's Union Square or Washington Square Park. "Anyone who has visited [those parks] knows that their memorial function is now pretty much limited to names, sculpture, and inscription," writes The Washington Post's Philip Kennicott, the best chronicler of the World Trade Center site. "Today, they serve multiple functions, as a stage for performance, home to a popular green market, a refuge for the homeless and restless, a place to walk dogs, daydream, and let your little monsters run wild."
I too am sometimes amazed at the ability for wounds to close, for young people to take pictures by the fountains, and at this city's incredible way of simply and steadily moving forward.
Today, under the feet of Ground Zero visitors, the Cortlandt Street subway station has reopened after 17 years of repairs. It is the final major piece of infrastructure to be put back into the system by the city. Lacking the same ostentatious gleam as the whale bones of the Oculus next door, commuters only get a modest reminder that this place, too, survived 9/11, reflected in the subtlest change to the station's name: WTC Cortlandt.
Our memory is like that — it isn't grand and deep and monumental, ever-present like two deep wells in the ground. It is a living thing, out of your control, tumbling forward. Like so many others yet to come, I understand the world through these memories, the things I can and can't remember, like a list I revisit every year. I can't remember the television being on. I can't remember if my parents cried. I can't remember if I was scared.
But with each year, it becomes more certain to me: Not remembering should never be confused with forgetting.
Continue reading for free
We hope you're enjoying The Week's refreshingly open-minded journalism.
Subscribed to The Week? Register your account with the same email as your subscription.
Sign up to our 10 Things You Need to Know Today newsletter
A free daily digest of the biggest news stories of the day - and the best features from our website
Jeva Lange was the executive editor at TheWeek.com. She formerly served as The Week's deputy editor and culture critic. She is also a contributor to Screen Slate, and her writing has appeared in The New York Daily News, The Awl, Vice, and Gothamist, among other publications. Jeva lives in New York City. Follow her on Twitter.