The top equine performance in The Ballad of Buster Scruggs
Which horse is the best horse in the Coen brothers' new movie?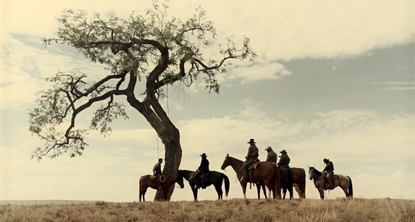 (Image credit: Screenshot/Netflix)
John Wayne is sometimes credited with saying, "A horse is a horse; it ain't make a difference what color it is." Aside from failing to be a particularly insightful observation, I think Mr. Wayne was also wrong: A horse isn't just a horse. Some horses are objectively better than others.
Take, for example, the team of horses in The Ballad of Buster Scruggs, the Coen brothers' new film already in theaters and streaming on Netflix next week. Just like the human ensemble cast, some horses in Scruggs give standout performances while others deliver duds.
So which is the best horse?
Subscribe to The Week
Escape your echo chamber. Get the facts behind the news, plus analysis from multiple perspectives.
SUBSCRIBE & SAVE
Sign up for The Week's Free Newsletters
From our morning news briefing to a weekly Good News Newsletter, get the best of The Week delivered directly to your inbox.
From our morning news briefing to a weekly Good News Newsletter, get the best of The Week delivered directly to your inbox.
The case for Dan:
Dan is the first horse we meet in The Ballad of Buster Scruggs, and he is, significantly, given a name (one that sharp ears will notice fits nicely into the Coen brothers' extended universe). Dan's role in the movie's eponymous first section, "The Ballad of Buster Scruggs," was clearly a typecasting decision; he is a stark white horse, meant to match the white getup of his rider, Buster. Dan is the chummy best friend, the devoted sidekick who would have a line like "aww, shucks," if he was a person and not a horse.
He does get a line in the script, though — actually, two! As Buster delivers his opening monologue, explaining that his singing "seems t'inspirit good ol' Dan," he prompts: "Ain't that right, Dan?" Dan offers what the script describes as a "confirming Huntz Hall" — a reference, apparently, to the horse-like "brrrrgh" sound that actor Huntz Hall delivers for laughs in Crazy Over Horses — although I will say Dan executes the blow with far more gusto than the script had necessarily called for. Later in the monologue, Scruggs again seeks affirmation from his trusted mount and is met with another "brrrrgh." This is clearly not just your typical run-of-the-mill pony — it's a steed as special as its rider.
Tally: Dan earns points for his dapper performance, although he loses some points being a little overenthusiastic. Three whinnies.
The case for Liam Neeson's horse:
The horse in "Meal Ticket" doesn't get a lot of screen time compared to some of the others in the film. His performance is one of quiet, uncomplaining diligence. He is yet another being that the Irishman (Liam Neeson) unaffectionately squeezes production out of.
Yet a yeoman's performance is made up for by off-screen personality: Neeson said Scruggs' cart horse recognized him from the set of another movie. "He actually remembered me from another Western we made a while back," Neeson told Page Six. "I love animals. When we worked together before I took special care of him. I fed him treats." This is the co-star who would remember your favorite coffee order and surprise you with it one morning, if horses, you know, had thumbs.
Tally: The "Meal Ticket" horse plays his part perhaps too subtly, although he makes up for it by being a very good horse to have around on the set. Two whinnies.
The case for Tom Waits' donkey:
"All Gold Canyon" is one of the more fun vignettes in The Ballad of Buster Scruggs, in part because it is virtually a one-man show: Tom Waits plays an old prospector who stumbles upon a pristine valley full of the promise of gold. But one would be remiss to think that Waits is the only actor in this section: He is accompanied by a very good donkey, his only companion, who labors to carry his pans, picks, and, eventually, his gold.
Tally: The donkey is, on occasion, misidentified as a "pack horse," in the script. Nevertheless, it is a donkey and not a horse. No whinnies, but a hee-haw for a good effort.
The case for James Franco's horse:
When it comes to human acting, believability differentiates the good from the great. There is no reason we should use different criteria for equine actors, which is why James Franco's horse in "Near Algodones" stands a few hooves above the rest in Buster Scruggs. When the cowboy (Franco) attempts to rob a bank only to find himself under fire from the spirited teller, he takes cover behind an old well and attempts to coax his horse to come rescue him. Instead, the horse "looks at him speculatively," as the script words it, which I honestly wouldn't have thought possible of a horse until this one, well, looks at the cowboy speculatively.
Later, when the cowboy is to be hung for his failed bank heist, he is set atop his horse with a noose around his neck; if the horse gets scared and bolts, the cowboy will fall to his death. When the ad hoc lawmen overseeing the execution are set upon by a party of Native Americans, the cowboy has to frantically calm his horse in order to save his own neck. The horse convincingly stirs and shifts his weight, unsure about the battle ranging around him but comforted, however reluctantly, by his master. When the spree clears, and the war party leaves the cowboy for dead, the horse instantly forgets the melee to pursue his interest in grass, slipping the cowboy closer and closer to certain death as he strays toward the next patch of dusty weeds, then the next.
Tally: Throughout Buster Scruggs, horses exude a kind of impassivity toward all of mankind and their foibles and follies. No horse better demonstrates being above the nonsense of mankind than Franco's. It watches with the aloofness and bored disinterest of a spectator. How exactly a horse can truly appear impassive, I don't know exactly, but this one does. For that it earns a winning five whinnies. Good boy.

Continue reading for free
We hope you're enjoying The Week's refreshingly open-minded journalism.
Subscribed to The Week? Register your account with the same email as your subscription.