The best headlines of 2018
It was a great year for Florida men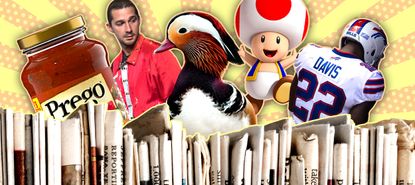 (Image credit: Illustrated | artisteer/iStock, Bernard Bialorucki/iStock, Brett Carlsen/Getty Images, Screenshot/Amazon, Wikimedia Commons, Muni Yogeshwaran/iStock)
A lot happened in 2018! There was the Pyeongchang Winter Olympics, Harvey Weinstein's arrest, the World Cup, the North Korea summit, and Bongo cat. A lot of incredible and relatively unimportant things happened too: Florida men were Florida men, people had to be told not to eat Tide Pods, and apparently there was a new Tomb Raider movie? Sure, I mean the year has lasted at least a decade.
In honor of it finally almost being over, here are 2018's 50 most hilarious headlines, in chronological order, that are somehow not The Onion.
"Man sues Google because he can't read a chart" [The Verge]
Subscribe to The Week
Escape your echo chamber. Get the facts behind the news, plus analysis from multiple perspectives.
SUBSCRIBE & SAVE
Sign up for The Week's Free Newsletters
From our morning news briefing to a weekly Good News Newsletter, get the best of The Week delivered directly to your inbox.
From our morning news briefing to a weekly Good News Newsletter, get the best of The Week delivered directly to your inbox.
"Charlie Daniels issues grim warning to Taco Bell about the Illuminati" [The Wrap]
"A plane carrying dozens of plumbers was forced to turn back because of toilet problems" [The Washington Post]
"Loaded grenade launcher left at Florida Goodwill store" [NBC Chicago]
"Blind bisexual goose named Thomas who spent 6 years in a love triangle with 2 swans and helped raise 68 babies dies at the ripe old age of 40" [The Daily Mail]
"The White House chief calligrapher has a higher clearance than Jared Kushner" [CNN]
"Man with red sauce on face accused of stealing meatballs" [The Oregonian]
"Rafael 'Ted' Cruz accuses his Democratic opponent of changing his name to appeal to voters" [The Washington Post]
"Shia LaBeouf says Kanye raided his closet: 'He took all my f**king clothes'" [Twitter Moments]
"Florida men — 1 disguised in bull costume — allegedly tried to burn down ex-boyfriend's home with spaghetti sauce" [KTLA 5]
"Woman sues restaurant for $50K over lasagna that caused 'mental anguish'" [The Daily Meal]
"'Very angry badger' causes part of Scottish castle to be closed" [The Guardian]
"Man bitten by shark, bear, snake in less than 4 years" [The New York Post]
"He was hunting wild mushrooms. Instead he found a rare, inexplicable two-headed deer." [Miami Herald]
"A Florida prep school prom. A live tiger. What could go wrong?" [The Washington Post]
"Hippos poop so much that sometimes all the fish die" [The Atlantic]
"IHOP teases name change to IHOb, leaving pancake fans devastated and confused" [Yahoo! Finance]
"CHILLING: Hear a random woman scream while Seb Gorka films selfie video" [Mediaite]
"Akon announces the launch of his own cryptocurrency Akoin" [Complex]
"The internet can't agree on what 'big dick energy' means" [The Verge]
"White House 'scrambling' to find out why Trump called back prankster from Air Force One" [Raw Story]
"Massive object damaged Uranus forever" [The New York Post]
"Hot air balloons are useless" [The Atlantic]
"The samples at Costco were free. Two men in their 70s got into a fight over them, SC police say." [The State]
"Shark disguised as baby stolen from aquarium in pushchair" [Sky News]
"Russia just named Steven Seagal, martial artist and action movie star, a special envoy to the U.S." [The Washington Post]
"Nun caught smuggling cocaine in shoe heels was misled by online boyfriend, attorney says" [WESH 2]
"Parrot swears at London firefighter trying to rescue it from roof" [BBC]
"How bad are the Bills? Cornerback Vontae Davis retired at halftime on Sunday" [Yahoo! Sports]
"Texas grandma kills 12-foot gator, says she's finally avenged her miniature horse" [Dallas News]
"Stormy Daniel's description of Trump's penis ruins Mario games forever" [Mashable]
"Do you boast about your fitness? Watch out — you'll unavoidably become right wing" [The Guardian]
"Lindsay Lohan decides to rescue refugee family from street, tries taking kid away, gets knocked down by the mom" [Newsweek]
"Liam Neeson claims a horse he worked with before recognized him on set of new film" [People]
"Tucker Carlson is tired of people yelling "f--k you" at him in restaurants" [Splinter]
"Superintendent apologizes after students were served chili with kangaroo meat" [ABC 11]
"Giant stolen colon found, colon-caper still at large" [KMBC News]
"Woman who had sex with 20 ghosts is now engaged to a spirit" [New York Post]
"Even the flat-Earthers want nothing to do with Logan Paul" [The Daily Dot]
"We thought about eating the Hot Duck but apparently he tastes bad" [Jezebel]
"Please do not dispose of your placenta in a park for dog-walkers to find, cops say" [The Charlotte Observer]
"'Make better choices': Endangered Hawaiian monk seals keep getting eels stuck up their noses and scientists want them to stop" [The Washington Post]
"We drank a lot of cocktails this year. Here are the 5 we can remember." [Washingtonian]
"For 18 years, cops thought he was eaten by alligators. Now his wife has been convicted of his murder." [The Daily Beast]
"After bloodbath, the National Zoo's naked mole-rats finally choose their queen" [DCist]
"Yo, Putin" [The New York Times]
"Twitter CEO Jack Dorsey sent beard shavings to Azealia Banks so she could make an amulet to protect him from ISIS" [NME]
"Bill Deagle: Hillary Clinton is 'gonna die and her soul will be harvested by the dark side'" [Right Wing Watch]
"New Yorkers have a constitutional right to nunchucks, judge rules" [The New York Times]
"Toblerone is halal and the far right is furious" [Quartz]
"We're all gonna die" [The Trentonian]

Continue reading for free
We hope you're enjoying The Week's refreshingly open-minded journalism.
Subscribed to The Week? Register your account with the same email as your subscription.