Will Game of Thrones be ruined if it doesn't stick the landing?
How to end a beloved TV series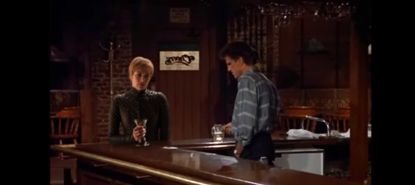 (Image credit: Illustrated | Helen Sloan/courtesy of HBO, Screenshot/YouTube)
Television is, by and large, a narrative medium; and just as all men must die, all good stories eventually must come to an end. But television's also a business, built around one common-sense capitalist idea: As long as enough viewers keep watching a show, the producers will keep making it.
See the problem? Those two values — telling a complete, involving story and telling it for as long as it's profitable to do so — don't always line up. That's why, for most of television history, it has been more an exception than the rule for a long-running, popular show to have a "series finale." For every M*A*S*H, Cheers, The Mary Tyler Moore Show, or The Fugitive, which ended so memorably that fans still talk about their finales decades later, there have been hundreds of beloved dramas and sitcoms that just ... ended. Their last episodes weren't appreciably different from their first, 50th, or 100th.
Given that, why do we care so much about whether a series "sticks the landing?" What makes for a good ending? And is that really the ultimate test for any TV show? Not just for the show on everyone's minds these days, Game of Thrones, but for any TV series.
Subscribe to The Week
Escape your echo chamber. Get the facts behind the news, plus analysis from multiple perspectives.
SUBSCRIBE & SAVE
Sign up for The Week's Free Newsletters
From our morning news briefing to a weekly Good News Newsletter, get the best of The Week delivered directly to your inbox.
From our morning news briefing to a weekly Good News Newsletter, get the best of The Week delivered directly to your inbox.
Consider the endings in recent years that have drawn the most anguished groans. First up: Lost. The show's final season and final episode were torched by some longtime fans for being alternately sappy and wonky — for over-explaining cosmic "mysteries" no one much cared about, while aiming for a feel-good finish for characters who perhaps hadn't earned it. Myself, I liked the Lost finale ... at least as a stand-alone episode of television. It's action-packed and emotional, with funny and satisfying moments sprinkled throughout. But I do agree with the naysayers that it felt inadequate as the climax to an intricate, ambitious science-fiction epic, which kept its audience hooked for years by promising huge revelations.
Perhaps more importantly, the Lost situation exemplifies the disconnect that often exists between TV producers and their audience. With fantastical shows especially — like Lost, The Walking Dead, and (gulp) Game of Thrones — the creative teams often insist they're making character-driven dramas, not action-adventure pulp. Fans want to swap theories about the mythology, while the writers and cast want to explore subtle shifts in feelings and attitudes over multi-season arcs.
See also: How I Met Your Mother. The series' pilot pulled a clever bait-and-switch, introducing a hopeless romantic named Ted to a charming cynic named Robin — and then defying the audience's expectations by revealing that Robin isn't the mother of Ted's children. In the seasons that followed, HIMYM's writers generated great comedy and genuine pathos by telling stories about a group of young adults' lives before they find "the one" and settle down. Throughout, the show kept teasing that it would eventually get around to revealing who Ted marries.
But the producers also fell in love with Robin as a love interest. So even after introducing "the mother," HIMYM's finale undercut the whole theme of the series — and obnoxiously shrugged off fans' fascination with the original premise — by building toward a coda where Ted and Robin end up together after his first wife's death. Watching the closing minutes of that finale unfold was like watching a slow-motion train wreck. In a traditional sitcom, that kind of big romantic pairing-off might've made for a sweet ending. In one that purported to be telling one long story about growing up, it was a gross misjudgment.
What's worked in the prestige TV era, finale-wise? Quite a bit, actually. The gold standard for modern finales is probably The Shield, which ended in 2008 with a nail-biting run of episodes, capped off with an appropriately ironic fate for its bad-cop antihero. Justified also came to a moving close, with one last poignant conversation between two old frenemies on opposite sides of the law. Halt and Catch Fire wrapped up neatly, moving the characters to the next phase of Silicon Valley innovation with the series' usual combination of clear-eyed cynicism and wide-eyed optimism.
In the past few weeks, You're the Worst, Broad City, and Crazy Ex-Girlfriend have all finished with a flourish, finding ways to honor the at-times highly problematic qualities of their protagonists — which fans have come to love — while suggesting they're on a path to becoming, if not perfectly content, then at least "better." These finales have fit a fairly common mold for modern TV endings. They answer the bigger existential questions posed by the shows: What have these people learned? And where will they be headed after the closing credits roll?
So what about Game of Thrones? It probably can't — and won't — go the route of a Justified or a Broad City. The scale of its story is too huge for a small, intimate ending; and with the fate of all humanity in the balance, the question, "Will these characters be happy?" seems beside the point.
Plus, the connection fans feel to Game of Thrones has to do with more than just what the series' creators David Benioff and D.B. Weiss have put on TV. For one thing, the show's finishing a story started by author George R.R. Martin, who has yet to complete the series of novels Benioff and Weiss are adapting. There's a possibility that whatever they come up with won't even be seen by the books' fans as the real ending.
For the past eight years, readers and non-readers alike have debated about where this story should go, and what part of it is most important. What's the main issue that has to be resolved? Is it who rules Westeros? Stopping the undead armies from beyond the Wall? Or is this show more about the wars between and within families, and whether they can all forge a kind a truce?
In terms of what makes a TV ending feel "satisfying," that last question may be the one that Game of Thrones most needs to address. We watch television for the most part because we enjoy spending time with the same people week after week. When we see them for the last time, we want some emotional closure. The tough task for Game of Thrones will be working those emotional beats — the kind that Lost leaned on in its finale — into an ending that also clarifies who now rightfully rules this fantasy realm, and why.
But what if whatever grand, sweeping finish the Game of Thrones TV writers have in mind lets fans down? Does that retroactively diminish the shock and excitement of the hatching of Daenerys' dragons, Tyrion's multiple trials, the Battle of the Blackwater, the "Red Wedding," the Hodor/"hold the door" origin story, or any of the other moments that convinced adult fantasy fans around the world to keep their HBO subscriptions active?
It shouldn't. The journey is the journey, and is often more rewarding than the destination.
On the other hand ... for a show about legends, shouldn't the ending be legendary?

Continue reading for free
We hope you're enjoying The Week's refreshingly open-minded journalism.
Subscribed to The Week? Register your account with the same email as your subscription.