This index card has all you need to know about retirement savings
All the financial advice you really need can fit on a 3-by-5 piece of paper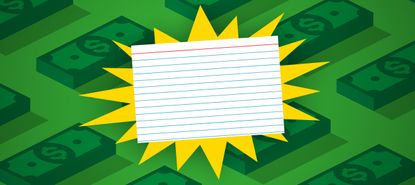 (Image credit: Illustrated | FreeTransform/iStock, Svetlana Borovkova/iStock, NATALIIA OMELCHENKO/iStock)
Sign up to our 10 Things You Need to Know Today newsletter
A free daily digest of the biggest news stories of the day - and the best features from our website
Thank you for signing up to TheWeek. You will receive a verification email shortly.
There was a problem. Please refresh the page and try again.
Saving for retirement can be hard. But it doesn't have to be complicated.
In fact, the rules for managing your personal finances and maximizing your chances of a decent retirement can quite literally fit on an index card.
A few years ago, University of Chicago professor Harold Pollack was doing an online video interview with Helaine Olen, a writer who specializes in economics and personal finance, about how people get swindled by bad investments. At one point, Pollack, whose work focuses on how poverty policy and public health overlap, mused that all the financial advice you really need can fit on a 3-by-5 index card. "If you're paying someone for advice, almost by definition, you're probably getting the wrong advice, because the correct advice is so straightforward," Pollack said.
Subscribe to The Week
Escape your echo chamber. Get the facts behind the news, plus analysis from multiple perspectives.
SUBSCRIBE & SAVE
Sign up for The Week's Free Newsletters
From our morning news briefing to a weekly Good News Newsletter, get the best of The Week delivered directly to your inbox.
From our morning news briefing to a weekly Good News Newsletter, get the best of The Week delivered directly to your inbox.
Viewers promptly deluged Pollack with questions, wanting to see this index card. So he sketched one up with roughly nine rules. He snapped a picture, posted it online, and the picture promptly went viral. The index card was such a smash hit that Pollack and Olen wrote a book together about it. "Even the 10 commandments needed some back-up material," Pollack told an interviewer.
There are a few overarching themes here.
The first is to make your own retirement saving habits as "automated" as possible. If your job offers a 401(k) or some other savings vehicle you can contribute to, arrange to have contributions deducted automatically from your paycheck. You can usually speak with your bank or a financial advisor to set up something similar with other tax-advantaged vehicles, like Roth accounts. Try to max out your contributions if you can. And as much as possible, pay off your credit card balance in full every month. If those options aren't available, Pollack suggested setting up your own savings accounts with your bank.
The other theme of these rules is simplicity. Complexity of any sort is basically how the financial industry fleeces you. Playing the stock market is a fool's errand. Nor should you rely on investments that are actively managed by a Wall Street trader. The fact is, mutual funds that mindlessly and automatically invest your money in an index of stocks have proven to be the most reliable long-term investment vehicles out there. The Vanguard index funds Pollack mentioned are among the best.
One complicating factor you should pay attention to is fees: Helping people abide by straightforward financial precepts is not expensive, so fees for your investment vehicles should be minimal. Same thing for financial advisors, if you decide to have one: Find out how they're paid, and look for ones compensated in straightforward fees, as opposed to commissions for upselling you on products. You should also get your financial advisor to commit to the "fiduciary standard" in writing. That means they're obligated to put your best interests ahead of making themselves more money. A lot of advisors adhere to the less rigorous "suitability standard," so you definitely want to ask about this.
Again, adhering all the tips on this index card isn't easy. As much as Pollack and Olen try to simplify things, the fact is our saving and retirement systems are not built with user-friendliness in mind. We also live in an age of inequality and stagnating wages, when getting the surplus cash you need to save in the first place is tough. And it gets worse the further down the income ladder you go.
"The card has a decidedly middle-class shading," Pollack himself admitted. It originally suggested saving 20 percent of your income, for instance, but Pollack knocked it down to 10 percent. Since then, he's also written two additional index cards, one with budgeting tips for Americans with lower incomes, and one with advice on how to protect yourself from fraud and predation by the financial industry.
A lot of the retirement financial advice genre is shot through with an ethos of up-by-the-bootstraps individualism: If you don't get a secure retirement, you have no one to blame but yourself. This is nonsense. All of us can fall prey to accident or illness or random misfortune. Beyond that, we live in an unjust economy, with a grossly inadequate retirement system, and a financial industry that focuses on predation for profit. In a better world, we wouldn't have to navigate this byzantine system or be super-disciplined savers to have a shot at comfortable golden years. But in the world as it is, anyone can fall short: that's why I described it as "maximizing" your chances of a retirement up top.
All of which brings us to Pollack's last bit of advice: Get out there and fight for a bigger welfare state and more social insurance. Ultimately, no one gets themselves a secure retirement on their own. It's something we all get for each other, together.
Continue reading for free
We hope you're enjoying The Week's refreshingly open-minded journalism.
Subscribed to The Week? Register your account with the same email as your subscription.
Sign up to our 10 Things You Need to Know Today newsletter
A free daily digest of the biggest news stories of the day - and the best features from our website
Jeff Spross was the economics and business correspondent at TheWeek.com. He was previously a reporter at ThinkProgress.