Daniel Tiger is my personal parenting guru
How could one little cartoon tiger possess so much wisdom?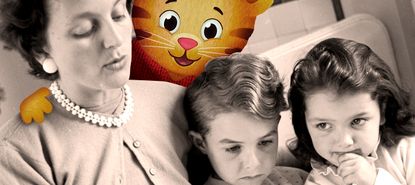 (Image credit: Illustrated | Chaloner Woods/Getty Images, Amazon)
Sign up to our 10 Things You Need to Know Today newsletter
A free daily digest of the biggest news stories of the day - and the best features from our website
Thank you for signing up to TheWeek. You will receive a verification email shortly.
There was a problem. Please refresh the page and try again.
After dropping off one toddler at daycare and throwing the other one at the babysitter, I race out of the house and speedwalk to a coworking space, juggling my laptop, my keys, a water bottle, a yoga mat, and an exhausting mental checklist of everything I need to do in the next six hours and 45 minutes.
And then I hear it. That little tiny voice starts singing: "Enjoy the wow … that's happening now."
It's so loud and clear that it shocks me out of my mania. I look around. It's so sunny out that I have to squint. I'm cutting through a park where people are strolling, dogs are playing, and the sky is blue. Making note of the lyrics I've just heard in my head, I take a breath, roll my shoulders back, and consciously decide to enjoy my walk rather than rush through it.
Subscribe to The Week
Escape your echo chamber. Get the facts behind the news, plus analysis from multiple perspectives.
SUBSCRIBE & SAVE
Sign up for The Week's Free Newsletters
From our morning news briefing to a weekly Good News Newsletter, get the best of The Week delivered directly to your inbox.
From our morning news briefing to a weekly Good News Newsletter, get the best of The Week delivered directly to your inbox.
Who did that little voice belong to? Was it my yoga teacher? Deepak Chopra? Oprah Winfrey? Nope. It belonged to a cute little tiger named Daniel who for some reason refuses to wear pants. He's the star of Daniel Tiger, an animated kids' show based on the Daniel-the-puppet from Mister Rogers' Neighborhood, and he's a genius.
Now, you may roll your eyes at the mere mention of Daniel. I did, too. At least for the first 47,652 episodes I watched. After all, the animation looks flat and boring, the show is slow moving, and that pants thing is really troubling.
Then I started to really pay attention to Daniel. He's not a perfect character. He's super jealous, he gets in fights with his friends all the time, and, let's face it, he wouldn't be much fun at happy hour.
But once I stopped critiquing and started actually listening, I began to realize how valuable the show is. Daniel always seems to be right on top of my kids' issues. Not into circle time? There's a song for that. Have a new baby sister? There's a song for that. Parent traveling for work? There's a song for that strangely-specific toddler crisis, too.
And the songs don't just distract from the problem at hand. Each one has a simple, easy-to-remember melody, with lyrics that introduce a helpful coping strategy. Don't get me wrong, the tunes aren't stellar. This certainly isn't Bubble Guppies. (I'm a total stan for Bubble Guppies.) And most of the characters sing in randomly different keys, which totally bugs the crap out of my musical theater-loving heart. (Don't even get me started on the fact that there are no sopranos.) But the songs on Daniel Tiger are so short, soothing, and repetitive that you somehow absorb and retain the lesson without even trying.
Having grown up with Mister Rogers as one of my first teachers, I turned to Daniel Tiger as the second TV show I allowed my kids to watch. (The first was Sesame Street, obvi.) Even though I don't specifically remember Daniel on Mister Rogers' Neighborhood, he immediately felt familiar when I saw him in his own show. And it recently occurred to me that Daniel had lessons not just for my kids, but for me, too.
For example, after I spent 20 minutes getting everyone settled in a shopping cart at Trader Joe's and my recently potty-trained daughter said that she had to pee-pee ( "And it's a 'mergency!"), I heard Daniel's voice in my head, singing: "When you feel so mad that you want to roar, take a deep breath and count to four." Shockingly, I actually did. And you know what? It made me feel better.
When I had to pack everyone up before vacation and my travel anxiety skyrocketed, I thought: "Give a squeeze, nice and slow. Take a deep breath and let it go." And after I took a breath, I suddenly remembered that we could most likely buy anything I forgot to pack.
When I left my children overnight for the first time in their little lives and I was so conflicted about how they could possibly survive without me that I considered canceling the trip, I heard: "Grownups come back." And instead of using the song to reassure my children, I used it to reassure me.
Yes, that little tiger has had a sneaky way of becoming part of my life without me even realizing it. And it's not just me. My parents are helping watch my girls for the week. Mom told me that yesterday when they were fighting over a toy in front of her, she repeated a little ditty she heard Daniel singing the day before: "You can take a turn, and then I'll get it back." It probably didn't solve the problem immediately (my girls are both stubborn and freakishly strong), but it gave her a suggestion for handling it.
As a total Type A person, I am often thrown by the insanity of motherhood. I make plans for a playdate only to have the baby spike a fever. I am taking one child to a birthday party only to have her throw the biggest tantrum of her life in full public view. What would Daniel say in these situations? "When something seems bad, turn it around and find something good." Admittedly, this feels impossible to do in the moment, but looking back, I can see that it was good that I caught the baby's fever before we left the house, and probably even better that I was able to talk the toddler through her tantrum effectively enough to return to the party.
How is Daniel so wise? He may fail but he tries again. And again. And again. (Don't worry — there's a song about that, too.) That little guy never gives up — and neither should I.
Continue reading for free
We hope you're enjoying The Week's refreshingly open-minded journalism.
Subscribed to The Week? Register your account with the same email as your subscription.
Sign up to our 10 Things You Need to Know Today newsletter
A free daily digest of the biggest news stories of the day - and the best features from our website
Rosie Colosi has been working in children's publishing as an author, editor, copywriter, and book club manager for over 15 years. Once upon a time, she played Mrs. Claus in the Rockettes' Radio City Christmas Spectacular, but now she mostly focuses on singing songs from Annie to her two little girls.