The myth of the magical childhood
The case for letting your kids be bored this summer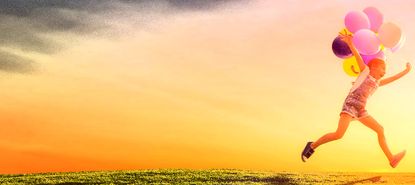 (Image credit: Choreograph/iStock)
Sign up to our 10 Things You Need to Know Today newsletter
A free daily digest of the biggest news stories of the day - and the best features from our website
Thank you for signing up to TheWeek. You will receive a verification email shortly.
There was a problem. Please refresh the page and try again.
We parents are on a quest of Tolkien magnitude: curating the perfect childhood for our kids. It's a never-ending and, quite frankly, thankless job that reaches peak hysteria in summer when school's out. From now until September, for the children of parents who have the means, life is a bombardment of camps, play spaces, theme parks, and vacations.
The reasons we're so obsessed with cramming our kids' calendars with imposed fun are myriad, and rooted in the socially-engineered mutant that is modern parenting.
First, there's that intensely guilty feeling that if our kids aren't getting to suck every last bit of fun out of every day, they're suffering and it's all our fault. This is especially pronounced if both parents work and feel the need to compensate for being family-time-poor. Then, there's our crushing fear of the words, "I'm bored." Other than being intensely irritating, this phrase signifies parental catastrophe. Our mission to provide All The Joy All The Time has failed. And, of course, we're driven to stuff in as much manufactured fun as we can manage in the hope that it'll mask our parental failings.
Subscribe to The Week
Escape your echo chamber. Get the facts behind the news, plus analysis from multiple perspectives.
SUBSCRIBE & SAVE
Sign up for The Week's Free Newsletters
From our morning news briefing to a weekly Good News Newsletter, get the best of The Week delivered directly to your inbox.
From our morning news briefing to a weekly Good News Newsletter, get the best of The Week delivered directly to your inbox.
But filling our kids' lives with nonstop entertainment is as unhealthy as it is unfeasible. We already know that over-scheduling kids with extracurricular activities saps not only our bank accounts but also kids' ability to bed down in boredom and use their imaginations. Bucket loads of juvenile ennui and time spent staring at the same cracked spot on our bedroom wall and imagining what was underneath never did us grown-ups any harm, but somehow we assume it's the kiss of death for our own kids.
The kicker is, engineering endless joy doesn't get you the kiddie kudos it should. Manufacturing pleasure for our offspring is like shoveling glitter, magic beans, and opalescent sugar crystals into the void. That's because children don't bank experiences like adults; they enjoy things in the moment — maybe — and then they move on. And they're not equipped to lie to your face and pretend they're happy when they're not, or see their magical little lives in the context of global suffering — even when you point it out to them. That's why the perennial parental appeal of "Eat all your food because some kids are starving" doesn't work. They don't care. Thankfully, most kids won't stall at the cute dimply psychopath stage, but until they reach the age of empathy, this is mostly how it is.
Still, we feel such pressure to pack in more and more of these precious moments. I'm as guilty of this as anyone. Last summer, my husband and I spent $200 on a stack of passes for a shabby amusement park by the sea that our kids love. We went there six times in two months, and while our three- and six-year-old seemed to enjoy themselves endlessly, every time they left in tears. Because when it's time to wrap up an activity, it's as if you've told them Santa's dead and Christmas is canceled. Every heady, wonderful thing they just did evaporates in a second. And you're left mildly furious and wondering if maybe your children need to see a psychiatrist.
Sure, in later life, snapshots of these lovely experiences will feature on the now grown child's memory spool. But once that weekend at a Disney you moved mountains and hair appointments to make happen is over, I guarantee your kids won't act like they were just gifted a car by Oprah. More likely, they'll be grumpy from sugar and adrenaline withdrawal and asking, weepily, what's next. When the answer is nine hours in the car and infinite rounds of I Spy, they'll unravel completely. And they're not doing it to be jerks (probably); their brains just don't have the correct filters fitted to the right neural pathways — or whatever the correct science terminology is for why kids don't care about that fun thing that happened because it's not happening right at this moment.
From my own, very-privileged-for-the-time childhood, I remember, fondly, that my parents took me to Disney Land, one time, for a day. Then we were done. Forever. It was a good call because, while that day shone out to me as special, all my parents recalled was a sweltering, tantrumy hellscape. A follow-up encounter with the magical kingdom was never going to happen — and I seriously doubt I'd have given them extra credit if they had decided to park their sanity and take us back.
So, this summer, I'm planning to roll back 80 percent of prescribed fun, and learn to love it — or at least pretend to — when my kids tell me they're bored.
Continue reading for free
We hope you're enjoying The Week's refreshingly open-minded journalism.
Subscribed to The Week? Register your account with the same email as your subscription.
Sign up to our 10 Things You Need to Know Today newsletter
A free daily digest of the biggest news stories of the day - and the best features from our website
Ruth ​Margolis is a British ​journalist living in the U.S. Her work has appeared in ​The Guardian, ​The ​Daily Telegraph and BBCAmerica.com.