Trump didn't fix the economy that Obama didn't break
It's not even clear what Trump has done to make the economy better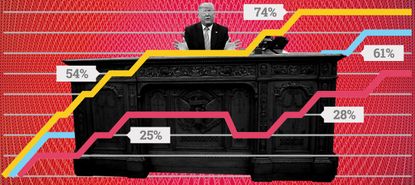 (Image credit: Illustrated | AP Photo/Carolyn Kaster, the8monkey/iStock, final09/iStock)
Sign up to our 10 Things You Need to Know Today newsletter
A free daily digest of the biggest news stories of the day - and the best features from our website
Thank you for signing up to TheWeek. You will receive a verification email shortly.
There was a problem. Please refresh the page and try again.
America's ongoing expansion is now the longest on record, a whopping 121 months of economic growth. But what else can we say about it? For sure not this: "The Economy is the BEST IT HAS EVER BEEN! Even much of the Fake News is giving me credit for that!," as President Trump tweeted on Tuesday with typical subtlety and nuance.
Even by the forgiving standards of political puffery, including of the extreme Trumpian variety, this is a false claim. Yes, it's a strong economy, but one that's more boomlet than boom. For instance: During the 120-month, 1990s expansion that spanned the Bush I and Clinton presidencies, the U.S economy grew by 43 percent in real terms vs. 24 percent under Barack Obama and Trump. And while the jobless rate is a touch lower today, wage growth, productivity growth, and workforce participation were all higher back then.
Of course, Trump was trying to bolster a political narrative, not offer evidence-based commentary on U.S. economic history. The tweet was just a single moment in the larger and heroic macro-story he's telling, one where a brilliant businessman president inherited a smashed economy from Obama and not only made it great again, but made it the "BEST IT HAS EVEN BEEN."
Subscribe to The Week
Escape your echo chamber. Get the facts behind the news, plus analysis from multiple perspectives.
SUBSCRIBE & SAVE
Sign up for The Week's Free Newsletters
From our morning news briefing to a weekly Good News Newsletter, get the best of The Week delivered directly to your inbox.
From our morning news briefing to a weekly Good News Newsletter, get the best of The Week delivered directly to your inbox.
But Trump didn't fix the economy that Obama didn't break. For starters, the Great Recession and financial crisis began under Bush II not Obama, a fact that some Republicans seem to forget. (Even stranger, there are those on the right who actually blame Obama for the downturn that began before he took office. Mr. Market saw his socialism coming!) More importantly, there's good reason to think the historically slow recovery is about what one should have expected given that the downturn also involved a housing collapse and a severe financial shock. "Post-financial crisis recoveries tend to be slow and be accompanied by slowdowns in [productivity growth] and permanent losses in GDP," notes a recent paper from the Dallas Federal Reserve that surveyed the economic literature on the subject.
Could Team Obama and the Fed have acted differently to accelerate growth, at least a little? Maybe in an alternate reality, the 2009 stimulus was bigger, financial regulation delayed, mortgage debt written off, and the Federal Reserve more aggressive. So maybe the recovery was faster on Earth Two. But a financial hurricane was blowing against policymakers. Avoiding a second Great Depression and then having the longest-ever expansion is hardly a terrible policy outcome.
Then came Trump, promising "I alone can fix" an economy that had already been growing for seven and a half years and generated more than two million new jobs a year. But it's not clear what he's done to make the economy better — although politicians should always get some credit for not screwing up a good thing. While there were smart reasons to cut business taxes, it has yet to result in a whole lot more business investment, as was promised. (Maybe blame the Trump trade wars for this.) And while economic growth has sped up over the past four quarters, there were also spurts of fast growth under Obama that then faded.
Maybe this time will be different. But there are two big reasons to think it won't. Demographics, especially the aging of the Baby Boomers, means labor force growth is slowing. And if there aren't going to be a whole lot more workers, the ones we do have will need to be way more productive. Yet productivity growth has been pretty weak since 2004 — before the Great Recession — although there are some positive signs that economy-wide innovation may be perking up. As a recent San Francisco Fed report concludes: "Despite the recent speedup in growth, we conclude that a range of 1.5 percent to 1.75 percent remains a more reasonable best guess for longer-run growth."
Expansions don't die of old age. Australia's has been running for nearly three decades. America's might well have further to go. Yet if the U.S. economy is still broken in any way, it's in that lack of productivity growth. The problem began before Obama and so far continues today through the Age of MAGA. And it's not clear that public policy caused it or can fix it. Maybe much of humanity's game-changing innovation has already happened. Or maybe it's just that finding breakthrough ideas has gotten a lot harder. Either way, having more smart people with greater resources at their disposal might help, which is why America should bring-in more high-skilled immigrants and invest more in science. Unfortunately, it's unclear whether America's Fix-It president has much interest in doing either.
Continue reading for free
We hope you're enjoying The Week's refreshingly open-minded journalism.
Subscribed to The Week? Register your account with the same email as your subscription.
Sign up to our 10 Things You Need to Know Today newsletter
A free daily digest of the biggest news stories of the day - and the best features from our website
James Pethokoukis is the DeWitt Wallace Fellow at the American Enterprise Institute where he runs the AEIdeas blog. He has also written for The New York Times, National Review, Commentary, The Weekly Standard, and other places.