The rise of mocktails and the decline of human civilization
What are bars even for nowadays?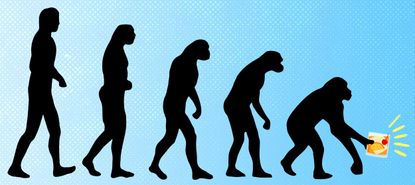 (Image credit: Illustrated | DenPotisev/iStock, Drakonova/iStock, MicrovOne/iStock, -slav-/iStock)
I hate to start sounding doomsday alarms, especially when candidates are dropping out of the presidential race at the rate of roughly one per week and the wizards at Burger King are performing alchemy, but lately I have become seriously concerned about the long-term prospects for what we used to call "human civilization."
I am talking about mocktails. This is the name that has been given to very elaborate non-alcoholic "drinks" available at bars. Imagine a prosecco negroni without either prosecco or negroni, and you'll have roughly the idea. Many of them cost more than $15. My limited web-based research was unable to produce anything like a definitive answer to the question of why any sentient adult over (or capable of passing for) the legal drinking age would want one of these, but some tentative suggestions include "nutrients," "hydration," "calories," and the fact that they do not make you drunk.
Tell me if I am making any logical elisions here, but I was under the impression that people went to bars to enjoy a few beers or cocktails or whatever in the hope of getting what is called "buzzed" or perhaps even, dare I say, intoxicated. This is generally what happens when you drink alcohol, which is this liquid produced by the natural fermentation of sugars. It has long been considered a desirable outcome by many people from remotest antiquity until the present. This widespread cultural phenomenon has generally been associated with what sociologists refer to as "wanting to unwind" or "just relax" after performing a day's worth of wage labor. Again, please let me know if I am going too fast.
Subscribe to The Week
Escape your echo chamber. Get the facts behind the news, plus analysis from multiple perspectives.
SUBSCRIBE & SAVE
Sign up for The Week's Free Newsletters
From our morning news briefing to a weekly Good News Newsletter, get the best of The Week delivered directly to your inbox.
From our morning news briefing to a weekly Good News Newsletter, get the best of The Week delivered directly to your inbox.
Nowadays I'm not even sure what bars are for, much less whom. I used to know the answer: It was what I think of as "bar people." When I was a child I was vaguely aware that such people existed. My mother was not one of them, but I knew what they were like. They were persons of both sexes and all races and classes and backgrounds who liked the idea of going somewhere other than their homes and consuming beer and liquor. They tended to do so frequently, often more than once a week. The places they visited were loud and dark and full of cigarette smoke. (Bar people, in the days when they existed, if they did not smoke themselves, certainly did not mind being around people who did.) They were shadowy but alluring figures who belonged to a confraternity of which I could not have imagined ever belonging.
The truth is that that bars entered a period of well-nigh terminal decline more than a decade ago. The rise of smoking bans was the beginning of the end for bar people. This removal of the tobacco-based impediment allowed the most tedious, abstemious sorts of people to decide that they wanted to enjoy a different sort of bar experience. What had been places inhabited by truck drivers, third-shift factory workers getting one in before punching the clock, louche financiers on their lunch breaks, blitzed college students, and layabouts of every sort and variety became the haunt of scolds who did not share the priorities of any of the former. Before long, a typical bar experience for millions of Americans would become more akin to a tour of a winery — two hours of sniffing and sipping and analyzing tiny samples of various expensive fruit-derived beverages.
How I long now for those halcyon days when the worst thing one had to endure at a bar was the affectless conversation of bearded lumbersexuals assigning points to their craft beer "flight." Now you can bring a dog to your local, order it a fancy snack at the bar, play a board game with your non-four-legged friends, stay for five hours, and run up a $100 tab without consuming so much as a drop of alcohol.
Why did this have to happen? What were the non-bar people missing out on when they decided to colonize these spaces? Does sipping on virgin stone fruit sangria really help them to take a load off after a nine-to-five the way it does people who consume actual drinks? (Don't answer that question if you're two and a half and your idea of a rough day at the office is going pee-pee on the floor and not being allowed to watch your favorite Thomas and Friends.) I find it hard to believe that the antediluvian pre-mocktail world was experiencing a shortage of public spaces in which sober people could enjoy boring conversations.
This is the real problem with mocktails. They are, by definition, anti-leisure. This is true, surely, of anything you are supposed to be drinking primarily because it is vitamin-rich or because you are stressed out about calories. If you are going to a bar to get stressed out about your weight or how many gallons of water you have consumed in the last 30 minutes, you are doing it wrong.
It's a free country. If you don't want to relax, don't.

Continue reading for free
We hope you're enjoying The Week's refreshingly open-minded journalism.
Subscribed to The Week? Register your account with the same email as your subscription.