The lies we tell ourselves about the virtues of food
Go ahead, eat the processed cheese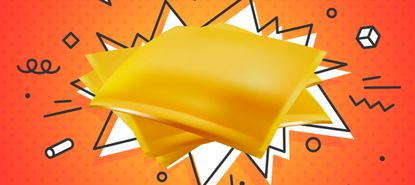 (Image credit: Illustrated | wisan224/iStock, FoxysGraphic/iStock)
Like any good millennial foodie, I'm not above bragging about my meals. At one point, I took to social media to describe a particularly satisfying lunch: "Just made the best grilled cheese of my life. Farmer's market sourdough, homemade kimchi, and American cheese slices."
A friend piped up. "That all sounds great, except for the cheese. Why would you do that?"
"It's my weakness," I replied. "Fake cheese is my Achilles heel."
Subscribe to The Week
Escape your echo chamber. Get the facts behind the news, plus analysis from multiple perspectives.
SUBSCRIBE & SAVE
Sign up for The Week's Free Newsletters
From our morning news briefing to a weekly Good News Newsletter, get the best of The Week delivered directly to your inbox.
From our morning news briefing to a weekly Good News Newsletter, get the best of The Week delivered directly to your inbox.
I'm far from the only American to revel in the plastic glory of processed cheese product. It's a taste of young childhood and comfort-seeking adulthood: the alien-tentacle goo in the middle of a grilled cheese sandwich, the lurid orange powder that turns boxed mac and cheese into a meal.
Sometimes — more often than I like to admit — I'll treat myself to a bag of Cheetos for dinner. It's a particularly satisfying expression of fake cheese, the powdery coating caking my fingertips until they're scaly and stiff. I stop, pop my fingers into my mouth one at a time, and scrape off the orange layer with my front teeth.
The first time I mentioned this to my husband, he was gobsmacked. "I thought you didn't like Cheetos!"
"When did I ever say that?"
"It's just…" He fumbled. "You're so into homemade everything. I thought you sort of looked down your nose at junk food."
I stared at him. This is the man who has known me for most of my adult life. We fell in love over lunches of charcuterie and wine, over dinners of lentil soup and homemade bread. He learned to love eggs and shellfish and dark leafy greens from my cooking of them. He routinely finds our kitchen counters crowded with home-preserving projects, jars of preserved citrus and pickles and jam. He knows my love of real cheese, challenging cheese, the cheeses that are too stinky and funky and blue for most of our friends.
Somehow, the notion of me also digging enthusiastically into a bag of Cheetos was enough to stop him cold. "What?" I said. "Isn't it possible that I can be a food snob and still like junk food?"
"I guess," he said. "It just seems a little incongruous."
He's not the only person to respond this way. Somehow, whenever it comes up in conversation that I like artificial cheese flavoring, people stop and sputter. My mom was baffled by this when it came up recently. My friends and acquaintances look at me askance, and wrinkle their noses.
Their astonishment has always bothered me. Why is it so strange that I like farmer's market produce and also plastic-wrapped cheese product? What makes those two things incompatible? It's only recently that I've started untangling the mess of assumptions and cultural messages behind their reactions.
When Americans talk about diet, it's an either/or proposition. We talk about being "on a diet," ascribing to a philosophy, assigning a label to the assortment of food that goes into our mouths. When we break lockstep with a particular dietary regimen, we call it "cheating," as if a diet were a life partner we must be faithful to, or a test we need to ace.
And we're encouraged, almost from birth, to start thinking of foods in terms of their moral value. There are "good" foods and "bad" foods; eating home-cooked vegetables is a virtue, but opening a bag of chips is a vice. It's not accidental that foods considered "bad" are those associated with weight gain, or that the benefits of "good" foods are usually trumpeted by those with enough money and privilege to maintain a particular level of health and conventional attractiveness.
Meanwhile, the folks who make my beloved cheese slices are pouring millions of dollars into research and development, deliberately crafting their products to be as scientifically irresistible as possible to the human brain. We're inundated with foods engineered to push our biological buttons, and then shamed for even daring to desire them. Even the gospel of "everything in moderation!" rings hollow when we're taught to feel guilt for choosing supposedly morally-dubious foods over virtuous ones.
I'll admit that I bought into this way of thinking for a long time. As a young teen, diagnosed with insulin resistance, told to lose weight and monitor my carbohydrate intake, I became very familiar with the language of dieting and virtue. I learned to dip the tines of my fork into dressing rather than pouring it onto my salad, to cut down on calories. I learned to enjoy diet soda, and pretend that low-carb bread tasted like the real thing. I memorized the number of calories I was to eat in a day, and calculated every meal against that all-important number. And when hunger invariably roared through my body, when I crept into the kitchen and tore through bags of the saltiest, crunchiest foods I could find to quiet my raging belly, I hated myself for not sticking to the virtuous path.
That pattern held for my entire adolescence and most of my adult life so far. It took until recently, in my early 30s, to recognize it as a full-blown eating disorder. In the meantime, I cooked fragrant stews and vibrant salads, skipped meals and hoarded junk food. I stuck to my fresh produce and whole grains for a few days at a time, then succumbed to the lure of radioactive-orange snacks and then guilt-fueled starvation as penance. And every time, I thought of it as a total collapse. If I wasn't sticking 100 percent to a "healthy" diet, then I might as well not have been trying. Even talking to my friend about that incongruous, delicious sandwich, I used words like "weakness" and "Achilles heel," as if the lure of fake cheese might eventually obliterate me entirely.
The fact is, no one person is like any other. Our bodies demand different nourishment, at different times in our lives. For me, the only solution has been to step off the merry-go-round entirely: to give up the notion of "healthy" eating, and to pay attention to what my body wants, when it wants it.
As it turns out, my life has room for the farmer's market and the junk-food aisle. When left to my own devices, I crave vegetables and lean protein about as often as chips and crackers. I can luxuriate in a balanced home-cooked meal and also relish a bag of Cheetos. I can make my own hand-crafted kimchi and then sandwich it with processed cheese product. These things are neither mutually exclusive nor morally opposed.
I'm a foodie, and I like processed cheese. For me, healthy eating involves a neat balance of both.
Want more essential commentary and analysis like this delivered straight to your inbox? Sign up for The Week's "Today's best articles" newsletter here.

Continue reading for free
We hope you're enjoying The Week's refreshingly open-minded journalism.
Subscribed to The Week? Register your account with the same email as your subscription.