The problem with Jojo Rabbit's wacky Nazis
There are too many very fine people in this comedy about an imaginary Hitler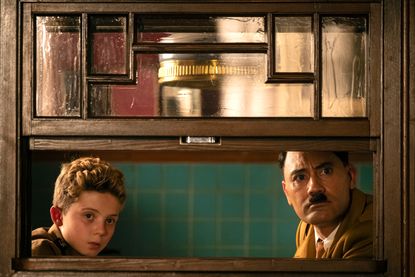 (Image credit: Illustrated | Kimberley French/Twentieth Century Fox Film Corporation)
Adolf Hitler and his right-hand man, Hermann Göring, visit a radio tower in Berlin. Hitler says he wants to do something that will make the citizens happy. Göring goes, "Why don't you jump?"
When that joke was told by a German armaments factory worker to her colleague in 1943, it resulted in her execution at the hands of the Nazi People's Court.
Despite the efforts of the Third Reich, Nazi jokes are as old as Nazis, predating even Charlie Chaplin's pompous "Adenoid Hynkel" in 1940's The Great Dictator. Humor, though, is a tricky thing: It can be a salve, a weapon, and an act of political dissent. The question for Taika Waititi's new Nazi Germany satire Jojo Rabbit, out Friday, isn't can you tell Nazi jokes? though. That was settled long ago. Rather, it's why are you? Because by using comedy to portray Nazis as uniformly wacky, gullible, and incompetent, Waititi doesn't reveal their threat; he masks it.
Subscribe to The Week
Escape your echo chamber. Get the facts behind the news, plus analysis from multiple perspectives.
SUBSCRIBE & SAVE
Sign up for The Week's Free Newsletters
From our morning news briefing to a weekly Good News Newsletter, get the best of The Week delivered directly to your inbox.
From our morning news briefing to a weekly Good News Newsletter, get the best of The Week delivered directly to your inbox.
The winner of the Toronto Film Festival's People's Choice Award, a perennial Best Picture bellwether, Jojo Rabbit's plot synopsis reads almost like it was designed to bait premature think pieces. Ten-year-old swastika enthusiast Jojo Betzler (Roman Griffin Davis) dreams of being "the bestest, most loyal little Nazi," and is coached in anti-Semitism by his imaginary friend, Adolf Hitler (Waititi, who himself is a Polynesian Jew). While attending a Hitler Youth camp — which looks like Moonrise Kingdom, except with white nationalists — Jojo suffers a grenade mishap and is forced to recuperate at home. There, he discovers an awful secret: That his beloved mother (Scarlett Johansson) has been harboring Elsa (Thomasin McKenzie), a Jewish girl, behind a panel in Jojo's dead sister's bedroom.
So far, this plot probably doesn't sound much like satire: In fact, if you ignore the outlandish assumptions Jojo believes about Jews (including that they're "allergic to food"); Sam Rockwell's oafish performance as the Hitler Youth leader Captain K; and Waititi's floppy, grousing, practically endearing Adolf, it almost plays like a standard WWII tear-jerker. You can likely even guess where the story is going: Gradually, Jojo begins to realize that Elsa doesn't actually have horns or sleep hanging from the ceiling like a bat, as he'd been indoctrinated to believe. The film's thesis could be distilled by an argument Jojo has with Imaginary Hitler at the end of the movie: "That thing," he corrects der Führer, "is a girl."
It's as sappy and sentimental as it sounds, but for good measure, the film's exit music is a German-language rendition of David Bowie's "Heroes," played over the Rainer Maria Rilke quote, "let everything happen to you: beauty and terror/just keep going," which seems bewilderingly tone-deaf once you remember six million Jews were killed in concentration camps.
But let's focus on the comedy, which is remarkably juvenile. Many of the gags are just plain bad, like an exhausting joke about how long it takes for a room to properly sieg heil everyone or Jojo's mom kneeing the Hitler Youth leader in the crotch in order to get him to do her bidding. Hitler's use of modern slang is overplayed for laughs, peppered with bursts of "little man" and "correctamundo!" An odd number of jokes are fatphobic, too, including when Jojo tells his best friend, Yorki, that Hitler wouldn't possibly take the shape of a "fat" little boy like him. Waititi also holds the incorrect belief that English-speaking actors putting on bad German accents is inherently funny.
It is possible to balance drama and comedy when writing about Nazis, of course. While Life is Beautiful (1997) was criticized by some critics for appearing to downplay the Holocaust, its director and lead actor, Roberto Benigni, accurately defended his film as being a tragedy: "To laugh and to cry comes from the same point of the soul, no?" he told The Guardian at the time. Quentin Tarantino's WWII revenge film, Inglourious Basterds (2009), likewise tempers its comedy with the reminder that Nazis weren't zany and cute, but rather horrifically effective; the film's opening scene builds very real emotional stakes that carry through to the credits, despite the laughs that come on the way.
Jojo Rabbit, on the other hand, fails to ever do the same. It is more interested in making jokes about silly ol' Nazis than exploring the other questions it raises, relevant ones about indoctrination, fanaticism, or even the Holocaust, which is only haltingly touched upon by the movie (the only people who we see die in the film are Aryan Germans). Although I have no doubt Waititi has seen photographs of concentration camps and listened to survivor interviews, Jojo Rabbit is far removed from the calculated atrocities of the genocide. It brings to mind what Daniel A. Gross wrote for The Atlantic in 2015: "While it takes courage to laugh in the face of evil, most Hitler parodies leave the audience laughing instead of facing evil."
We return, then, to the question of what purpose Nazi comedy serves here. Billed as an "anti-hate satire," Jojo Rabbit was clearly conceived for the modern moment, aiming to knock supremacists down a notch or two by showing how ridiculous they are. But some Nazis, the film also suggests, are very fine people, deep down. Captain K, the Hitler Youth leader, rescues Jojo first from the clutches of the Gestapo and then from an American execution squad, demonstrating his courage and wading uncomfortably close to the suggestion of Not All Nazis. Meanwhile Jojo's anti-Semitism evaporates when he befriends Elsa; in truth, many Germans had Jewish friends and neighbors, and still became Nazis.
There is one joke in Jojo Rabbit that really works, though. As the Allies near certain victory toward the end of the film, Jojo's friend Yorki announces, "It's definitely not a good time to be a Nazi!" As written, the line was likely intended to be ironic; the audience knows Germany will lose the war, and that the Nuremberg Trials lie ahead. But Yorki's joke also operates as a rare moment of true satire, a knife-twist in the gut of anyone who has observed the way white nationalism and anti-Semitism have yet to be weeded out of our society almost 75 years later.
Shamefully, now is not a bad time to be a Nazi. But rather than explore the set up, Jojo Rabbit rushes ahead, once again, to the punchline.

Continue reading for free
We hope you're enjoying The Week's refreshingly open-minded journalism.
Subscribed to The Week? Register your account with the same email as your subscription.