Is homework bad for kids?
The pros and cons of take-home assignments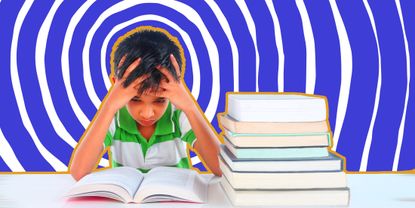 (Image credit: Illustrated | Muralinath/iStock, Dmytro Lialiuk/iStock)
Homework: one word that makes the heart of many a parent sink and is guaranteed, at any given time, to be causing rows in homes around the world.
The homework debate has raged for decades. How much homework should kids get? How involved should parents be? And does it really matter if it doesn't get done?
Recent years have seen a swell of support for ditching homework altogether; more than one teacher has gone semi-viral for sharing a no-homework policy that prioritizes family time, outdoor play, and early bedtimes. And some schools have adopted no-homework programs, encouraging students to enjoy their evening free time and in some cases lengthening the school day to provide more classroom instruction.
Subscribe to The Week
Escape your echo chamber. Get the facts behind the news, plus analysis from multiple perspectives.
SUBSCRIBE & SAVE
Sign up for The Week's Free Newsletters
From our morning news briefing to a weekly Good News Newsletter, get the best of The Week delivered directly to your inbox.
From our morning news briefing to a weekly Good News Newsletter, get the best of The Week delivered directly to your inbox.
Unbeknownst to many, there is an unofficial homework standard — the "10-minute rule" that was first proposed by Duke University psychology professor Harris Cooper and is supported by the National PTA and the National Education Association. It's simple: a daily maximum of 10 minutes of homework per grade level. (First graders do 10 minutes of homework each night; second graders do 20 minutes; third graders do 30 minutes, and so on.)
Cooper is responsible for the most comprehensive research on homework to date. His 2006 meta-analysis, published in the Review of Educational Research, found evidence that students who did homework performed better in school. However, the correlation was stronger for students in seventh through 12th grade. In earlier grades, the relationship between homework and performance was weak.
But Cooper's analysis shows correlation, not causation. It begs the question: Does homework lead to achievement, or do high achievers simply do more homework? Undoubtedly, some kids are less likely to kick up a stink about doing homework than others. Others actually want to do homework. The point being, they're all different.
Cathy Vatterott's 2010 book, Rethinking Homework: Best Practices That Support Diverse Needs (updated and reissued in 2018), examines the role of homework in modern society. Vatterott, a professor of education at the University of Missouri–St. Louis and an expert on the topic of K-12 homework, emphasizes the importance of giving students "ownership" of their homework, for instance by giving them a choice of assignments. She also believes students should feel competent in completing their homework, which requires abandoning the "one-size-fits-all" model.
"It's hard to create homework assignments or a homework policy that meets everyone's needs and wants," says Jennifer Bourque, a fifth-grade teacher at Rowland Hall Lower School, Salt Lake City, Utah. She's part of a group dedicated to reviewing the school's homework policy by reviewing research, inviting feedback from parents, teachers, students, and alumni, and reaching out to other schools to learn about alternative approaches to homework.
"Each school year I have gone through multiple iterations of homework," Bourque says. "The most rewarding homework experiences I have had as a teacher have been projects where students have choice and voice, such as students preparing an 'expert talk' on an issue they are passionate about or creating a math game to play in class. I believe that all learning experiences that students have, both in the classroom and at home, should be meaningful and developmentally appropriate."
As the founder of the Fit Learning program, Kimberly Berens, Ph.D. has worked with thousands of families whose kids are struggling in school. On the topic of homework, she doesn't hold back, describing it as "perhaps the number one destroyer of family life in America."
"At its best, idealized, romanticized glory, homework is the opportunity for children to reinforce the lessons of the day and practice independence," Berens says. "In an admittedly pessimistic take, it's a way for teachers to prompt parents to make sure what was taught in the classroom was actually learned and if it wasn't learned ... well, teach it."
As well as limiting kids' leisure time, studies have shown that homework can cause emotional and physical fatigue and fuel negative attitudes about learning.
Of course, for every homework skeptic, there's a defender. "Elementary school students need to be given homework, and that's not just a 'get off my lawn' or 'back in my day' mentality," says Andrew Selepak, Ph.D., a media professor at the University of Florida. He says one of the key differences between homework and work done in the classroom is, obviously, the role of the teacher.
"Homework requires students to work independently without the benefit of being able to ask questions of their teacher," Selepak says. "It's important for young people to be able to learn where to find answers to their questions without simply asking the most convenient person. Plus, they need to learn that homework is much like the real world; sometimes you have to take your work home with you."
Selepak acknowledges the merits in kids having time to just be kids (and stresses that he doesn't believe in "homework for homework's sake"), but he also believes in instilling a strong work ethic in students from an early age. "Getting tasks done and working independently will help them achieve success later in life," he says.
This point was also made by Cooper, who noted in his report that homework is thought to offer numerous benefits besides academic performance, such as study habits, attitudes toward school, self-discipline, inquisitiveness, and independent problem-solving skills.
Berens agrees that children need structure, routine and rules in certain areas, but adds that "they also need freedom, exploration, fun, and play." Like many people — students and parents included — she thinks homework needs to tick certain boxes to warrant preservation. "If homework can be designed to provide practice opportunities that foster skill mastery and provided in a dose that makes completion probable and quick, I say keep it! If that can't be achieved, maybe it's time to throw this baby out with the bathwater."
Want more essential commentary and analysis like this delivered straight to your inbox? Sign up for The Week's "Today's best articles" newsletter here.

Continue reading for free
We hope you're enjoying The Week's refreshingly open-minded journalism.
Subscribed to The Week? Register your account with the same email as your subscription.