Police violence is creating a terrible coronavirus risk
Nobody should be tear-gassed during a respiratory pandemic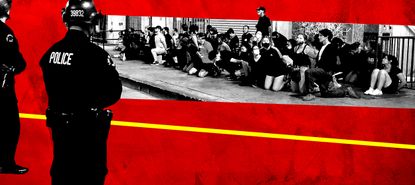 (Image credit: Illustrated | Getty Images, iStock)
For the moment, the coronavirus pandemic has been driven off America's front pages by the nationwide outbreak of protests against police brutality. But the virus is still not under control. Overall, daily new cases in the country are falling, but very slowly. Infections are clearly on the rise in several states, like Texas, Florida, Arizona, and Georgia. Daily deaths are falling faster, but only in the last week did the 7-day average dip below 1,000.
Now we are seeing violent police tactics in response to the protests that raise a serious risk of fueling the epidemic. If there is a big spike in cases in a week or two, we can say with certainty that police brutality will have made things worse than they would have been.
Now, conducting big demonstrations is itself a risk. Although protesters have seemed to generally be careful about wearing masks in groups and keeping at least some space between themselves, that doesn't completely eliminate the possibility of transmission, and others have not shown all that much scrupulousness about staying apart and masked.
Subscribe to The Week
Escape your echo chamber. Get the facts behind the news, plus analysis from multiple perspectives.
SUBSCRIBE & SAVE
Sign up for The Week's Free Newsletters
From our morning news briefing to a weekly Good News Newsletter, get the best of The Week delivered directly to your inbox.
From our morning news briefing to a weekly Good News Newsletter, get the best of The Week delivered directly to your inbox.
From all we've learned about the virus though, it seems that outdoor spaces pose relatively little risk for infection. However, it is definitely not impossible to catch the disease outside, and the violent tactics the police have used against protesters are all but designed to raise the risk as high as possible.
Unprovoked attacks on demonstrations — seen in New York, Washington, Philadelphia, Milwaukee, and elsewhere — often herd them together into panicked masses. Often police directly touch people in the process of clubbing them, or shove them into one another. Meanwhile, police tear gas, pepper spray, and mace (on many occasions blasted directly into people's faces) hugely stimulate mucus, tear, and saliva production, and make people cough violently. A big mass of protesters crammed together, breathing in a soup of poisonous chemical weapons, will create a veritable fog of possibly-infectious droplets. Research also suggests that tear gas exposure can make people more susceptible to future respiratory illness.
Likely worse is what happens after the protests: mass arrests. The classic American police tactic in these situation is to trap groups of protesters into a "kettle" so they can be arrested and booked. BuzzFeed News contacted 30 big urban police departments on Tuesday, and counted over 11,000 arrests. At time of writing, Los Angeles and neighboring cities had arrested nearly 3,000 people alone. A great many of these people have been at least temporarily jailed as a result, mostly for misdemeanors.
We know for a fact that jails are coronavirus hotspots — some of the worst in the country. People crowded into confined spaces with poor ventilation for a long time is where most transmission happens. The danger will be heightened when people are still dealing with the aftereffects of being tear-gassed or pepper-sprayed, which can take hours. In New York and Cincinnati, arestees described being held in cramped spaces for over 24 hours while waiting to be processed by the cities' dysfunctional criminal justice systems. Even in other cities where processing happened faster, people were still held for hours.
One would think the police would logically take at least some consideration to avoid spreading the virus in their response, if for no other reason than to avoid infecting themselves. Instead, they have been largely cavalier about the pandemic — often not even wearing masks themselves. A Las Vegas judge did order misdemeanor cases released on their own recognizance (though Las Vegas police still tried to force arrested protesters to post bail) and Los Angeles commandeered a UCLA baseball stadium to hold the arrested (though that may have just been because of the sheer number of people taken into custody) but that's about it. Complete law enforcement indifference to the pandemic has been the rule. Indeed, President Trump has repeated calls for protesters to be thrown in jail for an indeterminate period.
This failure to consider the pandemic in regards to protests is especially remarkable given the gargantuan government failure to contain the virus in the first place. With rare exceptions, at all levels of government, from the Republican president to the Democratic governor and mayor of New York, the American state has failed far worse than cash-strapped countries in Africa and Eastern Europe. We could not implement social distancing measures in a timely fashion, or secure sufficient protective gear for doctors or nurses, or set up testing and tracking systems in time, or build quarantine facilities to keep sick people from infecting their families. But when it came to an outbreak of left-wing protest, suddenly all the immense power of the state was mobilized in an instant.
This is the only thing the American government is really good at anymore — confronting demands to change the status hierarchy with violent political repression. (Heavily-armed right-wing vigilantes have been allowed to congregate peacefully, naturally, both before and during these protests.) If that further fuels the worst viral pandemic in a century, so be it.
Want more essential commentary and analysis like this delivered straight to your inbox? Sign up for The Week's "Today's best articles" newsletter here.

Continue reading for free
We hope you're enjoying The Week's refreshingly open-minded journalism.
Subscribed to The Week? Register your account with the same email as your subscription.