Why vaccinated teachers should mean open schools
Kids can't wait till 2022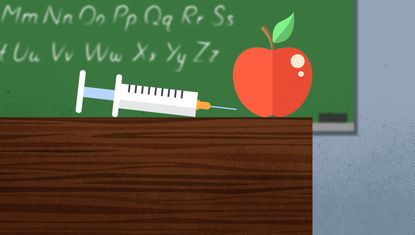 (Image credit: Illustrated | iStock)
Here are some things we know to be true a year into this pandemic:
One, remote learning is awful for most students, and outcomes are worst for the youngest students and those already disadvantaged. ("An estimated three million children nationwide — many impoverished or homeless — are going without any form of school," New York magazine reports.)
Two, children are a very low-risk demographic for serious cases of COVID-19, and repeated studies have shown they are not a significant vector of viral transmission. Kids are more likely to receive COVID-19 from an adult than vice versa.
Subscribe to The Week
Escape your echo chamber. Get the facts behind the news, plus analysis from multiple perspectives.
SUBSCRIBE & SAVE
Sign up for The Week's Free Newsletters
From our morning news briefing to a weekly Good News Newsletter, get the best of The Week delivered directly to your inbox.
From our morning news briefing to a weekly Good News Newsletter, get the best of The Week delivered directly to your inbox.
And three, open schools are not doomed to be super-spreader locations. Economist Emily Oster made a data-based case for schools' remarkable safety (with reasonable precautions, of course) in The Atlantic in October. In the months since, though some school-centered outbreaks have been documented, her thesis has held, including in high-risk communities. More than nine in 10 private schools maintained some or all face-to-face learning, and they've generally proved capable of operating safely, even when enrollment grows as families with the resources to do so flee public distance learning. Some public school districts are successfully educating in person, too.
For the more cautious districts and those in areas with the worst outbreaks, the endgame is vaccinating teachers and staff, the adults in school settings who are at risk of catching or transmitting serious bouts of COVID-19. Once the teachers are vaccinated, schools can reopen.
Or rather, that's what's supposed to happen. But in Fairfax County, Virginia, the teacher's union has other ideas — ideas that will do real damage if they spread.
About 90 percent of the district's staff have received or are on the list to receive their vaccines, meaning a vaccination-conditioned reopening is a near-term possibility. But the Fairfax Education Association is opposed to fulltime, in-person classes this spring even if all its teachers have had their shots. The union also wants every student vaccinated plus 14 days of zero community spread.
That latter condition likely guarantees no normal education in 2021. Even after vaccination is widespread, we may see some limited community transmission of COVID-19 for a long time to come, maybe forever. Predictions that outbreaks could run like an annual flu season are plausible, and a place like Fairfax County — just outside Washington, D.C., with three international airports in the region — is probably very far from zero community transmission.
The first condition may be even more ridiculous, however. Though testing is underway, there is currently no COVID-19 vaccine approved for children under 16. The union has asked for something it literally cannot have. (Reason's Robby Soave, thinking perhaps union boss Kimberly Adams had been misquoted, reached out to her for confirmation that complete student vaccination was really what she'd stipulated. It was. Soave followed up to note the present impossibility of that goal. She did not reply.)
Adams and the Fairfax Education Association used to accept teacher vaccination as the benchmark for resuming face-to-face instruction fulltime: "[N]o one should return to in person instruction until there is a widely available scientifically proven vaccine," the union said in a letter this past fall. Its new stance puts the group at odds with a statewide teachers union, which has made teacher vaccination its goalpost. Teachers in other states are likewise hailing vaccination, for which educators are a priority demographic in many places, as the beginning of the end. In the Twin Cities, where I live, the debate is about whether waiting for all teachers to be vaccinated is necessary to get back in the classroom (local transmission has been declining here since mid-November).
That — not this nonsense in Fairfax County — is where the debate should be. In August, I was uncertain about school closures. Now, I think there's ample evidence schools can and indeed should open safely even before all teachers are vaccinated, though I understand why not everyone is equally convinced. But to layer on additional requirements after teachers are protected is untenable, and it makes giving them vaccination priority over people working in public spaces incredibly unfair. It takes teachers unions' pro-closure record past any point of defensibility, and it needs to be squashed dead in Fairfax.
"One might argue," Oster wrote in October, "that any risk is too great, and that schools must be completely safe before local governments move to reopen them. But this approach ignores the enormous costs to children" — to say nothing of their beleaguered parents — "from closed schools."
The next few months matter. The four-month stretch from February to May is fully 5 percent of a second-grader's life! For adult teachers, those months will slip by quickly enough, but for their students struggling with a third semester of Zoom instruction, that time will feel interminable and could easily be life-altering. Waiting until September or maybe even later — as will happen if the Fairfax County union gets its way or its demands are replicated elsewhere — will make a real difference to the final sum of the pandemic's costs. Vaccinated teachers must mean open schools.

Continue reading for free
We hope you're enjoying The Week's refreshingly open-minded journalism.
Subscribed to The Week? Register your account with the same email as your subscription.