American carnage rages on
The last year has only exacerbated the despair that seems to define 21st-century America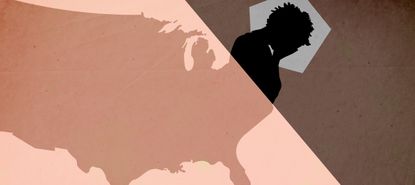 (Image credit: Illustrated | iStock)
On Wednesday afternoon it was reported that Jeffrey Smith, a member of the Washington, D.C., police force, had taken his own life. He is the second law enforcement officer known to have committed suicide after responding to the riots at the Capitol on January 6 and the third to have died. Goodness knows what conspiracy theorists will make of all this.
The news of Smith's death comes amid reports suggesting America's long-rising rate of suicide increased even further in the last year, not least among school-aged children, which is why many districts are beginning to open again despite the objections of cynical teachers' unions. Most of the dead will remain anonymous to everyone save those who loved them. Others, like the artificial sugar tycoon and philanthropist Donald Tober, are comparatively well known. In other cases still, the previously obscure will become famous because they do not go alone — in a distressing number of recent murder-suicides, the killers are mothers and the victims their young children.
All of this has had the curious effect of making suicide that rarest of phenomena: a true leveling force in American life, a terrifying prospect from which wealth, health (at least of the physical variety), and comparative safety cannot protect us, even though statistically it is still the case that poorer people are vastly more likely to take their own lives.
Subscribe to The Week
Escape your echo chamber. Get the facts behind the news, plus analysis from multiple perspectives.
SUBSCRIBE & SAVE
Sign up for The Week's Free Newsletters
From our morning news briefing to a weekly Good News Newsletter, get the best of The Week delivered directly to your inbox.
From our morning news briefing to a weekly Good News Newsletter, get the best of The Week delivered directly to your inbox.
As I and others said when lockdown measures were first imposed last year, a rise in suicides and other so-called "deaths of despair" along with murders, which have increased at the highest rates ever recorded in a number of cities, was inevitable. But this was the case precisely because in a very real sense lockdowns "cashed in" (as analytic philosophers sometimes put it) on the already horrifying logic of modern life. These policies were only conceivable in a world in which health (at least for our ruling classes) meant the elevation of risk-aversion to a first-order good no matter how absurd the calculus; in which education meant clicking some boxes in one's internet browser or watching a video; in which commerce could be facilitated as long as Chinese sweatshops were able to ship goods to their American counterparts for door-to-door distribution by yet another class of wage slaves; in which community, friendship, love, and even piety were primarily digital experiences; in which the common good was synonymous with the Dow Jones Industrial Average; in which the lives of millions of people who could not make it under the new dispensation were barely acknowledged collateral damage.
As a society we accepted these principles long ago. Sooner or later, something other than a new virus would have led us further along the path toward realizing them.
In his memorable inaugural address four years ago, President Trump promised to end "American carnage," by which he meant the addiction, economic immiseration, ennui, epistemic disjuncture, acedia, and despair that seem to have become the defining features of the 21st century. What the last year has shown us is that not a single action he took during his tenure in office meaningfully arrested this violence. His successor, who has wisely made no such promises, is unlikely to be any more successful.
What would it really mean to bring an end to American carnage? Nothing less, one suspects, than some hypothetical total collapse of the existing social order and its replacement by one with radically different organizing principles, institutions, and (obviously) leaders. Which is a fancy way of saying that I do not know what the answer is.
This is especially true in the case of suicide. Few propositions seem more self-evident to most of us than Archbishop Sheen's: Life is worth living, no matter how bad things are. If there were a policy or program that would wipe the tears from the eyes of all those who cannot see this, I would happily see it implemented at any cost. But the horrifying appeal of suicide is ultimately as elusive as the mystery of human life itself.

Continue reading for free
We hope you're enjoying The Week's refreshingly open-minded journalism.
Subscribed to The Week? Register your account with the same email as your subscription.