The Netflix password sharing apocalypse is nigh
Why the streamer may finally be locking you out of your ex-girlfriend's parents' account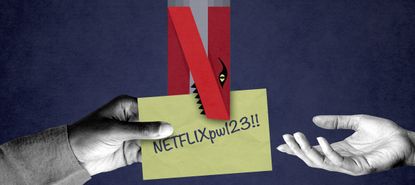 (Image credit: Illustrated | iStock)
Sign up to our 10 Things You Need to Know Today newsletter
A free daily digest of the biggest news stories of the day - and the best features from our website
Thank you for signing up to TheWeek. You will receive a verification email shortly.
There was a problem. Please refresh the page and try again.
Be honest: Does the news that Netflix is cracking down on password sharing make you break out in a cold sweat?
Yeah, you and everyone else. Though there isn't a firm number for how many people watch shows like Tiger King and Emily in Paris on accounts that they aren't paying for personally, estimates range anywhere from 14 percent to 31 percent of Netflix viewers. It's potentially even bigger: According to one study last November, over half of Netflix subscribers share their password with someone outside of their homes.
Cracking down on password sharing might seem like a no-brainer, then, if you're the streamer. Why would you turn a blind eye to the freeloaders, who are essentially stealing $112 million in revenue every month, when that money could be going into your pockets instead? But Netflix's long history of foot-dragging on the password sharing issue indicates the question is more of an existential one for the streamer: Does it want to be the service everyone pays for? Or the service everyone watches?
Subscribe to The Week
Escape your echo chamber. Get the facts behind the news, plus analysis from multiple perspectives.
SUBSCRIBE & SAVE
Sign up for The Week's Free Newsletters
From our morning news briefing to a weekly Good News Newsletter, get the best of The Week delivered directly to your inbox.
From our morning news briefing to a weekly Good News Newsletter, get the best of The Week delivered directly to your inbox.
For many years, it seemed clear that Netflix wanted to be the latter. The year 2016, in particular, marked a sort of heyday for the company's laissez-faire attitude about password sharing. During the company's third-quarter earnings webcast, Netflix CEO Reed Hastings all but assured customers that mooching their roommate's ex-girlfriend's dad's account was a secret that was safe with him. "In terms of [password sharing], no plans on making any changes there," he said, calling the practice "something you have to learn to live with … We're doing fine as is." He seemed to have an even more positive view of password sharing when speaking at the Consumer Electronics Show in Las Vegas the same year: "We love people sharing Netflix whether they're two people on a couch or 10 people on a couch," Hastings said. "That's a positive thing, not a negative thing."
The company's tone started to shift in 2019, when the Alliance for Creativity and Entertainment (ACE) cited addressing "improper password sharing" as being one of its priorities. ACE — which The Hollywood Reporter helpfully describes as "basically an antipiracy spinoff of the MPAA" — is a coalition of studios and streamers working together to reduce un-permitted access to their products. It includes companies like Disney, Sony, Paramount, Apple … and Netflix. "When asked by The Hollywood Reporter, neither Netflix nor HBO would comment on whether their positions on password sharing have evolved," the publication wrote in 2019. "But it looks like ACE and the beginning of court activity on the Piracy 2.0 front might be doing the talking for them." In an earnings call, Netflix admitted they were exploring how to prevent their customers from sharing accounts. When asked about the change in tone by Yahoo Finance, the company's co-founder Marc Randolph replied, "You're not scared, are you?" He added later, "You know there's abuse and that's not fair."
But nothing much happened until this week, when some users started to notice a prompt by Netflix asking them to verify that they were the account's authorized user. "If you don't live with the owner of this account," the message scolded, "you need your own account to keep watching."
So what changed? For one thing, the competition. 2019, the most visible turning point for Netflix's stance on password sharing, was also the year that Disney+ joined the market. Although Apple TV+, HBO Max, and a whole bunch of other pluses are also available for customers these days, it was Disney+ that, in just one year, added nearly half as many subscribers as Netflix managed to net in a full decade. The company is now on track to pass Netflix in (legitimate) subscribers by 2026.
Netflix certainly isn't struggling; the company celebrated hitting the 200 million subscriber milestone earlier this year, and in 2020, it recorded the biggest year of paid membership growth in company history. But Netflix also had an extremely captive audience during that period, thanks to the pandemic. Before quarantine started, back in 2018, Netflix added fewer than four million subscribers in a 12-month period; Fast Company wrote at the time that analysts considered the company "to have found all the customers it's going to attract," since Netflix didn't have similar "hacks" available to boost subscribers, the way Disney and Apple have done with their year-long free trials. Crack down on the password sharers, though, and voilà: you've just freed up several million customers who can subscribe.
But the plan could backfire badly. For one thing, there's no guarantee that the subscribers Netflix shaves off with their password sharing crackdown will come back to the service to sign up legitimately. Plus a huge number of Netflix moochers are young adults — college students or people just out of college — who might not have the financial means to be paying for Netflix. Or even want to: these days, if you get booted from Netflix, you might try subscribing to a new service like HBO Max or Disney+ or Discovery+ instead. As Inc. writes, "the trick" is how Netflix might nudge the moochers into becoming paying subscribers without making them angry in the process, because "mad people don't usually rush out to sign up for your service."
The best way to do that might be … well, by doing what Netflix was doing. For years now, both Netflix and HBO have recognized that password sharing is great marketing, and an even better hook for reeling people in (again, why do you think services like Apple and Disney are so eager to give away free subscriptions?).
"It's not that we're unmindful of it, it just has no impact on the business," HBO CEO Richard Plepler said of password sharing in 2014, calling it instead a "terrific marketing vehicle for the next generation of viewers." Speaking to BuzzFeed News, Plepler also stressed that, the way he sees it, "we're in the business of creating addicts," and sometimes that involves luring people in by pretending you don't know they're gorging themselves on the free samples. Hey, it's true; there's a point where it gets to be embarrassing using your college roommate's account. Plenty of people will organically realize that Netflix is something they want to pay for.
Still, Netflix is clearly getting impatient waiting for that light bulb to go on. Though it might not even be in their best interest, the company seems to be serious this time about scaring users into signing up for the service.
That's really the long way of saying, it might be time to reconcile with the ex whose account you're still using. You're going to need her to text you the verification code when you get locked out.
Continue reading for free
We hope you're enjoying The Week's refreshingly open-minded journalism.
Subscribed to The Week? Register your account with the same email as your subscription.