Making money: investing in fine wine
Wine investments can bring tasty returns – but you'll need patience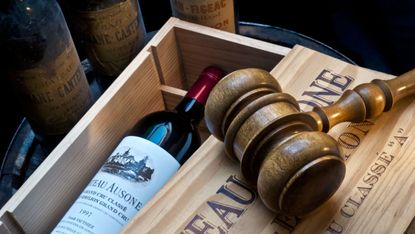 (Image credit: Ian Shaw/Alamy Stock Photo)
Wine investing used to be "reserved for the ultra-wealthy", Vinovest co-founder and CEO Anthony Zhang said on Forbes. "That paradigm is changing."
According to Knight Frank's latest Wealth Report, the value of fine wine went up 13% in 2020 and appreciated 127% over the past decade. This put wine second behind Hermés handbags in the Luxury Investment Index and ahead of other alternative investments such as cars, watches and art.
Investment returns are not the only eye-catching thing about fine wine – the prices paid at auction are equally "mind-boggling", said Angelique Ruzicka on ThisIsMoney. At the Christie's Finest and Rarest Wines and Spirits auction in London in December a total £7.6m of sales were made, including a single bottle of rare 1874 Perrier-Jouët Champagne for £42,875 and 11 bottles of Domaine de la Romanée-Conti, Romanée-Conti 1971, for £269,500.
Subscribe to The Week
Escape your echo chamber. Get the facts behind the news, plus analysis from multiple perspectives.
SUBSCRIBE & SAVE
Sign up for The Week's Free Newsletters
From our morning news briefing to a weekly Good News Newsletter, get the best of The Week delivered directly to your inbox.
From our morning news briefing to a weekly Good News Newsletter, get the best of The Week delivered directly to your inbox.
In a report published by Cult Wines, a fine wine collection and investment management company, Burgundy and Champagne wines posted impressive gains in 2021, while names like Domaine Leroy and Domaine de la Romanée Conti remain some of the safest long-term investments.
Don't come a cropper…
With bottles, cases, funds and stocks all options for investors, "you'd be forgiven for thinking that investing in wine is not within reach of normal people", said Ruzicka. However, that "doesn't need to be the case".
Jack Chapman, head of private clients at wine merchants Lea & Sandeman, told ThisIsMoney that it's possible to invest in wine with a small lump sum, but storage costs must also be accounted for. "There isn't a minimum and it depends on who you approach," Chapman said. "There are some fine wine asset management companies that ask for a certain threshold. You would be paying for storage though. So, my advice is to buy larger value cases to mitigate storage costs as much as possible."
One of the main reasons investors turn to alternatives is for diversification, which provides financial protection, said Ashley Kilroy on Yahoo! Finance. But like any other investment, "liquid assets" come with "pros and cons".
It is easy to get scammed or "come a cropper" in the wine world, Ruzicka said. So investors must make sure that they are "dealing with reputable businesses, keep their wits about them and realise that investments can fall as well as rise – and be tough to sell in a hurry".
In this expert's guide we speak to Tom Gearing, CEO of Cult Wines, and restaurateur David Moore, owner of Michelin-starred restaurant Pied à Terre in London, to get their top tips for wine investments. Here's what they had to say…
1. 'Age-worthiness, high quality and secondary markets'
Tom Gearing, Cult Wines
What's the top tip you would give to a beginner wine investor?
Diversification and patience! Definitely build a diversified portfolio across the top investment grade region to deliver the best risk adjusted returns – this can actually easily be done with £5,000-£10,000. In terms of expectations, don't expect to buy one bottle of wine, or a case of wine, and expect to automatically generate 10% returns per annum. You need to spread your capital, and, above all, be patient. For the best returns, expect to wait an average of around 3-5 years.
What makes a wine investment-worthy?
Firstly, age-worthiness is very important. The wine needs to have the ability to mature and reach its optimum drinking over a 10-20 year-plus time horizon. Secondly, high quality – this may seem somewhat obvious, but investors should and always consider if the producer and wine itself is well regarded by professional critics and consumers alike. It's always worth researching if the wine receives high scores from well-known critics and publications before putting physical money behind it.
Thirdly, consider if there is a secondary market, such as auctions, online, brokers or merchants. Successful investors typically look at if the wine has a track record of being re-sold through these channels. If it is difficult to re-sell, then you might struggle to see your gain in the first instance.
As long as it meets the above criteria, any wine, from any region or grape variety, can be an investment grade wine.
What should investors avoid?
My main piece of advice is to avoid purchasing loose bottles from nearby local wine shops! For your investment to generate the optimum returns, ensure you are purchasing original cases of wine, with traceable provenance and authenticity.
Additionally, always store the wines in bond (this is a duty-free zone that allows you to buy and hold wine without paying duty and VAT). We'd always recommend making sure the wines are stored in a professional warehouse, in the right temperature and humidity as well as being easily accessible, and that you have title and ownership of the underlying asset.
Is it best to invest in bottles, funds, stocks or a mix?
It truly depends on the objectives of the individual. Building a collection of wine bottles and cases you own gives the investor title to the underlying asset. This means they can enjoy their profits by physically drinking some of their investment over time. What's more, owning the wine creates a greater degree of connection to the wine and asset. This way, a portfolio can be tailored to individuals' preferences, and there is a dual benefit to that from a financial and social/emotional perspective.
Those who are dispassionate and just want "easy", low touch access to wine returns, a fund can be a suitable option. Although, this is a one size fits all approach. Despite owning a portion of a pool of wines, liquidity and entry or exit restrictions still exist, so you don't own the underlying wine and the fund manager can deliver one risk approach for all investors.
Stocks in companies who are active in the wine industry, such as LVMH, constellation brands, Treasury wine estates, to name a few, would give the investor access to publicly traded equities which are linked to the wider performance of the wine market.
This, however, is highly correlated to the broader financial market, and so returns and volatility will be closer to general equity performance. This wouldn't deliver uncorrelated returns that investing in the physical asset provides, and also doesn't benefit from the capital gains tax exemption that investing in the physical asset provides.
2. 'Embark on a quest for knowledge'
David Moore, Pied à Terre
What's the top tip you would give to a beginner wine investor?
There is not just one top tip for being a wine investor, but there is one word, and that is "knowledge". The more you know, the less likely it is to go wrong. I would recommend embarking on a quest for knowledge that can be easily started with a basic course at Wine & Spirit Education Trust (WSET). If you are planning on putting serious money into wines as an investment, I would encourage you to work up to level three at WSET.
As well as building the knowledge and understanding of the winemaking techniques and the end product, which hopefully you will enjoy, I would also suggest subscriptions to the likes of Decanter Magazine, Wine Spectator, Noble Rot and Wine Advocate. These publications will alert you to the top flight winemakers who you would aspire to have in your portfolio.
What makes a wine investment-worthy?
There are so many wine varieties and regions to choose from and you might ask yourself what makes a good investment and where do I start? My starting point is the artistry of winemaking – who is making the wine? The really genius winemakers make great wine in every vintage. They understand the terroir and climate; they do most of the work in the vineyard.
Managing a restaurant portfolio of several hundreds of thousands of pounds, with wines in reserve for up to 20 years, I tend to stick to my favourite winemakers. But I am always open to suggestions from my suppliers, asking who are the new kids on the block, where I might find value and extra margin.
What should investors avoid?
I'm often asked what investors should avoid and my answer is a case of 11 bottles. Many years ago when I first started buying wine for myself, I bought two cases of lovely burgundy from Howard Ripley (this is a good steer). We had recently moved into a new apartment and in the spare room I upturned the two cases of wine, put some fabric over the top and created bedside tables for the spare bed. I was a novice investor and had not considered that the spare bedroom was mostly south facing; heated and chilled beautifully every day for about three years – exactly what wine does not like.
My wife and I excitedly opened a bottle for a birthday celebration around year four; it was dead. We opened a bottle from the second case to find the same situation. It was suggested that I put the two cases of 11 into auction – that a low estimate would create interest, and these wines could sell on the back of the winemaker's name and probably at a profit. I just could not do it, I knew the wine was stored poorly, but beware – others would – Caveat Emptor, buyer beware.
This segues beautifully to auction houses. They are great to peruse and attend and often you will find something of interest. Search regional auction houses; wine might be coming in from house clearances and mixed bottle cases can be great fun. But these would not be for your portfolio as it is unlikely you would have good provenance and knowledge of how the wines have been kept/stored.
Is it best to invest in bottles, funds, stocks or a mix?
I do not feel sufficiently knowledgeable on funds and stocks but they sound like they would be a safe bet, where the fund managers have the knowledge in picking the wines and you are pretty certain that you are not going to lose your shirt. There will be the possibility of some good upside but remember you are sharing it with the fund.
I personally would not buy wine funds or stocks. Get to know the wine merchants/agencies. These are the gatekeepers of the really top winemakers and they will have access to those wines. Become a customer of the agency, stop buying wine in the supermarkets and on subscription, and spend your money with the gatekeepers. The really top wines are sold on allocation and will go to the agency's best clients; it could take a few years to get on the list for something that you really want but it is worth it.
I have not mentioned storage and in bond purchases. It is always best to deposit your investment in a bonded warehouse such as London City Bond. The wine is then known to have been stored properly and gives the buyer some security that the wine will not be at fault. Be aware that there will be costs for storage.
I would advise anyone who is contemplating wine investing to start making notes of every wine they drink; be it at a restaurant or from a supermarket. Get used to the wine speak. Revert back to notes when drinking the same wine or same grower.
For me, the fun is that even if the investment does not work out, I still have access to some wonderful quality wine. I think that is the joy of investing in wine; you are not just investing for possible financial gain but laying down little pieces of history, which if you want to, you can pull the cork on at any time.

Continue reading for free
We hope you're enjoying The Week's refreshingly open-minded journalism.
Subscribed to The Week? Register your account with the same email as your subscription.