Meet the millennial who is a serpent-handling pastor
The century-old religious practice is finding new, youthful legs in Appalachia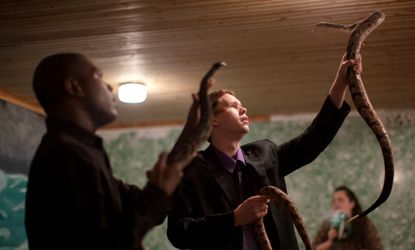 (Image credit: (Lauren Pond))
The first snake-handling worship service photographer Lauren Pond attended wasn't at all what she expected. In photos of other services, she had seen snakes, fire, and poison-drinking. But this one, just outside of Jolo, West Virginia, was much calmer. The pastor handled the snakes peacefully, the congregation prayed, and she didn't feel any danger.
"It was mesmerizing to watch him, really," she said. "I left wanting to know more."
Pond first read about serpent-handling in an anthropology class. Intrigued, she decided to look into this niche Pentecostal sect of snake handlers known as Signs Followers.
Subscribe to The Week
Escape your echo chamber. Get the facts behind the news, plus analysis from multiple perspectives.
SUBSCRIBE & SAVE
Sign up for The Week's Free Newsletters
From our morning news briefing to a weekly Good News Newsletter, get the best of The Week delivered directly to your inbox.
From our morning news briefing to a weekly Good News Newsletter, get the best of The Week delivered directly to your inbox.
Her West Virginia contacts connected her with a young pastor by the name of Andrew Hamblin in La Follette, Tennessee. Over the next two years, Pond would repeatedly visit this Appalachian town, getting to know Hamblin — who was 20 years old when she first met him — his family, church, and community.
Parishioners rush the pulpit to pray for Andrew Hamblin, 20, who was bitten on the finger by a venomous snake during a worship service on Jan. 1, 2012. Though Andrew once nearly died from a bite, he did not seek medical attention this time, instead entrusting his recovery to God. He appeared sick to his stomach, but his health improved within about 90 minutes. "As long as you don't get afraid, you're okay," he said. | (Lauren Pond)
An ashtray rests next to an old photograph of Daniel Powers' relatives, who were also serpent-handlers. Though many serpent-handlers frown upon smoking, some of the young adults who attend Andrew's church have not given up the habit. | (Lauren Pond)
Pentecostal serpent-handling is a century-old religious practice in Appalachia. But when Pond met Hamblin in 2011, his budding congregation was attracting a sizable group of people in their 20s and 30s, some of whom heard about the practice through social media.
Many of the members of Hamblin's church, including the pastor himself, had trouble with drugs in the past and were trying to reform their lives. Hamblin wasn't born into the Signs Following tradition, but saw serpent handlers on TV when he was younger and knew he wanted to see it in person. After becoming a father at the age of 15, Hamblin decided to change his life and adopted the conservative Pentecostal Holiness Lifestyle.
He began handling snakes in 2009, under the guidance of a Signs Following pastor, and in 2011 opened his own church, Tabernacle Church of God.
From far left: Kasi Powers, Daniel Powers, Andrew Hamblin, Mike Morris, Kendra Morris, Elizabeth Hamblin, and two other parishioners conclude an evening prayer service at Andrew's Tabernacle Church of God on Jan. 1, 2013. | (Lauren Pond)
Andrew exits the basement of his church, where he stored his venomous snakes, in March 2012. | (Lauren Pond)
Technically, handling venomous snakes is illegal in most states. But the Signs Following practice dates back to 1910 and is based on an alternative reading of Mark 16:17-18:
Signs Followers are denounced my most mainstream Pentecostals who believe those who handle venomous snakes are tempting God.
But what Pond found in Hamblin and his community is that their faith wasn't just about the snakes. "They are Christian," she said. "The entire Bible is important to them. They are humble people, generous, and forgiveness is really important to them."
But because of the snakes, these other other values get overlooked by the outside world.
"It just gets pegged as a freakshow when it's not," Pond said. "I was surprised at how much I could relate to them."
Elizabeth Hamblin, 21, Andrew's wife, adjusts a copy of the Lord's Prayer beside a portrait of herself and her husband in the church in December 2012. The two were married in 2009, and have five children. | (Lauren Pond)
Pastor Andrew Hamblin and his wife, Elizabeth, 21, watch videotaped church services with other church members after an evening prayer meeting on Jan. 1, 2013. The young pastor describes the experience of being anointed by the Holy Spirit and handling serpents as a kind of spiritual "high." "It's an out-of-this-world experience," he said in an interview. "It was better than any pill I ever took or anytime I ever drunk anything." | (Lauren Pond)
As a photography project, the snake handlers fit in nicely with Pond's body of work, which includes photos of less conventional Christian ministries, including on-the-road communities for truckers and motorcyclists.
Pond was raised Presbyterian, but her family wasn't that active. And for a time she says she was actually atheist. But Pond credits this upbringing and mindset with making her more curious and open-minded about different types of faith. As a student she studied religion — from heathenism to Hare Krishna — and slowly her photographic work followed.
Serpent-handlers dance by a pile of boxed venomous snakes during a Homecoming service at Pastor Andrew Hamblin's church on May 6, 2012. The service drew serpent-handlers from many neighboring states, including West Virginia and Kentucky. | (Lauren Pond)
Brance Powers, 2, plays with toy snakes that his mother, Kasi Powers, 21, gave him at their Tennessee home in March 2012. Kasi and her husband, Daniel, attend Andrew's church. | (Lauren Pond)
"I don't consider myself a traditional, objective journalist, but I think that helps me understand these people and help communicate that through my image," she said. "I embed myself in these communities. I don't participate in the service, but I spend a lot of time there. I stay at their homes and I really get to know the people."
Her time with Hamblin and other Signs Followers changed the way Pond sees herself and her approach to photographing religious subjects.
"It's very easy to focus on the worship and the practice but that doesn't help you understand it more," she said. "You have to take away barriers, or, I don't want to say facade, but you have to get beneath that veneer and show how they are human and just like you and me."
Andrew descends into his church's basement to store snakes after a New Year's service on Jan. 1, 2012. At the time, he kept four cottonmouth snakes, three timber rattlesnakes, one canebrake rattlesnake, and one copperhead snake locked in the church basement. | (Lauren Pond)
**To see more of Lauren Pond's photography you can check out her website, Facebook page, or follow her on Twitter.**

Continue reading for free
We hope you're enjoying The Week's refreshingly open-minded journalism.
Subscribed to The Week? Register your account with the same email as your subscription.