'Vaccine passports will usher in a "papers please" mentality'
Your digest of analysis and commentary from the British and international press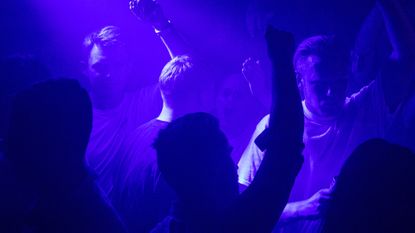 (Image credit: Rob Pinney/Getty Images)
Sign up to our 10 Things You Need to Know Today newsletter
A free daily digest of the biggest news stories of the day - and the best features from our website
Thank you for signing up to TheWeek. You will receive a verification email shortly.
There was a problem. Please refresh the page and try again.
1. Vaccine passports are a conspiracy against freedom
Madeline Grant in The Telegraph
on personal freedoms
"They denied it vehemently. For months, it felt like half the Cabinet was busy quashing rumours that domestic vaccine passports would ever feature in English daily life," writes Madeline Grant in The Telegraph. "Those who warned against vaccine passports; whether on grounds of discrimination, ethics or practicality, were repeatedly told not to worry, that the whole thing was a madcap conspiracy theory," writes Grant. "Even now, many are convinced the move will never happen – it's just a bluff to get the young double-vaccinated, copying Emmanuel Macron's interventions in France." But if ministers truly intend to push this policy through, "and previous form in goalpost relocation suggests we should take the Government's words seriously", then the consequences could be "unthinkable", she writes, "For the first time in living memory, we would be granting domestic privileges based on health status; transforming the relationship between individuals and the state". Indeed,"it would usher in a 'papers please' mentality previously unheard of in peacetime," she warns.
Subscribe to The Week
Escape your echo chamber. Get the facts behind the news, plus analysis from multiple perspectives.
SUBSCRIBE & SAVE
Sign up for The Week's Free Newsletters
From our morning news briefing to a weekly Good News Newsletter, get the best of The Week delivered directly to your inbox.
From our morning news briefing to a weekly Good News Newsletter, get the best of The Week delivered directly to your inbox.
2. Dominic Cummings clearly craved power even at the expense of the nation – but he couldn't hold on to it
Sean O'Grady in The Independent
on the Cummings interview
"So now he tells us! The £350m claim about the EU and the NHS on the side of the big, red Brexit bus? Wasn't actually, you know, the whole truth – and Dominic Cummimgs knew it full well," writes Sean O'Grady in The Independent. "Having conceived, orchestrated, strategically directed and managed two of the biggest disasters to hit Britain, Brexit and the premiership of Boris Johnson, Cummings now tells us, with a sinister grin playing about those thin lips of his, that it was all about annoying his opponents, quite deliberately misleading the public, and generally getting his way, no matter who was paying any kind of cost," writes O'Grady. "I suppose everyone knows Johnson's shortcomings by now, because we see them virtually every day," writes O'Grady. But the Cummings interview articulated Johnson's "strange sense of self awareness" – his "carelessness and the callousness" – indeed, "the whole experience of Britain being run by a jumped-up former newspaper columnist."
3. Britain's rivers are suffocating to death
George Monbiot in The Guardian
on river pollution
"On the border between Wales and England" there is "a great river dying before our eyes," writes George Monbiot in The Guardian. "The Wye is covered by every possible conservation law, but in just a few years it has spiralled towards complete ecological collapse," he continues. "Similar things are happening across Britain. Scarcely a river in England and Wales is unaffected by plagues of algae or sewage fungus, caused by an excess of nutrients". And although we often think of sewage as the primary polluter of our rivers and seas, "the main culprit is not human excrement." "So what is it? Farming," he reveals. In particular, "the most intense and extreme cause, especially in the west of Britain, is industrial livestock units," writes Monbiot, explaining that nutrients used in animal feed come out in dung, and eventually make their way into our rivers. Indeed, "the only way of saving many of our most beautiful rivers from this shitstorm appears to be to shut down many, perhaps most, of the industrial livestock units". Meanwhile, "our lovely rivers are being transformed by industrial livestock farms into stinking drains."
4. Covid's orphans must not be left behind
Seth Flaxman in The Financial Times
on forgotten victims
"It is easy to become inured to the headline toll of the Covid-19 pandemic," says Seth Flaxman in The Financial Times. "But a large and important group has so far had less attention: pandemic orphans." Indeed, a new peer-reviewed study has found "at least 1m children worldwide have lost a parent or primary caregiver." "As cases and deaths ebb and flow, the urgent questions of the children left behind will not go away: what happened to my father? To my mother? Who will take care of me now? This presents questions to the rest of society too, most importantly: how can we best support them?" asks Flaxman. "Some day we will reach the end of the Covid pandemic – but its orphans will be around for decades," he continues. "It's time for governments to step up, to identify the true scale of this hidden pandemic by finding and helping the children affected and to protect the most vulnerable in their hour of need and in the years ahead."
5. A fired-up Commons could trip Boris Johnson up
Daniel Finkelstein in The Times
on parliament's return
"Even before the last 18 months of boring questions receiving non-answers in an almost empty chamber there was a feeling that PMQs had passed its peak," writes Daniel Finkelstein in The Times. "It had never been all that good at eliciting useful answers, it can be unedifying and more recently prime ministers have worked out it did little to shift public opinion". Indeed, "even before the pandemic Johnson spent much less time preparing for it than his predecessors." Nevertheless, "it is a mistake to write it off. I think there is every chance that when parliament returns in force, so will PMQs, and it may begin to give Johnson serious problems." "Johnson cannot claim an easy relationship with either his parliamentary party or his briefing file, and spending time with either is not his favourite form of entertainment. A packed Commons may expose this cruelly when parliament returns."
Continue reading for free
We hope you're enjoying The Week's refreshingly open-minded journalism.
Subscribed to The Week? Register your account with the same email as your subscription.
Sign up to our 10 Things You Need to Know Today newsletter
A free daily digest of the biggest news stories of the day - and the best features from our website