What is the quantum apocalypse?
Security experts warn of Q-Day when quantum computers become a reality and render most methods of internet encryption useless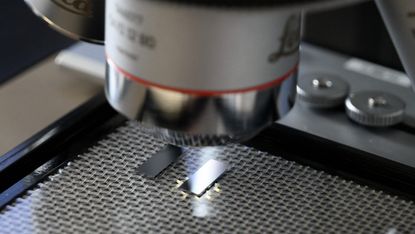 (Image credit: Thomas Kienzle/AFP via Getty Images)
Cybersecurity experts have been warning of something called the "quantum apocalypse" – the point when quantum computers become a reality and render most methods of internet encryption useless.
If you imagine a standard computer to be like a horse and cart, explained the BBC, then quantum computing – a new and more powerful way of processing information based on quantum physics – is "more like a sports car – a huge leap forward".
The practical implications of such machines are enormous. John Thornhill in the Financial Times said some companies are already looking at combining rudimentary quantum computers and regular computers "to optimise port logistics, airline schedules, grocery deliveries and television advertising programming, for example". Looking longer-term it is hoped that the sophistication of quantum computers could enable scientists to design new chemicals, paving the way for advanced medicines and materials. It could also help weather forecasts and stock trades, and even combat global warming.
Subscribe to The Week
Escape your echo chamber. Get the facts behind the news, plus analysis from multiple perspectives.
SUBSCRIBE & SAVE
Sign up for The Week's Free Newsletters
From our morning news briefing to a weekly Good News Newsletter, get the best of The Week delivered directly to your inbox.
From our morning news briefing to a weekly Good News Newsletter, get the best of The Week delivered directly to your inbox.
But, warned Thornhill, "the serious threats of quantum computing may emerge quicker than its possibilities".
What could happen?
This is what the BBC has described as the "dark side" to quantum computing. Current computers would take years, decades and even centuries to crack the encryption codes created by today's machines, but the fact that a quantum computer could theoretically do this in "just seconds" poses an enormous cybersecurity risk.
Security experts warn of the dangers of Q-Day, when a quantum computer might crack the RSA cryptosystem: an algorithm written in 1994 by the mathematician Peter Shor that underpins much of the modern internet and is used by the likes of tech companies, banks and governments to protect their data.
The notion of all the world's most encrypted files – from WhatsApp messages to online banking to government data – suddenly being broken into thanks to the advent of quantum computing is known as the "quantum apocalypse".
The quantum apocalypse could also mark the end of cryptocurrencies like bitcoin, as it would make the blockchain network – which is considered to be pretty much hack-proof – insecure. UK cybersecurity firm Post Quantum has said that if measures are not put in place, then "bitcoin will expire the very day the first quantum computer appears".
When will it happen?
There is a fierce debate about how far we are from developing full quantum computing. A leaked Google research paper published in 2019 suggested that a computer designed by the tech giant had achieved "quantum supremacy" and Google claims this has again been achieved this Summer. In what Telecom TV described as a "flashily impressive" exercise, Google said the latest version of its Sycamore computer being 241 times more powerful than the Sycamore of 2019. This, Google said, puts it "beyond capabilities of existing classical supercomputers".
Most agree, however, that it will be at least another decade or more before we have a quantum computer stable enough to run Shor's algorithm.
Tim Callan, chief compliance officer at cybersecurity firm Sectigo, warned The Independent that quantum computers could reach the point of defeating our current encryption systems within "the next 10 or 15 years".
When that happens, "our modern systems of finance, commerce, communication, transportation, manufacturing, energy, government, and healthcare will for all intents and purposes cease to function," he added.
"The old joke that quantum computing is a technology of the future – and will forever remain so – is not so funny any more," Thornhill said.
Could it be solved?
But it's not all doom and gloom. As data scientists make advances in the world of quantum computing, they're also working to create quantum-resistant algorithms to protect our digital footprints.
In the UK, all "top secret" government data has already been classified as "post-quantum", said the BBC. This means that it uses new forms of encryption that scientists believe will stand up to quantum computers.
"If we weren't doing anything to combat [the 'quantum apocalypse'] then bad things would happen," an unnamed Whitehall official told the broadcaster.
None of this comes cheap. The UK has invested millions into the industry over the last few years and that amount is only going to rise. But if you listen to the experts, the consequences of the "quantum apocalypse" could be so catastrophic that advancing our current systems of encryption is most definitely money well spent.

Continue reading for free
We hope you're enjoying The Week's refreshingly open-minded journalism.
Subscribed to The Week? Register your account with the same email as your subscription.