10 things you need to know today: February 15, 2017
Trump campaign aides reportedly talked with Russian intelligence, several GOP senators call for investigating Flynn, and more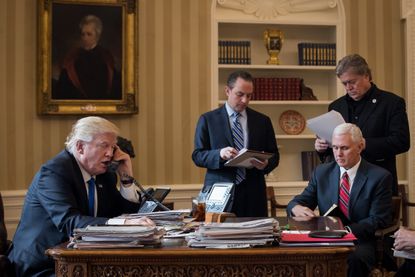 (Image credit: Getty Images)
1. Reports: Trump campaign had frequent contact with Russian intelligence
Members of President Trump's campaign team and other associates had repeated contacts with senior Russian intelligence officials during the 2016 presidential campaign, The New York Times reported Tuesday, citing four current and former American officials. Phone calls between the Trump associates and Russian officials reportedly were intercepted around the time U.S. law enforcement and intelligence agencies found evidence that Russia had hacked Democrats. The Times' sources said investigators had found no evidence of collusion, but that the discovery was worrying because Trump often praised Russian President Vladimir Putin and called on Russia to steal Hillary Clinton's emails. CNN, which released a similar report, said Paul Manafort, then Trump's campaign chairman, and adviser Michael Flynn, who just stepped down as national security adviser, were among the close Trump aides who had contact with Russian officials; Manafort called the reports "absurd," and Trump called them "non-sense."
2. GOP senators vow to investigate Trump team's Russia contacts
Several top Republican senators on Tuesday called for an exhaustive investigation into the resignation of President Trump's national security adviser, Michael Flynn, and continuing questions about Russia's influence in the administration. "I think we should look into it exhaustively so that at the end of this process, nobody wonders whether there was a stone left unturned," said Sen. Roy Blunt (R-Mo.). Sen. John McCain (R-Ariz.) said "General Flynn's resignation is a troubling indication of the dysfunction of the current national security apparatus." Senate Intelligence Committee Chairman Richard Burr and Sen. Mark Warner, the committee's ranking Democrat, vowed a thorough investigation of "any contact" between Trump campaign aides and Russian officials.
Subscribe to The Week
Escape your echo chamber. Get the facts behind the news, plus analysis from multiple perspectives.
SUBSCRIBE & SAVE
Sign up for The Week's Free Newsletters
From our morning news briefing to a weekly Good News Newsletter, get the best of The Week delivered directly to your inbox.
From our morning news briefing to a weekly Good News Newsletter, get the best of The Week delivered directly to your inbox.
The Washington Post The New York Times
3. White House says Trump was told Flynn misled Pence
The White House said Tuesday that President Trump was told six days into his presidency that his national security adviser, Michael Flynn, had discussed sanctions against Russia with Moscow's U.S. ambassador weeks before Trump took office. Trump, however, waited until last week to share the information with Vice President Mike Pence, who had by then told journalists that Flynn had not discussed sanctions with Russian officials before Trump took office, which would be a potential violation of a rarely invoked law against diplomacy by private citizens. The White House did not immediately say why Trump had kept Pence in the dark, or why White House counselor Kellyanne Conway said hours before Flynn's resignation that Trump still had "full confidence" in him.
4. Kim Jong Un's half-brother killed in Malaysia
The estranged half-brother of North Korean leader Kim Jong Un was murdered Tuesday in Malaysia. Kim Jong Nam, the eldest son of the former North Korean leader Kim Jong Il, had been living outside the isolated communist nation for years. Malaysian media reported that two unidentified women were believed to have killed Kim with a poison needle at Kuala Lumpur's airport, before fleeing in a taxi. Kim Jong Nam reportedly criticized Kim Jong Un for his youth and inexperience in 2012, saying his younger brother wouldn't "last long." Malaysian police said Wednesday that they had arrested a woman with Vietnamese travel documents in connection with the killing.
5. Former store clerk found guilty in 1979 murder of Etan Patz
A New York jury on Tuesday found former Manhattan bodega stock clerk Pedro Hernandez guilty of kidnapping and murdering 6-year-old Etan Patz in 1979, resolving a mystery that helped raise awareness about missing children. New Yorkers, especially parents, agonized over Etan Patz's disappearance. His photo appeared not only on "missing" posters, TV news, and newspapers, but also on milk cartons, a first. Jurors said they returned from a three-day weekend and, on their ninth day of deliberations, watched Hernandez's recorded confessions one last time before reaching a verdict. "It's about time," said Stanley Patz, Etan's father.
The New York Times The Associated Press
6. U.K. government rejects petition against Trump visit
The British government on Tuesday formally rejected an online petition calling for canceling or downgrading a visit by President Trump later this year. The government "recognizes the strong views expressed by the many signatories of this petition, but does not support this petition," the Foreign and Commonwealth Office said in a statement posted on the petition's web page. No date for the visit has been set, but the statement said that Prime Minister Theresa May's invitation to Trump on her January visit to Washington "reflects the importance of the relationship between the United States of America and the United Kingdom."
7. Immigrant protected under Obama program detained in Seattle raid
A 23-year-old immigrant brought to the U.S. from Mexico as a child was detained in a Seattle immigration raid in what the man's lawyers say could be the first such case against someone protected from deportation under former President Barack Obama's executive order on immigration. Daniel Ramirez Medina, who has no criminal record, was one of 680 people arrested in a flurry of Trump administration immigration raids last week. Homeland Security Secretary John Kelly said 75 percent of the people detained had criminal records. Obama's Deferred Action for Childhood Arrivals program protects an estimated 750,000 immigrants brought into the U.S. illegally as children from deportation, and offers them work permits.
8. Ethics office calls for White House to discipline Kellyanne Conway
The U.S. Office of Government Ethics has called on the White House to discipline counselor Kellyanne Conway for urging the public to buy Ivanka Trump's clothing and accessories. Conway, representing the administration in an interview on Fox & Friends last week, was asked about retailers that had dropped Ivanka Trump's brand, and told viewers to "Go buy Ivanka's stuff. … I'm going to give a free commercial here. Go buy it today everybody, you can find it online." The OGE subsequently wrote to the White House, saying that although Press Secretary Sean Spicer stated during a press conference … that 'Kellyanne has been counseled, and that's all we're going to go with,' the OGE urged the White House to investigate "and consider taking disciplinary action against her."
9. Humana says it is pulling out of ObamaCare exchanges
Humana announced Tuesday that it would stop offering health insurance through ObamaCare state marketplaces. It will be the first major health insurance provider to stop selling individual policies on the public exchanges next year. President Trump, who has vowed to replace former President Barack Obama's signature healthcare reform law, pounced on the news as fresh evidence that ObamaCare should be repealed. "ObamaCare continues to fail," Trump tweeted. Many of the state exchanges appear stable but insurers are complaining about their uncertain future, as Republicans debate a potential replacement.
10. Evacuation order lifted near California's Oroville Dam
California officials on Tuesday lifted a mandatory evacuation order for nearly 200,000 people downstream from the Oroville Dam about 150 miles northeast of San Francisco. Workers have reduced Lake Oroville's water level by releasing water through the main spillway so that coming storms won't send water out an emergency spillway that was in danger of failing. Crews also have filled in the area under the emergency spillway with rocks and slurry to prevent further erosion. A massive hole had developed in the emergency spillway, raising the threat of collapse and catastrophic flooding.

Continue reading for free
We hope you're enjoying The Week's refreshingly open-minded journalism.
Subscribed to The Week? Register your account with the same email as your subscription.