10 things you need to know today: April 14, 2017
U.S. drops "mother of all bombs" on ISIS in Afghanistan, Trump signs measure letting states cut Planned Parenthood funding, and more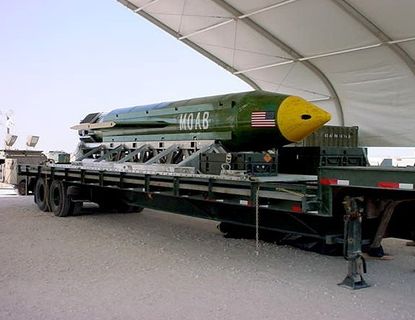 (Image credit: (Eglin Air Force Base via AP))
Sign up to our 10 Things You Need to Know Today newsletter
A free daily digest of the biggest news stories of the day - and the best features from our website
Thank you for signing up to TheWeek. You will receive a verification email shortly.
There was a problem. Please refresh the page and try again.
1. U.S. drops largest non-nuclear bomb in Afghanistan in military first
U.S. forces dropped America's largest non-nuclear weapon on an Islamic State tunnel complex in eastern Afghanistan on Thursday. The GBU-43/B Massive Ordnance Air Blast weapon (MOAB), nicknamed the "mother of all bombs," is a 21,600-pound bomb that was developed in the early 2000s and described by critics as an "indiscriminate terror weapon." Afghan officials said 36 militants were killed in the blast in Nangarhar province, although the U.S. military says the local ISIS affiliate had 600 to 800 fighters operating in the country, most of them in Nangarhar. President Trump called it a "very, very successful mission." It was the first time the MOAB had ever been used in combat. Gen. John W. Nicholson, the commander of U.S. forces in Afghanistan, said it was "the right munition" to use against ISIS in the remote area.
2. Trump signs measure letting states block federal funding of Planned Parenthood
President Trump on Thursday signed legislation letting states cut off federal funding to Planned Parenthood and other groups that perform abortions. The legislation will undo an Obama administration rule that prevented state and local governments from withholding federal money for contraception, fertility, prenatal care, breast and cervical cancer screening, and other women's health services, whether the group also provided abortions or not. The new measure passed the Senate thanks to Vice President Mike Pence's tie-breaking vote. Marjorie Dannenfelser, president of the anti-abortion Susan B. Anthony List, praised the legislation for "prioritizing funding away from Planned Parenthood to comprehensive health-care alternatives." Abortion rights advocates said the measure would harm women's health.
Subscribe to The Week
Escape your echo chamber. Get the facts behind the news, plus analysis from multiple perspectives.
SUBSCRIBE & SAVE
Sign up for The Week's Free Newsletters
From our morning news briefing to a weekly Good News Newsletter, get the best of The Week delivered directly to your inbox.
From our morning news briefing to a weekly Good News Newsletter, get the best of The Week delivered directly to your inbox.
3. China urges reduction in North Korea tensions before they become 'irreversible'
China warned Friday that rising tensions over North Korea must be calmed before they reach an "irreversible and unmanageable stage." Some observers fear that Pyongyang is preparing to conduct its sixth nuclear weapons test. U.S. ally South Korea said that a nuclear test or intercontinental ballistic missile launch would be a "strategic provocation" that would provoke a "powerful punitive measure." The U.S., which has warned that its policy of diplomatic patience toward North Korea was over, has sent an aircraft carrier group toward the region. North Korea accused the U.S. of "seriously threatening peace" by sending "huge nuclear strategic assets" to the region. Vice President Mike Pence is heading to South Korea on Sunday on a long-planned trip.
4. Assad says video of child chemical-weapon victims was faked
Syrian President Bashar al-Assad ramped up his denial of responsibility for the April 4 sarin gas in Idlib province, saying that videos showing children killed in the incident were faked. Assad has countered U.S. claims that Syrian government forces conducted the attack by saying that his warplanes had bombed a terrorist weapons depot that contained the chemical weapons, releasing them into the rebel-held area. More than 80 people reportedly were killed by poison gas in the rebel-held town of Khan Sheikhoun, prompting President Trump to authorize firing 59 Tomahawk cruise missiles at the Syrian base the U.S. believes launched the chemical attack. "We don't know whether those dead children were killed in Khan Sheikhoun," Assad told Agence France-Presse in his first television interview since the bombing. "Were they dead at all?"
5. Coalition airstrike kills 18 allies in friendly-fire accident
U.S.-led coalition warplanes accidentally bombed allied Syrian rebels battling the Islamic State this week, killing 18, the Pentagon said Thursday. The friendly-fire incident was the worst yet in nearly three years of fighting against the Islamist extremist terrorist group. The airstrike was requested by "partner forces" targeting Kurdish and Arab fighters in the Syrian Democratic Forces, mistakenly believing the position was held by ISIS. U.S. officials said they believed the error occurred because an SDF unit close to ISIS's front line reported its position incorrectly, creating a mix-up over their location.
6. Report: British intelligence alerted U.S. to Trump-Russia ties
British spy agency GCHQ gave the U.S. the first alert about possible ties between then-candidate Donald Trump's campaign team and Russian operatives, The Guardian reported Thursday. GCHQ and other European intelligence agencies intercepted communications between Trump associates and known or suspected Russian agents as early as late 2015 and passed on the information to U.S. officials. GCHQ was not targeting Trump, but caught the alleged conversations by chance during routine surveillance of Russian officials, The Guardian reported. The FBI is investigating whether Russia meddled in last year's election, and whether anyone involved in the Trump campaign may have collaborated with Moscow.
7. Michigan doctor accused of genital cutting of 2 7-year-old girls
A Michigan doctor was charged Thursday with performing genital mutilations on two 7-year-old girls in the first such prosecution ever in the U.S. The doctor, Jumana Nagarwala, 44, was arrested Wednesday and accused of performing the genital cutting at a clinic in Livonia, Michigan. Nagarwala was also charged with transporting minors with intent to engage in criminal sexual activity, and lying to federal agents. FBI agent Kevin Swanson wrote in an affidavit that investigators had "identified other children who may have been victimized by Nagarwala." The doctor's lawyer declined to comment. Nagarwala's employer, Henry Ford Health Systems, put the emergency room doctor on leave and noted that the illegal procedures were not alleged to have been performed at its facilities.
Detroit Free Press The New York Times
8. Trump administration ObamaCare rule shortens enrollment period
The Department of Health and Human Services on Thursday issued a final rule on ObamaCare that shortens the enrollment period and gives insurers flexibility that could raise out-of-pocket medical expenses for consumers, health-care experts say. The rule, which takes effect later this year, was issued as President Trump and Republicans jumpstart their efforts to repeal and replace the Affordable Care Act after their first try failed last month. Insurers welcomed the rule, but said it still didn't do enough to stabilize the system, saying they want assurances from Trump that the government will continue paying "cost-sharing subsidies" for low-income ObamaCare participants. Trump this week threatened to withhold the $7 billion in annual cost-sharing payments if Democrats don't cooperate on replacing the health-care law, a threat House Minority Leader Nancy Pelosi called "appalling."
9. Choate acknowledges sexual abuse cases dating back decades
At least 12 then-teachers at Choate Rosemary Hall sexually molested students in a string of cases starting in the 1960s, the elite Connecticut boarding school revealed Thursday. In one case, a student reportedly was raped during a school trip to Costa Rica. Other allegations uncovered by an investigator in a report to the board of trustees included "intimate kissing" and "intimate touching." None of the cases were reported to police, and some of the teachers were allowed to resign after being confronted about the evidence against them. Others were fired, but administrators wrote letters of recommendation to help them get new jobs.
10. Saturn moon could support life, NASA says
Enceladus, one of Saturn's moons, might be able to support life, NASA scientists said Thursday. The Cassini probe has flown through and gathered samples of water blasted into space from a subsurface on the ice-crusted moon, determining that Enceladus' seafloor has hot fluid vents like those in Earth's seas that are teeming with life. These hydrothermal systems on Enceladus might hold life, or they might be sterile; it will take a visit by a probe equipped with more sophisticated instruments to be sure. "We're pretty darn sure that the internal ocean of Enceladus is habitable and we need to go back and investigate it further," said Cassini scientist Hunter Waite. "If there is no life there, why not? And if there is, all the better."
Continue reading for free
We hope you're enjoying The Week's refreshingly open-minded journalism.
Subscribed to The Week? Register your account with the same email as your subscription.
Sign up to our 10 Things You Need to Know Today newsletter
A free daily digest of the biggest news stories of the day - and the best features from our website
Harold Maass is a contributing editor at TheWeek.com. He has been writing for The Week since the 2001 launch of the U.S. print edition. Harold has worked for a variety of news outlets, including The Miami Herald, Fox News, and ABC News. For several years, he wrote a daily round-up of financial news for The Week and Yahoo Finance. He lives in North Carolina with his wife and two sons.